Cardless ATMs: How To Use and Where To Find Them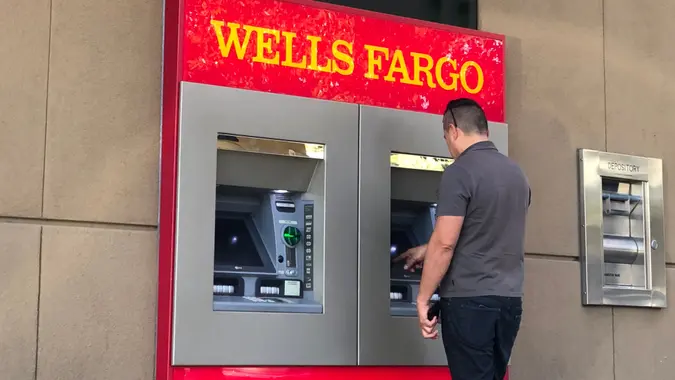 Cassiohabib / Shutterstock.com
If you've ever arrived at an ATM to withdraw cash only to realize that you don't have your debit card, you might benefit from a cardless ATM. 
Using a cardless ATM, you can withdraw money with your smartphone — no card necessary. It's helpful if you don't regularly carry your debit card or need to access cash unexpectedly. 
Here's everything you need to know about cardless ATMs, including finding one when required. 
What Is a Cardless ATM?
Cardless ATMs utilize technology to allow customers to withdraw cash without a debit card. It's a helpful option if you don't have your debit card in your wallet or forgot it at home. As more banks move toward contactless payments, ATMs are doing the same. 
There are various ways that contactless ATMs work, but the following technologies are the most common.
Near-Field Communication: This is the same technology Apple Pay and other payment methods use. To access your money, use the bank app on your smartphone. 
Biometric Verification: Some banks use biometric verification like face ID to allow customers to withdraw cash at contactless ATMs.
QR Code: Sometimes, you can use your bank app to set up the contactless withdrawal. The app will create a QR code that you scan at the ATM. 
Verification Code: Some cardless ATMs allow you to start the withdrawal on the bank app. After that, the app creates a one-time verification code you input at the ATM. 
How To Use a Cardless ATM
You can use a cardless ATM in different ways, but you always need a smartphone or physical debit card. 
You can always use a physical debit card at cardless ATMs. Similarly, if you have a debit card saved in your mobile wallet, you can use a contactless ATM to tap the card and access cash. 
In addition to those options, some cardless ATMs utilize mobile banking apps to withdraw cash. The details of how it works depend on your bank. It usually involves a QR code, verification process or near-field communication. 
How To Find a Cardless ATM
Check for the contactless tap symbol if you're searching for a contactless ATM. The image will be on the ATM if the ATM supports contactless transactions.
Chase, PNC and Wells Fargo are some of the banks currently offering members contactless ATMs. If you're interested in accessing the technology, check with your bank about contactless ATM options that are in-network. 
Pros of Cardless ATMs
Cardless ATMs come with a lot of perks. Here are some of the most notable ones. 
1. Carry Fewer Cards
One of the biggest perks of cardless ATMs is that you can carry fewer cards. You can carry one or two cards instead of taking a debit card, credit card and identification card. You also don't have to worry about whether or not you have your debit card with you if you suddenly need cash. It's helpful to travel lighter and not worry about which card you have on hand. 
2. Extra Security
Even though traditional ATMs are usually safe, cardless ATMs provide additional security features. The biggest one is protection against card skimmers. Card skimmers are inserted in ATMs to record a card's information so scammers can make unauthorized purchases with them. Skimmers are very difficult to spot, so it can be hard to prevent theft. With a cardless ATM however, you don't have to worry about it. 
3. Cash as You Need It
Because cash is becoming less necessary, you might find that you rarely carry it but unexpectedly need it. For example, if you're at a farmer's market with local vendors or a cash-only community event, you might need cash without realizing it. In those instances, it's nice to access money regardless of whether or not you have a physical debit card. Plus, if you can access cash without a debit card, you don't have to worry about carrying cash as a backup. 
Cons of Cardless ATMs
Even though cardless ATMs have benefits, there are potential drawbacks too. 
1. Must Have a Smartphone
You don't need a debit card to access cash from a cardless ATM. However, you need to have a smartphone. Most people have a smartphone, but it can become an issue if the phone dies or you forget it at home. It's something to be aware of if you use cardless ATMS.
2. Fewer Available 
The number of available cardless ATMs is still limited compared to traditional ATMs. Because of that, it can be a gamble whether or not you can find one when you need it. As a result, it can defeat the purpose of leaving your debit card behind since you don't know if you'll need it to get cash.
3. Need More Smartphone Security
Cardless ATMs provide additional protections against card skimmers. But as contactless card options become more popular, instances of phone hacking might increase as well. Because of that, it might be necessary to implement additional security measures on your phone, which can be time intensive. 
Bottom Line
Even though cardless ATMs are becoming more common, they aren't as readily available as traditional ATMs. But if you bank with a provider that offers cardless ATMs, it's worth checking the locations. If there are cardless ATMs near you, you can leave your debit card at home and still have access to cash. It's a nice perk that makes it easier to get money as you need it. 
FAQ
How can I access an ATM without a card?

Typically, you use the mobile banking app to withdraw cash. Because of that, it's essential to have your smartphone. The withdrawal process usually involves a QR code, verification or near-field communication.

What ATM can you use without a card?

ATMs that support cardless transactions are the ones you can use without a card. They usually have a contactless tap symbol on them, indicating their ability to process transactions using methods like the following:

Near-field communication (NFC)
QR codes
Biometric verification

How can I get money from an ATM without my card?

To withdraw money from an ATM without your card, you'll typically need a smartphone with a mobile banking app. Here are the common methods:

Use your bank's app or mobile wallet to tap on the ATM's contactless reader.
Generate a QR code using your bank's app and then scan it at the ATM.
Initiate the withdrawal through your bank's app, which then provides a one-time verification code for you to input at the ATM.
Some ATMs can verify your identity using facial recognition or other biometric methods.

Can I get cash out of ATM with a tap?

Yes, if the ATM is NFC-enabled and supports cardless transactions, you can simply tap your smartphone or a digital wallet to withdraw cash. Always look for the contactless symbol on the ATM to ensure it has this capability.

Can I use Apple Pay at ATM?

Yes, Apple Pay is accepted at most cardless ATMs. Apple Pay utilizes near-field communication to enable cardless access at these ATMs. To check if an ATM is NFC-enabled and can support Apple Pay, always look for the contactless symbol.
The article above was refined via automated technology and then fine-tuned and verified for accuracy by a member of our editorial team.
Our in-house research team and on-site financial experts work together to create content that's accurate, impartial, and up to date. We fact-check every single statistic, quote and fact using trusted primary resources to make sure the information we provide is correct. You can learn more about GOBankingRates' processes and standards in our editorial policy.