CIT Bank Savings Builder Product Review: Save More, Earn More
Learn about the CIT Savings Builder account's high rates.
CIT Bank is a nationwide digital bank focused on a host of savings account and CD offerings at competitive rates, along with home mortgages. The bank also offers 24/7 online, mobile and automated telephone banking. For checking, credit card and auto loan needs, however, customers will have to look elsewhere.
Read this CIT Savings Builder review to learn about the various features and benefits of the CIT Savings Builder account, and discover why GOBankingRates named this bank one of the Best Online Banks of 2019.
CIT Bank Savings Builder Account at a Glance
Annual Percentage Yield (APY)
Up to

1.00%

Minimum Deposit

$100

Savings Builder Account Highlights

Two ways to earn the highest APY: Maintain a balance of $25,000 or

make at least one monthly deposit of $100 or more

No account opening or maintenance fees

High interest

rate

Daily compounding interest credited monthly

24/7 mobile and online banking
What Is a Savings Builder Account?
A Savings Builder account from CIT Bank is an online, high-interest savings account, which affords customers digital access 24/7. The Savings Builder account helps a broad range of customers meet their savings goals. Account holders will qualify for the higher rate by either maintaining a minimum balance of $25,000 or by making at least one monthly deposit of $100 or more.
CIT Bank boasts interest rates that are significantly higher than the national average to help you grow your savings faster. For example, the bank's Savings Builder account's top rate of 1.00% APY is much higher than the nationwide average for savings accounts, which stands at just 0.09% APY as of Feb. 25, 2020, according to the Federal Deposit Insurance Corporation.
Here are the other main benefits of the CIT Savings Builder account:
Daily compounding interest

No account opening or monthly maintenance fees

Free mobile and online banking

Ability to make transfers and remote check deposits with the mobile banking app

FDIC insurance
Best for: People who are interested in earning a high interest rate on their savings account and don't mind banking elsewhere for their checking, credit card and auto loan needs.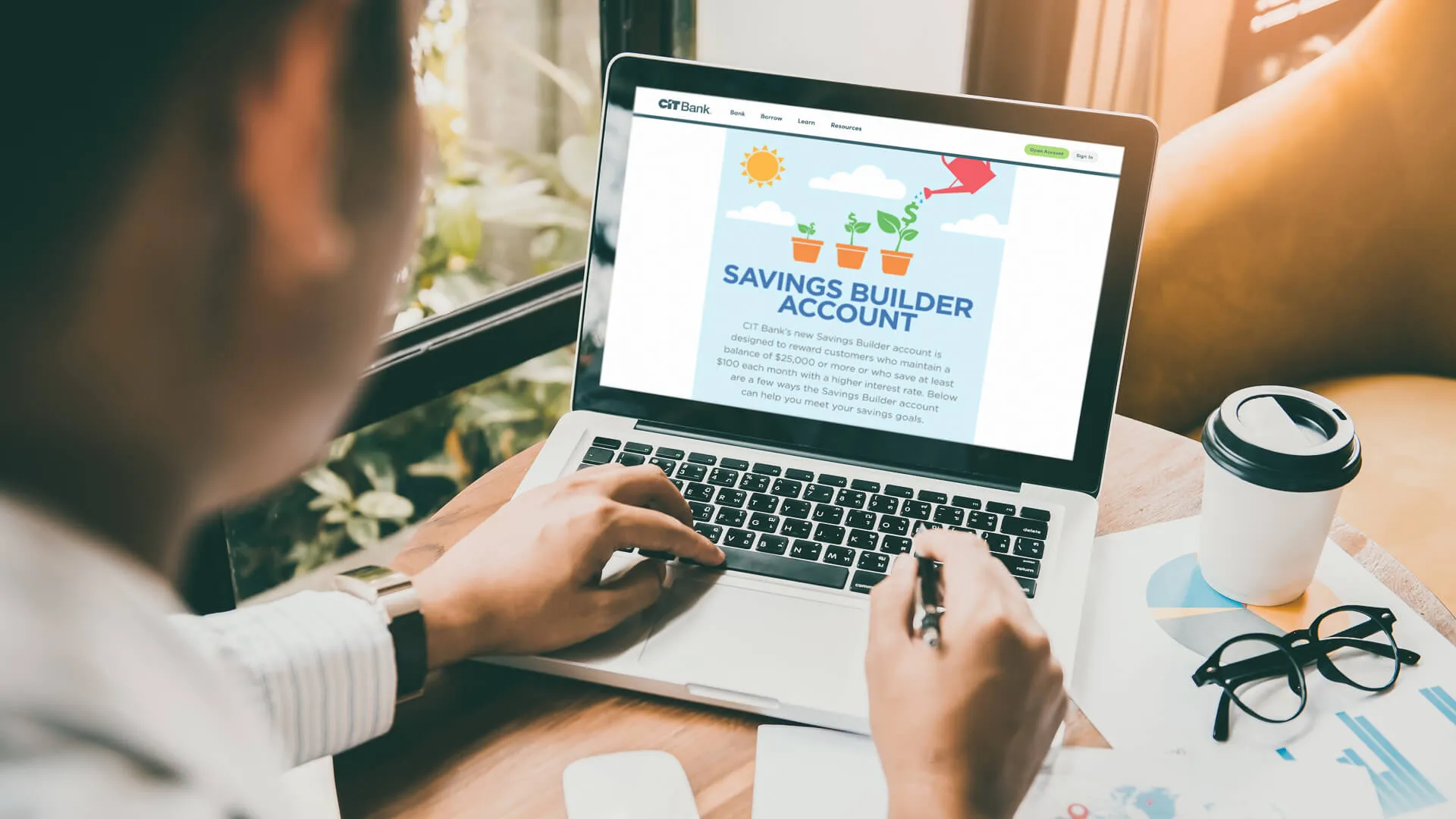 What Else You Need To Know About the CIT Savings Builder Account
Although you can earn a high APY on the CIT Bank Savings Builder account, you'll have to meet requirements to keep it because this account has tiered interest rates. There are two ways to earn the top APY tier: Make at least one monthly deposit of $100 or more maintain a balance of $25,000.
CIT Savings Builder Account Interest Tiers
Tier
Required Balance
APY
Interest Rate

Base

Less than $25,000

0.29%*

0.250%**

Upper

Less than $25,000, but with a monthly deposit of $100 or more

1.00%

***

0.449%

Upper

Greater than or equal to $25,000

1.00%

0.449%

Information accurate as of November 30, 2020.

*APY assumes the account is opened on the 15th day of the month and no qualifying deposits of $100 are made following account opening. Actual APY may be greater or less depending on the date the account is opened. 

**Interest Rate is 0.449% during the Introductory Period and 0.250% thereafter.

***APY assumes additional qualifying deposits are made each Evaluation Period.
To start, the account pays 1.00% APY until the first Evaluation Day. Evaluation Days occur on the fourth business day prior to the end of a month.
On the Evaluation Day — and all subsequent months thereafter — your account will be reviewed to see if you've either maintained the $25,000 balance requirement or made at least one $100 deposit. Note that the initial $100 minimum deposit to open the account does not count toward deposit requirements.
If neither of those conditions applies, you will not be able to earn the top interest rate offered. Instead, you'll earn the base interest rate — 0.250% as of November 30, 2020 — which is still significantly higher than rates at many traditional brick-and-mortar banks. However, if you make a deposit of at least $100 during that month, you'll qualify for the higher APY tier the following month. Consider setting up an automated deposit to always earn the top APY tier.
How Can CIT Bank Offer Such High Rates?
Because the bank is online-only, it doesn't incur the typical overhead costs that brick-and-mortar banks do. CIT Bank passes along those savings to its customers in the form of higher savings account and CD rates, as well as no closing, opening or monthly account fees.
How To Open and Fund a CIT Bank Savings Builder Account
CIT Bank makes it easy to open an account online as long as you are a U.S. citizen or permanent resident who is at least 18 years of age. Before you begin, gather these items to expedite the process:
Social Security number

Driver's license information

Routing and account numbers from another bank account you'll use to fund your account

Social Security number and valid ID for any joint account holders or beneficiaries
Navigate to the bank's account application page and select "I am a new customer" to get started. Then, follow the prompts to complete the application.
New accounts can also be funded by choosing electronic funds transfer, mailing in a check or initiating a wire transfer.
Accessing the Funds in Your CIT Savings Builder Account
Although you are limited to only six transactions per statement cycle — including automatic transfers or withdrawals or electronic banking transfers to other accounts — withdrawal and transfer requests you submit by mail don't count toward your monthly limit. In addition, withdrawals that you request by phone and receive in a check by mail are not counted, either.
Electronic banking transfers between your Savings Builder account and an account at another bank are free, and requesting a check in the mail is also free. For outgoing wire transfers, there is a $10 fee if your account balance is less than $25,000.
CIT Bank Review: Access a Variety Savings Accounts, CDs and Home Loans
Where Is CIT Bank Located?
Although CIT Bank is headquartered in Pasadena, Calif., it doesn't have any physical locations for customers to visit because it's an online-only bank. Instead, customers can easily take care of their banking needs online using a computer or mobile device. Customer service representatives are also available by phone and secure email.
How To Contact CIT Bank's Customer Service
CIT Bank's customer service offers extended weekday hours, as well as hours on Saturdays for questions about accounts. Here are CIT Bank's customer service hours:
Monday through Friday:

8 a.m. to 9 p.m. ET

Saturday:

9 a.m. to 5 p.m. ET

Sunday:

11: a.m. to 4:00 p.m. ET
Here are the customer service numbers for new or existing CIT Bank accountquestions:
United States:

855-462-2652

Outside of the United States:

626-535-8964

Fax:

866-914-1578
You can also contact CIT Bank about home loans at 800-217-6629 during weekdays only:
Monday through Friday:

9 a.m. to 8 p.m. ET
If you're looking to grow your savings account and are already happy with your existing checking account, the CIT Bank Savings Builder account just might be the right fit for you.
More from CIT Bank
More on Savings Accounts
This article has been updated with additional reporting since its original publication. Fees and rates other than the top-tier APY for the Savings Builder account are accurate as of November 30, 2020.
This content is not provided by the companies mentioned. Any opinions, analyses, reviews or recommendations expressed in this article are those of the author's alone and have not been reviewed, approved, or otherwise endorsed by CIT Bank. All fees and rates are subject to change at the bank's discretion.