Banana Republic Credit Card Review: Get Rewarded for Loyalty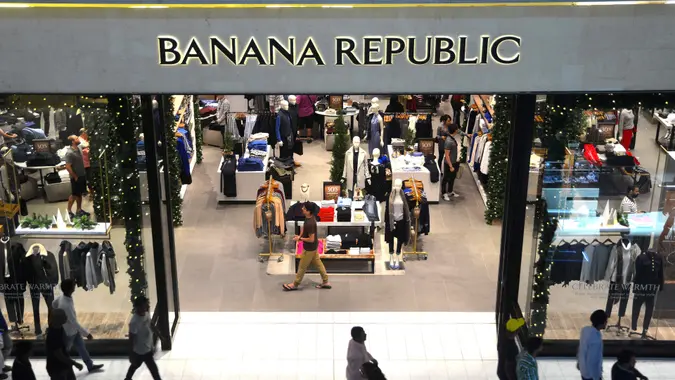 ©Shutterstock.com
Update: Some offers mentioned below may have changed or are no longer available. View current credit card offerings from our partners at CardCritics Here or on the issuer's website.
Whether you're a busy professional who likes to dress to impress or a fashionista who appreciates a comfortable pair of jeans, Banana Republic is likely a frequent shopping destination. The brand embraces a contemporary, yet classic design.
Loyal shoppers who use the Banana Republic credit card or the Banana Republic Visa credit card receive exclusive offers and earn rewards, but not without the stipulations of a high APR and late fees. Click here to see why Banana Republic is considered one of the best store credit cards.
Banana Republic Card Overview
Banana Republic — along with Old Navy and Athleta — are all subsidiaries of Gap Inc. Synchrony Bank issues all of Gap Inc.'s credit cards, which includes the Banana Republic card. According to their website, Synchrony Financial is one of the nation's top consumer financial services companies "providing a wide range of credit products to retailers and manufacturers."
Banana Republic's credit cards have no annual fee with a 25.99% variable purchase APR. Those with a fair credit score — defined as 580 to 669 or higher — will likely be approved for this credit card.
Luxe: The Top 10 Most Exclusive Black Cards You Don't Know About
Banana Republic Card Perks and Rewards
Banana Republic offers two cards: a store credit card and a Banana Republic Visa card.
With either Banana Republic card, you receive five points for every dollar spent in stores or online and $5 for every 500 points earned at any Gap Inc. store.
You also enjoy exclusive offers including:
Double-point-spending-days
Special discounts
Free standard shipping on online orders
A birthday gift
No receipt needed to make returns
When you open an account, you receive 20 percent off your first online purchase — as long as the order is placed within 90 days of the card's activation.
If you're a frequent Banana Republic shopper and are craving extra rewards, consider the Banana Republic Visa. Exclusively with Banana Republic's Visa, cardholders earn a point for every dollar spent when shopping anywhere that accepts the card; also, they earn exclusive offers available only for Visa cardmembers. You can take advantage of a one-time offer, garnering an extra 3,000 points with your Visa credit card when you make a qualified purchase outside of Gap brands within 30 days of opening your account. Banana Republic's Visa card does also offer cash advances — but at a staggeringly high 27.99% APR.
Dedicated cardholders — those who accumulate 5,000 points or more in a calendar year by using their store or Visa card and who are in good standing — are promoted to premiere status, known as Banana Republic Luxe.
With this card, you enjoy:
Triple point shopping days
20 percent additional points based on your 3-month earnings
Free shipping at any Gap brand outlet
Unlimited basic alternations on your Banana Republic clothing
Choose Your Own Sale Day
In order to preserve your Luxe status, your account must be in good standing.
Banana Republic Card Major Drawbacks
The Banana Republic credit card has a very high interest rate of 25.99% APR. To give some perspective, credit cards known to have low APR include the Chase Freedom — offering a variable 16.24% APR — or the Discover It card with a variable 12.24% APR. This means you'll be charged 25.99% APR on balances carried over month to month on your Banana Republic credit card. The interest on your purchases can add up very quickly if not kept in check, resulting in fast-growing — and potentially hard-to-payoff — debt. Out-of-control debt can hurt your credit score, and total debt determines 30 percent of your FICO credit score.
Late payment fees are $27 — or $37 if you've missed a minimum payment within the previous six billing cycles. Not only are late payments expensive, but they also negatively impact your credit score. If you do not have the means to pay off your credit card charges in a timely fashion, it might not be wise to open a Banana Republic credit card.
Up Next: 50 Stores With the Best and Worst Return Policies
Editorial Note: This content is not provided by Chase. Any opinions, analyses, reviews, ratings or recommendations expressed in this article are those of the author alone and have not been reviewed, approved or otherwise endorsed by Chase.