How To Make a Dick's Sporting Goods Credit Card Payment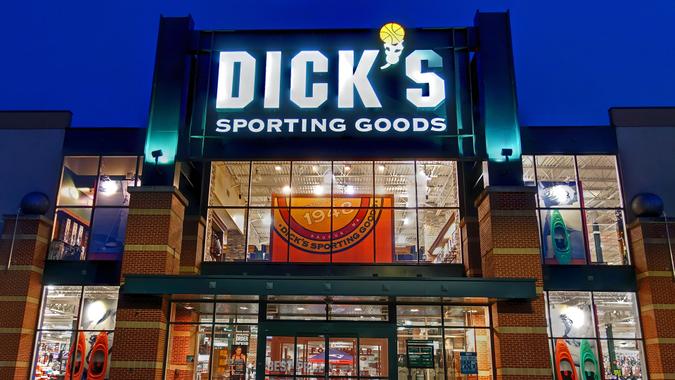 QualityHD / Shutterstock.com
Headquartered in Pittsburgh, Pennsylvania, Dick's Sporting Goods is one of the leading omnichannel sporting goods retailers, featuring hundreds of locations across the U.S. With a wide range of quality sporting equipment, apparel, accessories and footwear, Dick's Sporting Goods keeps its customers coming back for more.
To make purchasing easier, Dick's offers a store-branded credit card, the ScoreRewards credit card, which is valid for in-store purchases at Dick's Sporting Goods, Golf Galaxy and Field & Stream. The sporting goods retailer also offers the ScoreRewards Mastercard issued by Synchrony, which can be used anywhere Mastercard is accepted.
Read More: Why It's Time to Get Rid of Your Store Credit Card
Either Dick's Sporting Goods credit card –ScoreRewards or ScoreRewards Mastercard — allows you to earn two points per $1 for qualified in-store and online purchases at Dick's. And with the ScoreRewards Mastercard, you'll earn one point per $3 spent everywhere else.
Once you've made a purchase with your card, you'll need to make a payment by the due date. Here's what you need to know about your options.
How To Make a Dick's Sporting Goods Credit Card Payment Online
Some people prefer to pay their Dick's Sporting Goods credit card by using the online payment system. You can do this by either accessing your online account or making a payment as a guest. Here are directions for each option.
Make a Regular Online Payment

Go to the Dick's Sporting Goods login page to register for online access if you haven't already. The "Register" link is at the bottom of the "Access Your Account" box.
Enter your account number and ZIP code; hit "Continue" and follow the prompts to complete the process.
Once registered, you can log in to your account using the User ID and Password you selected.
Select the payment option.
Follow the prompts to complete your payment, which will include entering your banking information, such as account and routing number.

Although billing cycles vary based on the date you opened the credit card, you can call to request an adjustment to your billing due date at 877-295-2080.

Make an Online Payment as a Guest

If you don't have your login credentials available, you can use the "Pay as Guest" feature. Here's how:

Go to the Dick's Sporting Goods login page and select "Pay as a Guest" posted at the top of the page.
You will need to provide your credit card account number, the last four digits of your Social Security number and your ZIP code.
How To Make a Dick's Sporting Goods Credit Card Payment by Mail
To mail in your credit card payment for the ScoreRewards credit card or the ScoreRewards Mastercard, include your payment coupon and a check or money order for at least the minimum amount due. Mail to:
ATTN: ScoreRewards
P.O. Box 960012
Orlando, Florida 32896
How To Make a Dick's Sporting Goods Credit Card Payment by Phone
Making a payment by phone is easy. Here's how:
Gather your credit card account number, bank account number and bank routing number.
Call 1-877-471-5638.
Select option 2 to use the automated system.
Say, "Make a payment," when prompted.
Follow the prompts to complete your payment.
Note that making a payment by phone may result in an additional fee.
What Happens If My Dick's Credit Card Payment Is Late?
If your Dick's credit card payment is not made by 5 p.m. ET on the due date, it's considered late. However, you can still make a payment using any of the available payment methods. A late fee of $27 will apply. And in cases where your account has had a late fee within the prior six billing cycles, a $38 late fee will apply.
Information is accurate as of Sept. 20, 2022.
Editorial Note: This content is not provided by any entity covered in this article. Any opinions, analyses, reviews, ratings or recommendations expressed in this article are those of the author alone and have not been reviewed, approved or otherwise endorsed by any entity named in this article.