How To Make a Wayfair Credit Card Payment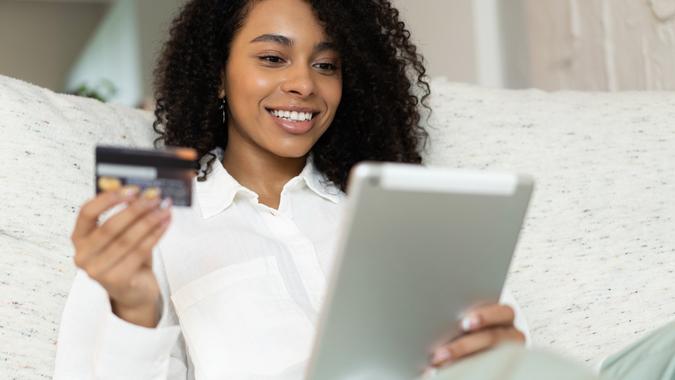 opolja / iStock.com
Wayfair began in 2002 as a small e-commerce company specializing in all things home-related. In short order, Wayfair has become a household name. From home furnishings to housewares to home improvement items, Wayfair sells it all.
Read: This Credit Score Mistake Could Be Costing Millions Of Americans
With a Wayfair credit card in your wallet, you'll be able to cash in on even more savings. Wayfair offers two credit cards from which to choose — the Wayfair Mastercard or Wayfair Credit Card, which both offer perks like no annual fee and 5% back in rewards at Wayfair.
Although using a Wayfair credit card can save you a lot of money, it's important to keep on top of your credit card payments to avoid late fees. Here are all the ways you can make a Wayfair credit card payment.
Complete Your Wayfair Credit Card Payment by Phone
To make an immediate payment, call Wayfair credit services at 800-365-2714. You can access your account through the automated system using your account number or your Social Security number. Once you've accessed your account, follow the prompts to make your payment. Make sure you have your checking account number and bank routing number ready to complete the transaction.
Send Your Wayfair Payment Online
Besides convenient online shopping, Wayfair makes it easy for you to pay your Wayfair credit card online. First, you need to set up your online account so you can access your Wayfair credit card. Here are the steps to get started:
Go to Wayfair's credit card registration page.
Supply the credit card account number, the name as it appears on the card, the security code and the last four digits of your Social Security number.
Select "Verify" to continue to the next screen.
Complete the steps to choose your user ID and password and enter where the funds will be drawn from.
Now that you are registered for online access, you can go ahead and make payments whenever the bill is due by signing on to your account with your user ID and password. Select how much you want to pay, the date you wish to pay it and the bank from which the funds will be drawn.
Complete Your Wayfair Credit Card Payment by Mail
If you would prefer to pay your bill through the mail, the payment address is the same, no matter if you have the Wayfair credit card or Wayfair Mastercard. Send your payment coupon from your billing statement with a check or money order to:
Wayfair/Citi Retail Services
PO Box 70267
Philadelphia, PA 19176-0267
What If My Wayfair Payment Is Late?
If you don't make your Wayfair payment by the due date, you can still pay online, by phone or by mail. However, a late fee will apply. Additionally, if you've had a late fee applied to your account within the previous six billing cycles, a higher late fee of $41 will apply.
Editorial Note: This content is not provided by any entity covered in this article. Any opinions, analyses, reviews, ratings or recommendations expressed in this article are those of the author alone and have not been reviewed, approved or otherwise endorsed by any entity named in this article.
This article has been updated with additional reporting since its original publication. Information is accurate as of Sept. 19, 2022.