How Much Is Facebook Worth?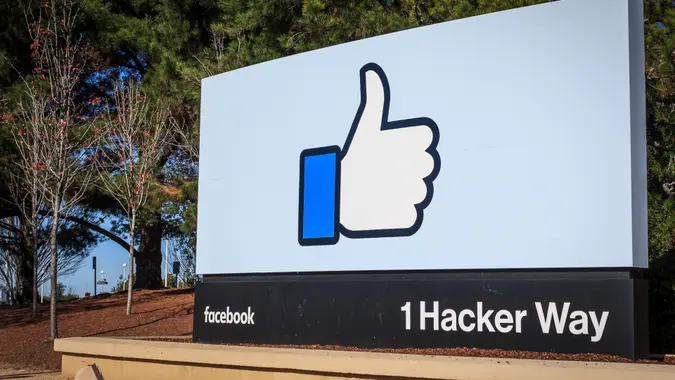 achinthamb / Shutterstock.com
Meta Platforms, the company formerly known as Facebook (Nasdaq: FB), is the world's largest, and arguably most influential, social media platform, with more than 1.93 billion monthly active users as of December 2021. Whether you use Facebook to stay in touch with friends or to build a brand, it's hard to deny its ubiquity and reach.
Facebook is currently the subject of investigations, including one spurred by a whistleblower who accused the company of prioritizing profit over user safety. A trove of documents leaked by the whistleblower to The Wall Street Journal revealed research reports and employee discussions suggesting the company knew it was promoting harmful content on its social media platforms, including Facebook and Instagram, the Journal reported. Although the company announced in October 2021 that it was the subject of government investigations resulting from the leak, CEO Mark Zuckerberg, who vehemently denies the accusations, has kept himself busy transitioning Facebook into its new identity, Meta. Meta combines the company's apps and technology under one brand with a focus on bringing the metaverse to life.
Facebook: Company Overview
The fourth quarter of 2021 was Meta's first reporting on two operating segments — Family of Apps and Reality Labs, which includes augmented and virtual reality hardware, software and content — under the Meta brand. Meta had planned to roll out its new stock ticker, MVRS, on Dec. 1, 2021, but on Nov. 29 announced it would delay the change until the first quarter of 2022. As of Feb. 8, the company was still trading under the stock symbol FB.
Meta announced in a press release on Feb. 7 that Peter Thiel, co-founder of PayPal and one of Facebook's earliest investors and longest-seated board members, would step down from the Facebook board as of the date of Meta's annual shareholder meeting. Although a date has not yet been announced, Facebook held its 2021 meeting on May 26.
Make Your Money Work Better for You
About Facebook
Headquarters
Menlo Park, California
Year Founded
2004
Founders
Mark Zuckerberg, Eduardo Saverin, Dustin Moskovitz and Chris Hughes
CEO
Mark Zuckerberg
How Much Is Facebook Worth Now?
Facebook's initial public offering got off to a rocky start, as the stock plummeted 50% in the first few months and took a full year to get back to its IPO price of $38. After improving its business model through better user experience, however, the company saw a tenfold increase before a recent falter. Share prices over the last 52 weeks have ranged from a low of $219.77 to a high of $384. As of last closing, shares were trading at $224.91 — down more than 33% since the beginning of the year.
Among the issues affecting Facebook's profits is its privacy battle with Apple, coupled with the societal trend towards more consumer choice regarding third-party information dissemination. New changes in Apple's operating system have made it harder for Facebook to personalize its advertising, resulting in a drag on the company's revenues and earnings.
The social media giant also has new legal problems to contend with. On Jan. 11, a federal judge ruled that the Federal Trade Commission could proceed with a lawsuit against Facebook, The New York Times reported. The suit alleges that Facebook has a monopoly in social media and has abused its dominance by engaging in a "buy-or-bury" strategy that has damaged its competition.
Facebook narrowly missed earnings estimates in the fourth quarter of 2021, returning $3.67 vs. the $3.84 analysts had expected, CNBC reported. Although Q4 revenue of $33.67 billion beat analysts' $33.4 billion estimates, Facebook issued guidance for the first quarter of 2022 predicting revenue in the $27 to $29 billion range, which falls short of the $30.15 predicted by analysts.
In addition to the challenges posed by Apple's new privacy policy, Facebook appears to be struggling to compete with other social media platforms, especially TikTok. For the first time ever, the average number of daily Facebook users fell slightly, leading investors to worry that Facebook has saturated its global markets. This news, coupled with the disappointing earnings report and revenue forecast, sent the stock plummeting over 20%. As of early Feb. 8, the stock was trading at a 52-week low of $219.77.
Make Your Money Work Better for You
Facebook's shift in focus toward augmented and virtual reality indicates the company is looking beyond ad-based revenue for the future. However, the transition won't come cheap. The investment the company is making in its metaverse platform has increased Facebook's expenses significantly — at a time when increasing labor costs are also impacting its bottom line.
Based on current share prices, Facebook's market cap is $608.435, down from $911.054 billion in Q3 and over $1 trillion in Q2, when the company joined a small club of tech companies — Apple, Microsoft, Amazon and Alphabet — to have achieved a trillion-dollar market cap.
What Is Market Capitalization?

Market cap is often used by investors to quickly value a company. However, it has its drawbacks since it does not look at a company's financials, and the value can fluctuate throughout the day as its share price changes. Market capitalization can be calculated by multiplying the share price by the number of outstanding shares. Facebook has 2.67 billion shares outstanding.
Facebook's Net Worth
Different from market capitalization, net worth is more concrete and not affected by fluctuating stock prices. To find a company's net worth, look at its financials including the profit and loss as well as balance sheet statements, which are publicly available through the company website or investment news sites. Shareholders' equity, one of the last lines on a balance sheet, reveals a company's net worth after assets and liabilities are taken into account. Facebook's net worth as of Q4 2021 is $124.879 billion.
What Facebook Is Worth
Share Price, 52-Week Range
$219.77-$384.33
2021 Revenue
$117.93B
2021 Profit
$39.37B
Shareholders' Equity
$124.879B
Facebook's Founders
Eduardo Saverin, Dustin Moskovitz, Chris Hughes and Mark Zuckerberg co-founded Facebook in 2004 while they were students at Harvard. The 2010 movie "The Social Network" dramatizes the company's origin story, focusing on the split and subsequent falling out of Saverin and Zuckerberg.
Make Your Money Work Better for You
Zuckerberg continues as the CEO, with a net worth of $79.4 billion — down from $117.2 billion in Q3 2021 due to the decline in share price. Saverin renounced his U.S. citizenship and moved to Singapore, where he heads a venture capital firm. Moskovitz went on to start Asana (ASAN), the work organization platform with a market cap of $9.22 billion. Chris Hughes stays out of the spotlight, with little information available about his current projects.
Good To Know

The company has long been controversial, particularly due to its laissez-faire attitude towards what people and organizations post on the site. This reached a boiling point in 2020, as Facebook finally took steps towards removing hate speech and false information from its site.

The prevalence of "fake news" and misinformation regarding the coronavirus forced the company to make changes regarding its policies and algorithms, and in late 2020, the company took the ultimate step of suspending then-President Donald Trump from its site in the wake of the attack on the U.S. Capitol. In June 2021, Facebook appointed its first VP of Civil Rights to oversee company policy on such matters.
Facebook's Top 10 Shareholders
Facebook's founders are among its biggest shareholders, with financial institutions following. The top 10 are:
Vanguard Group Inc., 7.92%
Blackrock Inc., 6.75%
FMR (Fidelity), 5.51%
T.Rowe Price, 4.20%
State Street Corporation, 4.00%
Capital International Investors, 2.12%
Capital World Investors, 2.00%
Capital Research Global Investors, 1.75%
Geode Capital Management, LLC, 1.72%
Norges Bank Investment Management, 1.27%
Is Facebook Worth the Money?
Facebook's financials have been shaky as of late, due to declining daily users, Apple's new iOS 14.5 privacy settings and the company's investment in Meta's Reality Lab. However, some analysts believe the stock is undervalued. Forty-one out of 44 analysts reported by Yahoo Finance rate Facebook a buy or strong buy. Average target estimates place the stock price at $353.91 over the next year,  albeit down from an estimate of $402.76 last quarter.
Make Your Money Work Better for You
Based on the information from analysts, Facebook's net worth and current earnings, the company looks like it's worth the money at its current price. However, as with all investments, doing your own due diligence by researching a company is essential.
Company Net Worth Guides
Daria Uhlig, Cynthia Bowman and John Csiszar contributed to the reporting for this article.
Data is accurate as of Feb. 8, 2022, and subject to change. Information on Mark Zuckerberg's net worth was sourced from Forbes' Real-Time Billionaires data.
Our in-house research team and on-site financial experts work together to create content that's accurate, impartial, and up to date. We fact-check every single statistic, quote and fact using trusted primary resources to make sure the information we provide is correct. You can learn more about GOBankingRates' processes and standards in our editorial policy.