9 Best Streaming Services To Watch Free Movies Online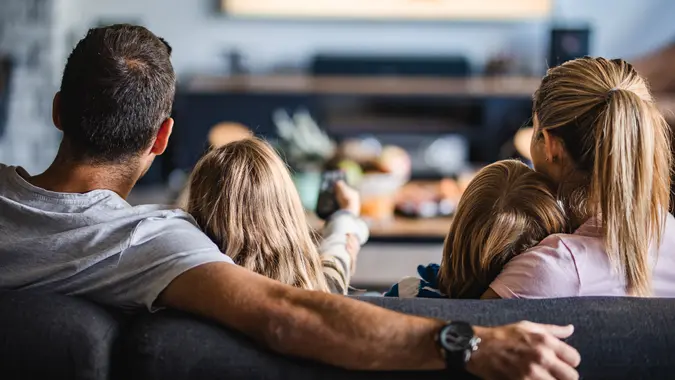 skynesher / Getty Images
A recent survey from the National Research Group found that U.S. consumers spend $135 per month, or nearly 18% of their budget, on subscriptions. Many of these subscriptions are for streaming services to watch TV shows or movies or listen to music in an ad-free format.
In fact, another survey revealed that Americans were more likely to cut back on grocery spending than cancel Netflix amidst rising prices caused by inflation.
But what if there were a way to watch full movies for free? There just might be — many streaming services allow you to watch movies and TV shows for free. Here are 10 of the best.
Websites To Watch Full Movies for Free: 9 Safe, Secure and Legal Options
These sites allow you to stream movies and TV shows for free. Some don't require you to open an account, and, if you do, you may be able to remain anonymous. If you are concerned about internet privacy, these sites may be good options for you, compared to more popular, paid streaming sites.
They are a great way to save money on family at-home entertainment after you've already cut the cord on cable.
1. Crackle
Crackle is owned by media and electronics giant Sony, which means the content you find on there is unlikely to infringe upon copyrights, since Sony owns the licensing. You'll find classic TV shows like "Gidget" and "The Partridge Family," plus movies in every genre, as well as original content. By creating a free account, you can save watchlists and manage parental controls.
Make Your Money Work for You
2. ConTV — formerly Viewster
If you're an anime fan, CONtv + Comics could be the best free streaming service for you. The lifestyle streaming network features tons of documentaries, anime, sci-fi movies and TV shows like "Highlander" and classic cartoons, as well as recorded workshops, speeches and presentations from Comic Con events across the country. You can get rid of commercials by purchasing a premium membership for $6.99 per month.
3. YouTube
Virtually everyone has heard of YouTube, which is owned by Alphabet Company, the parent company of Google. But did you know that the website provides access to tons of movies, TV shows and original programming for free? You can also opt for YouTube Premium and unlock ad-free viewing and the ability to download shows to watch later. Prices start at $11.99 per month with your first three months free.
4. Popcornflix
Popcornflix identifies itself as the 100% legal way to stream more than 1,500 movies and TV shows. It is available as a Roku TV channel, an app for Android or iPhone or a website that you can watch on any internet-enabled device, including your laptop or desktop computer or smart TV. The service is owned by Crackle, which is owned by Sony, which explains how the service can provide access to blockbuster films in every genre.
5. Amazon FreeVee
In addition to Amazon Prime, Amazon also offers FreeVee, which it calls a "premium free streaming service." You can watch it through any Amazon device, as well as on smart TVs, PlayStation systems — PS4 and PS5 — Xbox, Apple TV, Roku and more. The channel offers original TV shows, movies, concerts and documentaries for the whole family. It's ad-supported and, unfortunately, you can't pay to get rid of the ads.
Make Your Money Work for You
You can even find top movies like "Ghostbusters: Answer the Call," "Mission: Impossible 4" and "Transformers 3." And since the site is run by Amazon, it's reasonable to assume that you aren't breaking any copyright laws.
6. Tubi TV
Just as Sony owns Crackle, Fox Entertainment owns Tubi TV, which means you'll find tons of hit movies and TV shows on the free station, including "The Angry Birds Movie," "Witches of Eastwick" and "Legally Blonde." Tubi TV also has free live TV, including sports, news and weather. You can stream Tubi TV on iOS, Android, Roku or Amazon Fire devices. The site is ad-supported with no way to get rid of the ads.
7. Pluto TV
Pluto TV is a free, ad-supported streaming network with access to top TV shows and movies. Pluto TV is about as close to old-fashioned broadcast cable as you can get without paying for cable. NBC News called Pluto TV "a wallet-friendly pitch in the Netflix era."
Without logging in or creating an account, you can stream your choice of hundreds of channels, many of which include classic, full-length movies. Watch the service on virtually any internet-connected device, including smart TVs, computers and Android or iOS devices.
8. Vudu
Vudu launched in 2007 as a set-top box — or OTT, over-the-top — the first platform of its type to stream HD movies on demand. The platform is owned by Fandango and is the official movie and TV store on Roku smart TVs. That means, like many of the services on this list, it's the real deal and the movies on the service are licensed for legal viewing. The free movies and TV shows are ad-supported and include box-office hits and cult classics like "The Boondock Saints" and "Stolen."
Make Your Money Work for You
9. Archive.org
If you're looking for classic or obscure movies, Archive.org — the Wayback Machine — may have exactly what you're looking for. Simply click "video" and choose "feature films" to view more than 15,000 titles. Most are older films in the public domain.
Don't be fooled by some videos you might see posted that are clearly still under copyright. For instance, the 1977 version of "Star Wars" is actually the movie trailer and not the full-length feature film, which is owned by Disney.
Is Streaming Movies for Free Legal?
There are legal ways to stream movies for free — but there are also illegal ways, so it's important to know the site you're using is legitimate.
You may remember the days of Napster or Kazaa when music and movies were available for free streaming through peer-to-peer networks. One problem was that the P2P networks were not secured and viruses and malware running rampant could put your computer at risk. This was especially true with the decentralized Kazaa server.
The other issue was that these services were blatantly ignoring copyright law by publicly sharing copyrighted music and movies — for profit — without permission.
Past Lawsuits
Ultimately, the Recording Industry Association of America sued not just Kazaa, but individual users, for copyright infringement. More than 30,000 people in America were sued, facing fines of up to $750 per song, for streaming, sharing or illegally downloading music, according to a Forbes article at the time.
Make Your Money Work for You
In 2015, the free movie streaming app Popcorn Time faced lawsuits from various organizations for copyright infringement.
This history might cause you to think twice before downloading free movies from any website today.
Legality
Bottom line: Streaming copyrighted content when the company hasn't paid licensing fees and doesn't own the content is illegal. If Kazaa is the precedent, both the company providing access to the streamed content and the users who are streaming it could be held liable for copyright infringement. Ultimately, it is your responsibility to know if the site you are using is legal or not.
However, many free movie streaming sites are not breaking copyright laws. They either own the rights to the content they are sharing, or they are streaming shows and movies that are older and in the public domain. These streaming services often show original content, independent movies and classics. Some of these sites are owned by major production companies like Sony or Fox, which means they have licensed access to classic and present-day hit movies.
Cybersecurity Concerns: Are Free Movie Streaming Sites Safe and Secure?
Another problem with some streaming sites is that they are not secure. This hasn't changed since the turn of the century in the early 2000s. Many sites can still host malware and viruses that can put your devices at risk.
One way to stream movies more safely and securely is to use a Virtual Private Network or VPN, like NordVPN. A VPN creates an encrypted means to transfer data and protects your identity by hiding your IP address. This can keep you safe from malware and can also prevent websites and apps from collecting your data, which protects your privacy online.
Alternatives to Free Movie Streaming Services
If you're looking for current releases and are concerned about network security and breaking copyright laws, you may want to stick with reputable paid sites like Netflix, Hulu, Disney+ and Amazon Prime. If you receive SNAP EBT benefit, you can even get a 50% discount on your Amazon Prime subscription.
Make Your Money Work for You
However, there are also many legitimate streaming sites you can watch without being concerned about copyright infringement or network security.
FAQ
What website can I watch full movies on for free?

There are dozens of websites where you can watch full movies for free. When you're choosing the best site to stream full movies, you want to make sure the site is secure and that the service holds the copyrights or licensing agreements for the content it shares.

What site is 123movies now?

123movies has changed its domain and its name many times to avoid anti-piracy laws. It currently operates under the names GOStream, MeMovies and GoMovies, as well as many domains beginning with 123Movies.

Is 123movies.com illegal?

123Movies does not hold the license for most of the movies and content on its service, so streaming these movies would be considered copyright infringement and is illegal in the U.S. In many cases, both the user and the streaming service can be prosecuted for motion picture piracy.

Is Popcornflix safe?

Popcornflix appears to be one of the safe and legal ways to stream full-length movies for free.

Is FMovies safe?

Multiple sources, including cybersecurity websites and Quora, say that FMovies is not a safe site, since it installs malware on your computer. Also, since the site shares unlicensed content, streaming unlicensed movies from the site is considered copyright infringement and is a punishable offense in the U.S. and many other countries.
Editorial Note: This content is not provided by any entity covered in this article. Any opinions, analyses, reviews, ratings or recommendations expressed in this article are those of the author alone and have not been reviewed, approved or otherwise endorsed by any entity named in this article.
Our in-house research team and on-site financial experts work together to create content that's accurate, impartial, and up to date. We fact-check every single statistic, quote and fact using trusted primary resources to make sure the information we provide is correct. You can learn more about GOBankingRates' processes and standards in our editorial policy.