How To Puppy-Proof Your Home on a Budget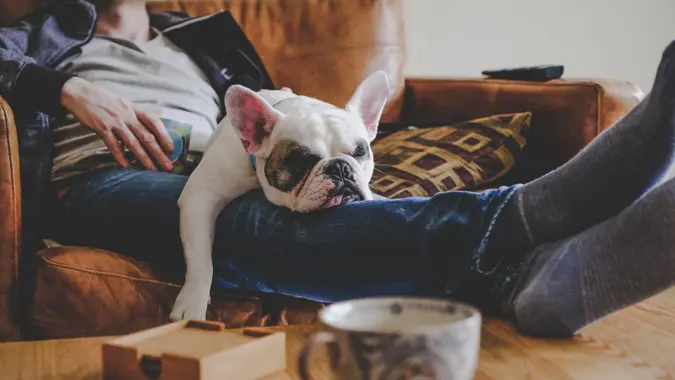 gollykim / iStock.com
We all probably can agree on one thing. There's nothing cuter than a puppy — until you bring that bundle of cuteness home and watch them create mischief and cause damage to the house.
See: 4 Costco Items That Have Remained Cheap for Years
Good To Know: Target, Amazon and 4 More Retailers That Will Reward You for Turning In Your Old Stuff
Puppy-proofing is the first of many adventures you'll have with your new furry family member. There's no denying your puppy will test your bank account as they grow — think food, toys, treats, boarding or dog-sitting fees, and veterinarian bills. A study in the 2020 holiday season done by Wethrift showed that dog owners spend an average of $895 a year on their pups.
But getting your home ready for your new love doesn't have to cost a lot. In fact, puppy-proofing is more about changing your habits and your home organization than buying things, and you can acquire what you need at a discount or use what you already have.
Read More: Most Americans Spend More on Their Pets Than Themselves Each Year
Make Your Money Work for You
So just what do you need to do to ready the house for a puppy? Read on.
Getting Started
Before bringing your new dog home, you'll need to make changes around the house. They don't cost anything but do require a shift in how you operate. If you have small children, chances are you already follow some of the guidelines recommended by the American Kennel Club, which include:
Put all medicine up high. Don't leave it anywhere the puppy can get to it, even if it's in a bottle. If you're used to keeping it on a nightstand, end table or coffee table, move it to the medicine cabinet or an upper kitchen cabinet.
Put cleaning supplies on a high shelf. Or, they can be placed in a cupboard secured by childproof latches.
Keep toilet lids closed. You don't want your puppy to fall in.
Don't leave small items where your dog can reach them. Instead of emptying the coin from your pockets on the end table, put them in a piggy bank. The puppy could choke on loose change. Put your jewelry in a drawer or jewelry box, too.
Keep the doors and windows closed. The puppy could fall out of an open window or run out of an open door. At the same time, make sure any cords attached to window blinds are tied up so the puppy doesn't get caught in them.
Keep trash away from the puppy. Should the puppy knock over an unsecured kitchen trash can, for example, he could get into food scraps or other items that could be poisonous.
See: How Much Does It Cost To Adopt a Shelter Pet?
Puppy-Proofing Tools To Buy
As the first-time owner of a puppy, it's easy to get carried away with all the things on the shelves at the local pet store. But you can buy similar things at other stores for lower prices, said Charlie Burbridge, an animal behavior expert and co-founder of Petz, a resource for pet parents.
"Bringing a puppy in to the house can be done on a budget if you know the right tricks," Burbridge said. "You don't always have to focus solely on puppy-specific products which will be marked up in price because of their 'specialty.' If you see something that is perfect for puppy protection, make sure to have a look around for alternatives."
Make Your Money Work for You
Dr. Sarah Wooten, a Colorado veterinarian who works with Pumpkin Pet Insurance, offered a number of alternatives.
Find: Is Pet Insurance Worth It?
Concealers for Electrical Cords
"Puppies love to chew on everything, including electrical cords, which can be deadly," she said. "Hide your cords or cover them — you can cover cords on the cheap with split tubing that you can purchase online or at any hardware store."
Crates and Gates
"Puppies should not be left alone unsupervised in the house or allowed to wander willy-nilly around the house. The best way to do that is to invest in a crate and baby gates," she said. "You can get used baby gates at second-hand baby supply stores. Crates often can be purchased secondhand either on Craigslist or at a thrift store."
See: How Pet Parents Can Financially Prepare For a Return to Office
Chew Toys
"To prevent chewing, make sure your puppy has several different long-lasting chew toys," she said. "To prevent your puppy from chewing on the furniture, spray it with a chew deterrent spray — these sprays contain ingredients that don't taste good to the puppy. You can make your own with two cups of apple cider vinegar and one cup white vinegar or by using lemon juice. Test in an inconspicuous spot on your furniture first.
Make Your Money Work for You
Other Considerations
Burbridge recommended saving all of those old linens you might be inclined to get rid of or turn into rags. They'll be invaluable as floor protectors before your puppy is potty trained, she said.
"Puppies can get a bit excited when they are using their toys, and until properly toilet trained, it would be an idea to keep on old towel, sheets or quilts down in the more likely to get damaged play area," she said. "This just goes to save on buying a specific protector for those little accidents, as well as on the bill to get the carpet professionally cleaned."
Find: These Animals Bring in Billions of Dollars Each Year
Those old quilts also can save your upholstery if you're a pet parent who will allow the puppy to snuggle up with you on the sofa.
You'll be taking your puppy outside, too, so special care should be taken to protect the puppy first, and then your garden.
Jason White, a home expert and the founder and CEO of All About Gardening, said it's vital to make sure your yard is free of fertilizers or other harmful chemicals, as well as charcoal briquettes, which could damage the dog's intestines. Then, turn to protecting areas you don't want the pup to get into.
"Puppy-proof your garden or yard using inexpensive chicken wire as a makeshift fence to protect your flower beds from being ransacked by your pet," he said. "Make a fence of the chicken wire to block off your pets from areas in your yard they should not be able to access. This way, they can still frolic around the yard and your plants are kept safe as well."
Bringing all that cuteness into your life doesn't have to cost a fortune when it comes to readying your home and yard. Enjoy!
More From GOBankingRates
Make Your Money Work for You