How To Open an Ally Bank Account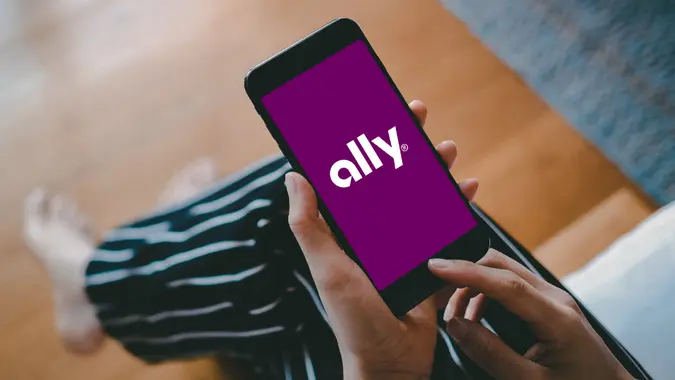 Most online banks offer basic, no-frills checking and savings accounts. Ally Bank stands apart from the competition by offering more account options than you'd find from other low-fee online banks. However, you may need extra guidance to choose from all of the bank's account options. This guide will walk you through how to open an Ally Bank account.
How To Open an Ally Bank Account in 5 Steps
Ally Bank claims the whole process of opening an account takes five minutes or less. The key to doing it quickly and correctly is having everything ready to go. The following five steps will walk you through the most important points of what you need to do to open an Ally Bank Checking Account to save you time and hassle.
1. Choose What Accounts You Need
Ally Bank's account offerings include checking, savings, money market accounts and CDs. Here's an overview of each of these options.
Ally Checking Account
There's only one type of checking account available, and it's an interest checking account. Good news — you'll earn a 0.10% annual percentage yield on balances under $15,000 and 0.25% on $15,000 or higher. And you won't have to worry about account minimums or monthly maintenance fees for the privilege.
You'll receive a debit card in the mail so you can withdraw your funds from over 43,000 free Allpoint ATMs nationwide. Plus, overdraft fees are a thing of the past. Ally Bank will decline any debit card transactions that may push your account into the negative or choose to cover them for free.
Ally Savings Account
Ally's savings account may be the most popular because of the high-yield interest it pays. You'll earn 4.25% APY on your balance without having to worry about monthly fees or minimums. And if you link your checking and savings accounts, you can enable Round Ups, a feature that rounds up your debit card transactions to the nearest dollar and sends the change over to your savings account.
Ally Money Market Account
If you'd rather have one bank account for all your needs, a money market account may be the best option. Like the savings account, you'll earn 4.40% APY. But you'll also have some checking account features, such as a debit card for ATM withdrawals, bill pay and checks.
However, you'll be limited to just six non-ATM withdrawals from your money market account per statement cycle. If you need to make more payments, choose the interest checking account instead.
Ally CD
Certificates of deposit are a great way to lock in a certain interest rate for a longer period of time. If interest rates drop, you're protected. If you have some funds you're not ready to access for a while, Ally Bank has three types of CDs to choose from with no balance minimums:
High Yield CD: Traditional CD with an APY of

4.85%

and seven terms of three months up to five years.
Raise Your Rate CD: APY of

3.75%

and a two-year or four-year term. If interest rates rise, you can lock in a new rate once during the two-year term or twice during the four-year term.
2. Gather Your Personal Information
To open an Ally Bank account, you'll need to be at least 18 years old and provide some personal details, including the following:
Your legal name
Date of birth
Social Security number or tax identification number
A residential street address in the U.S.
Ally also notes that it may request to see identifying documents, such as your driver's license.
3. Apply Online
Once you're ready to apply, you can head over to the account comparison page on the Ally Bank website. Choose the type of account you're interested in from the four upper tabs and click on "Open Account." Follow the steps in the application. You can even add up to four joint bank account owners. Submit the application when you're ready and give it a few seconds. You should receive a response right from the screen.
4. Fund the Account
There are no minimum opening deposit requirements, but you could fund your new Ally Bank account in a few ways:
Set up direct deposit of your paychecks.
Transfer funds from another bank account
Wire money
Deposit a check via Ally eCheck Deposit using the bank's mobile app
Mail a check to:
Ally BankP.O. Box 13625Philadelphia, PA 19101-3625
5. Download the Mobile App
Your account control center is the Ally Bank mobile app. While you wait for your debit card to arrive in the mail, download the app via the App Store or Google Play. Use it to set up online banking and manage your new accounts.
How To Get Help With Opening an Ally Bank Account
If you get stuck along the process and would like to apply by phone or you have questions, you can call Ally Bank's 24/7 customer service line at 1-877-247-2559.
If you'd rather not apply online, you could also fax or mail a completed Ally Bank account application. Faxes should include the subject line of "Operations." The Ally Bank fax number is 866-699-2969. Otherwise, you can mail your completed application to:
Ally BankP.O. Box 951Horsham, PA 19044
Advice

Opening an Ally Bank account is simple. Ally Bank is transparent about its banking fees and offers plenty of tutorials and guidance to get you through the whole process. Start with a checking account and a linked savings account — there are no monthly maintenance fees or minimums and they'll both earn interest. Plus, it's easy to move funds back and forth to save some money for a rainy day.
More on Ally Bank
Editorial Note: This content is not provided by Ally Bank. Any opinions, analyses, reviews or recommendations expressed in this article are those of the author alone and have not been reviewed, approved or otherwise endorsed by Ally Bank.
Rates are subject to change; unless otherwise noted, rates are updated periodically. All other information on accounts is accurate as of Oct. 19, 2021.