Money Order Near Me: 10 Places To Get One, With Fees and Locations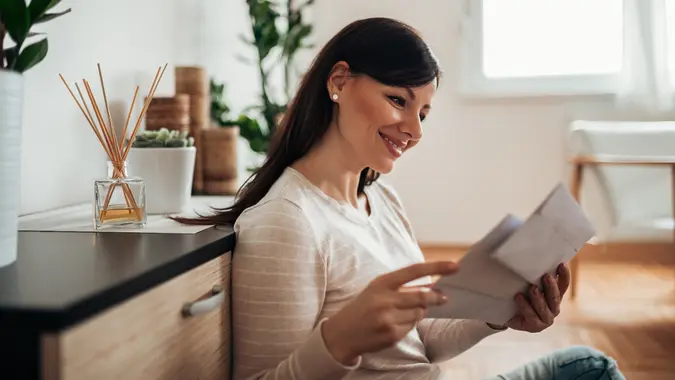 nortonrsx / Getty Images/iStockphoto
Personal checks sometimes take a day or two to clear, so not everyone will accept one out of fear that the check might bounce. In those instances, you'll need either a money order or a cashier's check. Typically, money orders are for amounts less than $1,000, and cashier's checks are recommended for anything higher.  
Where Can You Get a Money Order?
Many retailers offer money orders, but most of them have one of two companies powering the transaction — Western Union or MoneyGram. Both companies have their own retail locations as well, so you can go directly to them if you'd prefer.
You can request a money order at any of these locations:
1. Any Bank or Credit Union
You may pay a fee, typically around $5, but you should be able to walk into a local bank or credit union branch and request a money order. You should not need to have an account at the bank or credit union to do this.
Earn Perks With A New Checking Account
2. Western Union or MoneyGram Locations
Both Western Union and MoneyGram are financial service providers. Both have retail locations and can provide you with money orders as well as other ways to move money. You can find a location near you by using the locators at the Western Union and MoneyGram websites. 
Their services are also available at retailers you likely frequent often (more on that below).
3. US Postal Service
Head to any post office with your cash, debit card or traveler's check. You will not be able to pay for a money order by charging it to a credit card. You'll pay a processing fee of $1.65 for amounts ranging from 1 cent to $500 and $2.20 for amounts ranging from $500.01 to $1,000. 
You can also get a money order at many retail locations you visit on a regular basis, such as any of the following options.
4. 7-Eleven
The majority of 7-Eleven's locations are in the U.S. Availability and fees differ between locations.
Limit: $500
Fee: Varies by location
Provider: Western Union 
5. CVS Pharmacy
CVS owns and operates thousands of drugstores across the U.S. Cash is the only form of payment accepted for a money order at CVS, and you must have a valid ID with you.
Earn Perks With A New Checking Account
Limit: $500 per money order; $2,500 maximum per day 
Fee: $1.25
Provider: MoneyGram
6. Safeway
Safeway is a grocer that operates as a banner of Albertsons Companies. If there's a Safeway location near you, call to confirm fees and limits before heading to the store because those might vary according to location.
Limit: $500  
Fee: $1
Provider: Western Union
7. Kroger
With nearly 3,000 supermarkets spread across the U.S., Kroger is accessible for many — but not every location will issue money orders. For Kroger stores that do, fees and limits vary by location. You can also cash money orders at participating Kroger locations, but fees will apply.
Limit: Typically $1,000, but limits may vary by location
Fee: $1 to $1.10 on average, but fees vary by location
Provider: Western Union
8. Meijer
A local option in certain states — Illinois, Indiana, Kentucky, Michigan, Ohio and Wisconsin — Meijer will provide, but not cash, money orders. You can pay for a money order via a debit card with no additional fee.
Earn Perks With A New Checking Account
Limit: $500; $3,000 maximum per day 
Fee: 65 cents 
Provider: Western Union 
9. Publix
Publix operates approximately 1,300 locations across seven states: Alabama, Florida, Georgia, North Carolina, South Carolina, Tennessee and Virginia. Publix sells, but will not cash, money orders at all of its stores except for its GreenWise Market locations.
Limit: $500, with no daily maximum 
Fee: 99 cents 
Provider: Western Union
10. Walmart
Walmart has locations throughout the U.S. You can pay for a money order at Walmart with cash or debit. There's a maximum fee of $1, with no additional fee for payment by debit card. You can also cash MoneyGram money orders at Walmart, but check-cashing fees may apply.
Limit: $1,000 with a $1,000 daily maximum 
Fee: Up to $1; fees vary by location
Provider: MoneyGram
What Is a Money Order?
A money order is a paper document that carries a monetary value. Money orders function similarly to personal checks, but they are not attached to your bank account. They are written to a payee and are prepaid so the payee has a guarantee that the necessary funds are available. Money orders often have a monetary cap, such as $500 or $1,000.
Here's an example of how a money order might look: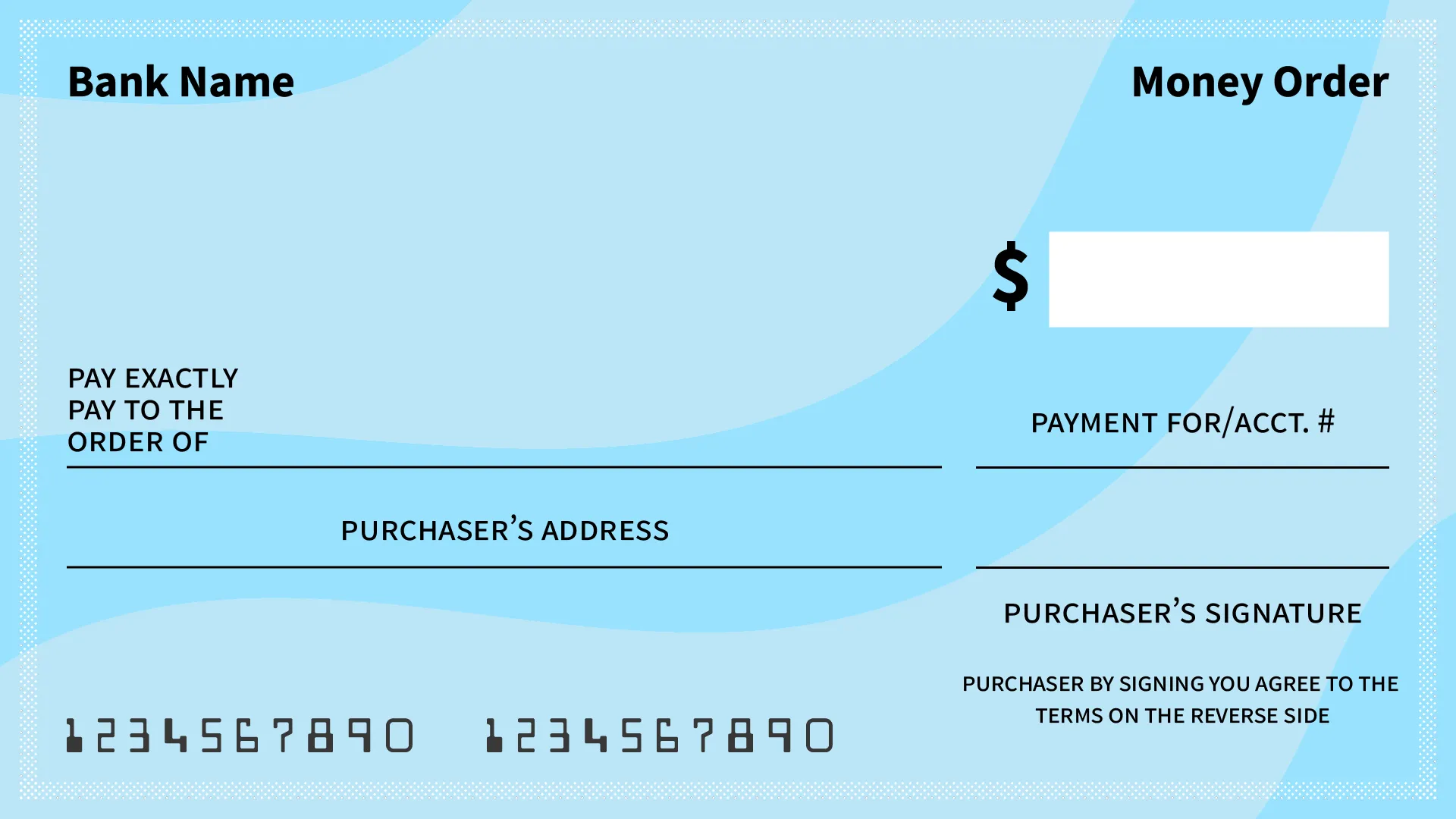 When Do You Need a Money Order?
You need a money order when:
You need a funds-guaranteed way to pay someone

You owe someone a payment but don't want to be walking around with cash

You need or want to be able to write a check without revealing your bank account information

A check is required to pay a bill, but you don't have a bank account
You might use a money order to:
Pay anyone who needs assurance of your ability to pay

Pay a bill, like rent

Pay movers

Pay someone for a piece of art or furniture without carrying cash

Make a large purchase without putting it on a credit card

Send money to someone in a correctional facility
Security Tips
Although your money order will have a payee — making it harder for anyone else to cash it — you still need to be aware that carrying a money order around is similar to carrying cash. Keep your money as secure as possible by following this guidance:
Precautions To Take

Be mindful of your surroundings when you request a money order. If you feel uncomfortable, ask for assistance in walking to your car.

Fill the money order out completely before you leave the store — write clearly, preferably in black gel ink. Do not leave any spaces blank.

Keep your receipt. It contains a tracking number that you may want to look up if the money order is going to travel to the payee by mail.

If you're mailing the money order, use a discreet envelope and alert your payee once it is in the mail to try and prevent anyone from intercepting it. Consider sending it via certified mail.
Know Before You Go
There are plenty of places you can turn for a money order, but limits and fees vary by retailer and geographic location. Do your research in advance and know where you can go for a money order that meets your needs. 
If you need a money order, you'll want to be aware of the following:
You can purchase more than one money order at a time. However, if you purchase $3,000 or more in money orders within the same day, you'll need to fill out a form and provide a government-issued photo ID.  

Stay alert for fraud. Scammers can pose as real companies that you know and trust to solicit fee payments from you. They may also send you a money order and ask for a portion of it back. 

For a military money order, head to an APO/FPO/DPO location. 

You can send a money order internationally, but limits vary. 
Lastly, remember that just because you can get a money order doesn't mean you'll be able to cash it in that location. Make sure you have a plan for both sides of the transaction if need be.
Banks, ATMs and Other Services Nearby

Bank Branches

ATMs

Other Services
More on Checking Accounts
Compare Checking Accounts
GOBankingRates' Best Banks 2023
Cynthia Measom contributed to the reporting for this article.
Information is accurate as of Nov. 10, 2022.
Earn Perks With A New Checking Account