Land of Lincoln Credit Union Review: Serving the Needs of Central Illinois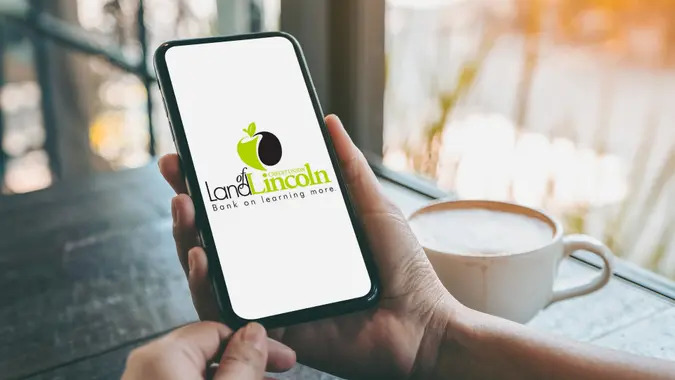 Land of Lincoln Credit Union was founded in 1947 to serve the employees of the Decatur Signal Depot, which was a federal communications facility. The credit union now serves 26 counties with 11 branches across central Illinois. In addition to spreading financial literacy, the credit union's mission is to serve the financial needs of its immediate community. LLCU might be the answer to your financial needs if you live in the credit union's service area or otherwise qualify for membership.
In this Land of Lincoln Credit Union review, you'll learn about the following topics:
Who Is Land of Lincoln Best For?
Land of Lincoln Credit Union is best for customers who want a broad range of banking products and services with both online and in-branch capabilities. Land of Lincoln Credit Union offers a host of different categories of accounts, from deposit accounts to loans and credit cards, plus several different accounts per category. With a rewards program that favors using multiple products, LLCU can be a good choice for qualifying members looking for a one-stop deposit and loan institution. 
Pros: 
Wide variety of deposit and loan products

Low or no fees on most accounts

Interest on most checking accounts

Tiered interest rates on most savings products
Cons: 
No investment options

Comparably low rates on deposit products

Membership required
Read: Best Credit Unions of 2020
Who Might Want To Choose Land of Lincoln?
Land of Lincoln Credit Union is an obvious choice for those who live in one of the institution's 26 covered counties and need more than just simple banking.
With so many options for deposit accounts and loans on offer, Land of Lincoln Credit Union has more than enough capability for those who enjoy working with just one institution to service all of their financial needs.
Who Might Want To Skip Land of Lincoln?
Members outside the credit union's service area or who cannot otherwise qualify have no choice but to skip Land of Lincoln. 
Other customers who might take a pass are people looking for savings accounts with no fees or minimums and top-tier yields. The credit union has a broad reach of services, but it doesn't offer the sleek, online-only banking experience that now dominates the high-yield savings landscape.  


Types of Accounts Available
For a credit union serving a relatively limited region, Land of Lincoln Credit Union offers a comprehensive line of account types. Here's a look at all of the options:
Land of Lincoln Account Types
Account Type
Rates (APY)
Fees

Checking

0%-4%

Monthly Service Charge: $0-$6 

Savings

0.10% 

Monthly Service Charge: $0

Money Market

0.30%-0.40% 

Monthly Service Charge: $0

CDs

0.20%-1.00% 

Monthly Service Charge: $0

IRAs

0.45% 

Account Maintenance Fee if Closed in First Year: $50

Loans

2.784%-15.90% 

$25-$350 

Rates accurate as of May 7, 2020



Checking
Land of Lincoln Credit Union offers a single traditional, no-fee checking account, aptly named the Free Checking account. This account requires no minimum balance, has no monthly service charge and it allows unlimited check writing.  
The credit union also offers a Fresh Start Checking account for those who have had financial difficulties in the past and might have trouble opening a standard checking account.
Pros:
Unlimited check writing

Overdraft protection

Fresh Start option available for those with checkered financial histories
Cons:
Interest Checking
Land of Lincoln Credit Union offers three additional checking accounts that pay interest: 
Share Draft Plus Checking

Amped Checking

Premier Advantage Checking
Share Draft Plus Checking is similar to the credit union's Free Checking account, except with a $500 minimum balance requirement and a 0.10% annual percentage yield as of May 7, 2020. 
Amped Checking has no minimum balance requirement but pays higher interest, according to the following tiers as of May 7:
$0 to $1,500: 4% APY

$1,500.01 to $5,000.01: 2% APY

Above $5,000.01: 0.10% APY
The Amped Checking account requires enrollment in Home Banking and eStatements and at least 20 debit card transactions monthly. 
Premier Advantage Checking is for members age 50 or older. This account requires a $500 deposit.  Freebies with this account include:
One box of free checks

Up to 10 free copies per month

Free check imaging, with eStatements

Free notary service

Bonus 0.10% APY on CD accounts

Emergency no-penalty withdrawals
Here's a quick review of the benefits and drawbacks of Land of Lincoln checking accounts:
Pros: 
Multiple account options available

Up to 4% APY available on the Amped Checking account

Numerous freebies for members age 50-plus with the Premier Advantage Checking account
Cons:
$5 monthly fee on Share Draft Plus Checking if requirements not met

High APY on Amped Checking is for up to $1,500.01 only
Savings Account
Land of Lincoln Credit Union offers one basic savings account and three additional specialty options. A $5 deposit and maintaining balance in the Basic Savings Account is required for membership in the credit union. The Custom Savings Account is identical to the Basic Savings Account except members can assign the account to a specific goal, such as saving for vacation.
The Christmas Club Account and the Vacation Savings Account have no minimum balance requirements and are designed to help members save specifically for the holidays and for a vacation, respectively. 
All of the Land of Lincoln savings accounts pay the same 0.10% APY as of May 7.
Pros: 
Variety of savings accounts available

All savings accounts pay interest
Cons:
APY is low for all savings accounts
Money Market Account
Land of Lincoln offers two money market accounts: the traditional Money Market account and the MAXimum Money Market. 
For the traditional Money Market, rates are higher than the credit union's savings rates but require a minimum balance of $2,500. Deposits and withdrawals must be for at least $100. As per federal requirements, money market withdrawals or transfers are limited to six per month.  
Interest rates are tiered, according to the following breakdown as of May 7: 
Level 1: $2,500 to $9,999, 0.30% APY

Level 2: $10,000 to $24,999, 0.35% APY

Level 3: $25,000+, 0.40% APY
The MAXimum Money Market is identical to the traditional Money Market account, but with a $25,000 minimum and higher rates. Tiers for the MAXimum Money Market account are as follows: 
Tier 1: $25,000 to $49,999, 0.45% APY

Tier 2: $50,000 to $99,999, 0.50% APY

Tier 3: $100,000+, 0.60% APY
Pros: 
Higher rates than savings accounts

Check writing capability

Two types of money market accounts
Cons:
Low APYs for all tiers in the traditional Money Market

Higher minimum balance
Certificates of Deposit
Certificates of deposit allow Land of Lincoln members to set aside savings for a set term at rates that are higher than with the credit union's savings accounts. Terms run between three months and 60 months. For each maturity, interest rates are divided into three tiers: $1,000 to $9,999, $10,000 to $49,999, and $50,000-plus. Minimum investments are $1,000, except for 12-month starter CDs that require only $100.  
As of May 7, the lowest APY of 0.20% is paid out on the lowest tier of the shortest, three-month maturity. The highest APY of 1.30% is paid for deposits of at least $50,000 at the longest, 60-month maturity. 
From time to time, Land of Lincoln Credit Union might offer special share certificates with varying APYs and restrictions. As of May 7, the credit union is offering a special 15-month CD with a 0.90% APY for deposits of at least $10,000.  
Early withdrawals are subject to penalties. For terms of three to 30 months, the penalty is 90 days' interest. For longer terms, the penalty is 365 days' interest. 
Pros: 
Wide range of terms available

Higher deposits earn higher interest tiers.
Cons:
No $100,000-plus jumbo CD tier
Learn More Here: Investing in Certificates of Deposit — The Ultimate Guide
Individual Retirement Accounts
Land of Lincoln offers traditional and Roth IRAs in the form of a simple savings account called the IRA Builder or Roth IRA Builder, respectively. A $50 minimum is required, and the IRAs earn 0.45% APY. 
Although there are no fees to open an IRA account, you'll be hit with a $50 maintenance fee if you close your account within one year of opening. 
Pros: 
Traditional and Roth IRAs available

IRA savings APY more than quadruple that of the credit union's basic savings account
Cons:
Maintenance fee of $50 for early account closure
Loans
One of the fundamental purposes of a credit union is to offer loans to a local market, and Land of Lincoln is no different. In fact, Land of Lincoln has an extensive loan product portfolio: 
Vehicle loans

Personal loans

Visa

 credit cards

Secured loans

Mortgage loans

Home equity lines of credit 

Home equity loans

Commercial loans

Student loans
Members can receive Relationship Rewards loan rate discounts if they use other credit union products or services. For example, you'll receive a 0.25% rate discount if you have an active checking account, and an additional 0.25% rate discount if you carry a balance on your LLCU Visa credit card. The maximum cumulative discount on any loan is 0.50%. 
Pros: 
Relationship Rewards discount program

Wide range of available loan types

No payments for up to 90 days on auto loans 

New and vehicle refinance loans  

Fixed-rate, adjustable, FHA, VA and USDA Rural Development mortgages 
Cons:
How To Bank With Land of Lincoln
As a credit union, Land of Lincoln requires membership before you can open an account. You must meet one of the following eligibility standards to qualify:
You live or work in one of these 26 counties, all of which are located in Illinois: Bond, Christian, Clark, Clay, Clinton, Coles, Crawford, Cumberland, DeWitt, Douglas, Edgar, Effingham, Fayette, Jasper, Jefferson, Lawrence, Macon, Marion, McLean, Montgomery, Moultrie, Piatt, Richland, Sangamon, Shelby or Washington.

One of your immediate family members is already a member.

You're employed by one of the credit union's Premier Partners.

You're a United Methodist affiliate.
Eligible individuals can open an account online or in a branch. You can also call the credit union at (844) 222-7788.  The credit union will collect standard identifying information about you, such as your name, address, date of birth and Social Security number, to process your application. You'll also have to provide your mother's maiden name and driver's license number. 
Mobile and Online Banking
One you've opened your account, you can manage it online or download the credit union's mobile app. On the Land of Lincoln website, you can:  
View your account balances.

Move money between accounts.

Update your contact information.

Stop payment on checks.

View check history.

See loan payments and payoffs.

Reorder checks.

Enroll in bill pay services.

View or print your eStatements.
Mobile app capabilities are nearly as robust. Top features include: 
Account history and balance information

Money transfer between accounts

Bill pay

Mobile check deposit

Branch and ATM locator
Technology
Land of Lincoln Credit Union uses enhanced security for account log-in procedures. In addition to user IDs and passwords, the credit union utilizes multi-factor authentication, security questions and an online PIN. 
Land of Lincoln Credit Union offers some slick features with its online and mobile banking, from PopMoney and e-alert notifications to text banking. And you can choose a picture to upload to your debit card.
Fees
As far as deposit accounts go, monthly fees are fairly low at Land of Lincoln Credit Union, and many accounts impose no fee at all. But Land of Lincoln does have an extensive list of fees for ancillary services, such as safe deposit boxes, fax requests and wire transfers, which can reach $50 for international transfers. 
Land of Lincoln charges a $1 ATM fee at non-LLCU machines, but it does allow for six free transactions per month.  
The $28 non-sufficient funds fee can be reduced to between $3 and $28 with Courtesy Pay. Fees are tiered, with overdrafts of $20 and more incurring the maximum fee. Overdraft protection is available up to six times per month for $3 per overdraft. 
Availability of Funds
Dollar limitations on debit card point-of-sale transactions and ATM withdrawals are disclosed to members at the time a card is issued. 
Land of Lincoln Credit Union aims to make funds available to customers on the same business day they are deposited. Although the credit union might delay availability until the second business day after deposit, at least $200 will always be immediately available. 
For new accounts, deposits of cash, wire transfers, cashier's checks, certified checks, government checks and certain other types of checks up to $5,000 will be available immediately, with amounts above $5,000 held until the ninth business day after receipt.  
Land of Lincoln Credit Union in a Nutshell
Land of Lincoln Credit Union does a good job at fulfilling its basic mission as a credit union: making loans and providing deposit products to a local population. Although the lack of investment products is a drawback, the credit union offers plenty of account options overall. Fees are generally low, but so are the interest rates the credit union pays. The credit union's primary appeal is for regional customers in need of a local, full-service banking relationship.
More Bank Reviews
Rates, fees and requirements are subject to change. Unless otherwise noted, information on accounts is accurate as of April 22, 2020.
This content is not provided by Land of Lincoln Credit Union. Any opinions, analyses, reviews or recommendations expressed in this article are those of the author alone and have not been reviewed, approved or otherwise endorsed by Land of Lincoln Credit Union.
GOBankingRates is a personal finance and consumer interest rate website owned by ConsumerTrack Inc., an online marketing company serving top-tier banks, credit unions and other financial services organizations. Some companies mentioned in this article might be clients of ConsumerTrack Inc., which serves more than 100 national, local and online financial institutions. Rankings and roundups are completely objective, and no institution, client or otherwise, paid for inclusion or specific placement. Any opinions, analyses, reviews or recommendations expressed in this article are those of the author alone and have not been reviewed, approved or otherwise endorsed by the companies included in the article. All fees and rates are subject to change at the issuers' discretion. Some interest rates might be short-term or promotional offers only, and it is possible additional terms and conditions must be met to obtain the interest rates listed. Rates and availability might vary by region. Verify terms and conditions before opening an account.