Amazon.com Store Credit Card Review: High Rewards for Frequent Shoppers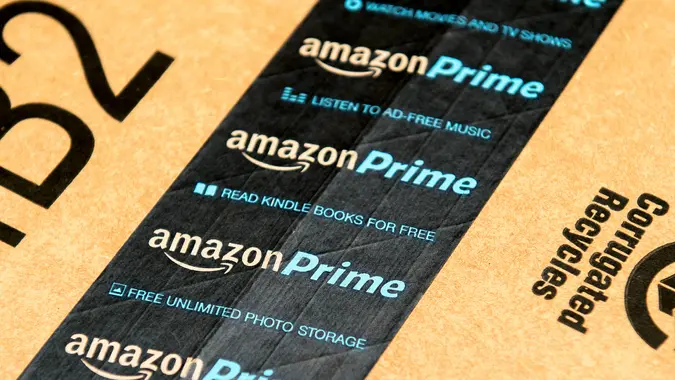 Hadrian / Shutterstock.com
Update: Some offers mentioned below may have changed or are no longer available. View current credit card offerings from our partners at CardCritics here or on the issuer's website.
The Amazon Prime credit card is designed to increase loyalty among customers by offering Prime members various perks for shopping at Amazon.com. Even if you're an avid Amazon.com shopper — or have Amazon Prime membership — review all the card details before you decide to apply. The annual percentage rate, fees, credit ramifications and qualification requirements should factor into your decision. Make an informed decision about applying for the Amazon rewards card and see how it compares to the Amazon Prime Rewards Visa Signature Card.
Amazon Prime Card Qualification and Approval
The Amazon credit card is issued by Synchrony Bank. Although there are no hard-and-fast rules about who gets approved for this card, the higher your credit score, the more likely you are to be approved. You can apply for the card right on Amazon.com and receive an "instant" credit decision in as little as 15 seconds.
Related: Instant-Approval Credit Cards
Amazon Credit Card Benefits
The Amazon Store Card offers special financing over six, 12 and 24 months, depending on the item and purchase amount, with access to 0 percent interest on select Amazon-sold items if paid in full at the end of the predetermined term. You have zero fraud liability if unauthorized purchases are made on your account. Also, Prime membership entitles you to 5 percent back when you use the card to make purchases on Amazon.com. Depending on when the card was opened, cardholders might receive cashback or rewards points equal to cash value.  
Get More Deals: Amazon Prime Rewards Visa Signature Card Review
Amazon Prime Card APR and Fees
There is no annual fee on the Amazon Prime Store Card. However, the variable interest rate for new accounts is 26.99% APR.
To access special 0% APR financing rates, you'll need to spend. For the six-month financing term, you'll need to spend at least $149; the 12-month term requires a purchase of $599 or more. If you fail to pay off your promotional balance within the specified time frame, you'll be charged interest from the date of purchase. You'll also need to make monthly minimum payments along the way to avoid interest charges.
See: Types of Credit Card Deals
Amazon Prime Card Pros and Cons
Your decision to open an Amazon Prime Store Card will depend on what credit card features are most important to you. Here's a list of the top pros and cons to help you decide:
Pros of the Amazon Prime Card
5 percent Amazon cashback on Amazon purchases

Special financing options on Amazon purchases

Ability to track and organize Amazon purchases

No annual fee

Instant online application status

Fraud protection
Cons 

of the Amazon Prime Card
High APR

Rewards require frequent Amazon.com purchases to reap real value
Credit Cards 101: How Credit Cards Work
Should You Upgrade to Amazon Rewards Credit Card?
If you're an Amazon Prime member, consider the top-tier Amazon Prime Rewards Visa Signature card. The upgraded card carries the same benefits as other Visa Signature cards — including concierge service — in addition to benefits such as:
$70 Amazon rewards card upon signup

5 percent back on Amazon.com purchases, same as with the Store card

2 percent cashback at restaurants, gas stations, and drugstores

1 percent cashback on all other purchases
You can get all this with no foreign transaction fees and no annual fee on the card itself, making the Amazon Rewards Visa card a better overall fit for Amazon Prime members.