4 Best Home Depot Credit Card Offers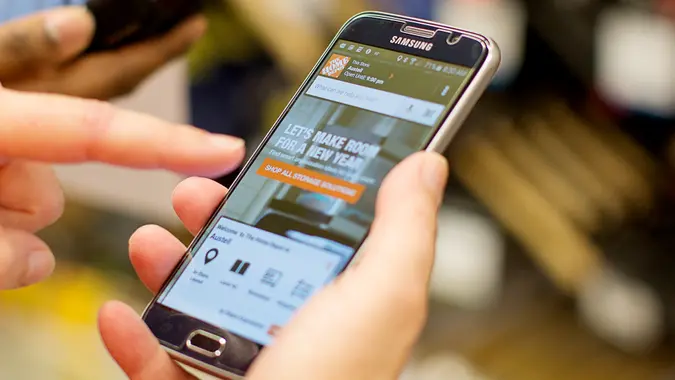 Willett Photography / Home Depot
Update: Some offers mentioned below may have changed or are no longer available. View current credit card offerings from our partners at CardCritics here or on the issuer's website.
Since getting its start in 1978, Home Depot has built a reputation as the country's largest home improvement store with more than 2,200 retail locations plus a 24/7 online shopping portal. The big-box retailer's success is not only apparent in its footprint, it also has the revenue to keep it poised at the top of the home improvement heap — with $94.6 billion in sales for 2016.
As evidenced by high-volume sales, Home Depot is a frequent go-to for anyone getting ready to tackle home improvement tasks — including those who choose to buy now and pay later with a Home Depot credit card. For your next home project, you might want to consider applying for one of the store's card offerings to score special financing promotions and take advantage of some great Home Depot deals.
Home Depot Credit Card Review
Citibank — the issuer of Home Depot's line of credit cards — offers home-improvement shoppers some attractive financial benefits. You'll never pay annual or hidden fees, and plenty of opportunities exist to qualify for special financing.
Additionally, shopping with the Home Depot card is convenient. You can use your credit card to make purchases at any of the thousands of Home Depot stores, via the Home Depot website or the Home Depot app.
Before you fill out the Home Depot online application, you can preview your Home Depot credit card approval status without impact to your credit score. Once you find out you're approved for a card, you'll want to select the product that best suits your specific needs.
Don't Miss: Best Store Credit Cards
Home Depot Products and Services
The Home Depot offers four different financing options for shoppers. Here's what you need to know about each one:
Home Depot Consumer Credit Card
With a starting rate of 17.99% APR, the Home Depot consumer credit card is targeted at homeowners who are interested in tackling smaller projects or purchasing seasonal products. Cardholders will enjoy one-year, hassle-free returns on all purchases as well as six-month financing for any purchase over $299, which can extend up to 24 months during special promotions.
Home Depot Credit Card Review: Special Financing and Promotional Rates
Home Depot Project Loan
Homeowners who have larger home renovations to tackle– like a bathroom remodel or new kitchen cabinets — might consider a Home Depot loan via the Home Depot Mastercard. Offering a fixed 7.99% APR, no annual fee and 84 months to pay off balances, this card might be a good choice for substantial purchases. Additional features include a six-month buying window and a Home Depot line of credit of up to $55,000.
Home Depot Commercial Revolving Account
Featuring a 21.99% APR, the Home Depot Commercial Revolving credit card helps contractors keep track of business-related expenses with itemized statements and the ability to track purchases by PO number, job number or job name. With enrollment in the card benefits program, you can earn fuel savings and one-year returns. Plus other advantages include no annual fee, Pro Xtra membership for savings and the ability to authorize employee purchases.
Home Depot Commercial Account
With this account, users are required to pay their Home Depot credit card payment in full each month. You can sidestep this requirement, however, with enrollment in the card benefits program, which allows up to 60 days to pay in full and the ability to earn fuel rewards.
Itemized billing statements and online account management streamline recordkeeping, and the ability to pay your balances by invoice allows you to optimize cash flow. The account also features no annual fee, Pro Xtra membership and Buyer ID cards, which allow authorized-user purchases that you can easily track and control.
Pros and Cons of Home Depot Credit Cards
Before you decide whether any of these cards are right for you, take a look at the pros and cons of this store card. Here are the advantages and disadvantages of Home Depot credit cards:
Pros
Additional benefits: Enjoy no annual fees and one-year returns, plus the option to enroll commercial accounts for extra perks, like fuel savings and 60 days to pay.
Customer care: Home Depot customer service is available via text at 38698 or by phone 800-430-3376 at your convenience.
Special financing: Besides the everyday six-month, no-interest financing on regular account purchases of $299 or more, special promotions run frequently.
Zero liability: You'll never have to pay for unauthorized charges.
Cons
Lack of Flexibility: Cards can only be used at Home Depot.
Retail Interest Rates: Rates vary from 17.99% to 26.99% APR, unless you get a Project Loan Mastercard.
Fees: Late and returned payment fees are $35.
No Rewards: No cash-back or points-based rewards like other store cards offer.
Review: Is the Home Depot Credit Card Worth It?
When you shop regularly at Home Depot, or you're a contractor with frequent supply lists, these store credit cards can make a lot of sense, especially if you take advantage of special financing offers. Customers who wish to make purchases across a multitude of stores, however, would not benefit from the Home Depot credit cards, because they can't be used outside of the store. Additionally, if you don't plan to pay off your purchases within the grace period or special financing window, you could end up paying substantial interest.
Find Out: How to Get Your Home Depot Credit Card Application Approved