How To Make an Express Credit Card Payment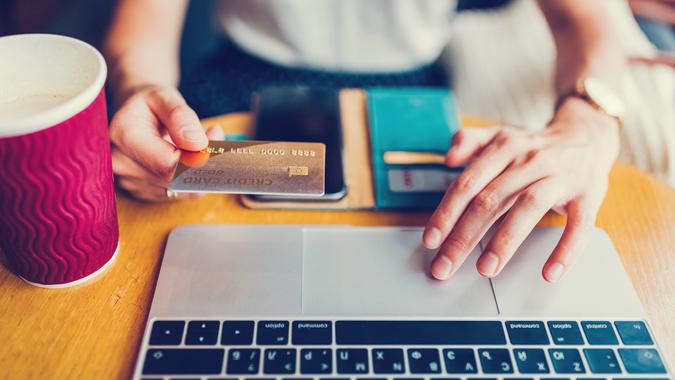 martin-dm / Getty Images
Since its first store opened its doors in 1980, Express has come a long way. The brand, which offers a selection of fashion-forward clothing and accessories for men and women, currently operates 376 stores in the U.S. Other store locations include Costa Rica, Guatemala, Mexico, Panama, Puerto Rico and El Salvador.
Shoppers can get more bang for their buck with an Express card issued by Comenity Bank, including 2x points for purchases, reward certificates for every $125 spent and an annual birthday gift. Once you've used your Express credit card to make purchases at the store, you'll need to make a payment to avoid penalties and keep your account in good standing. Here's how.
How To Make an Express Credit Card Payment Online
Express offers cardholders the option to make credit card payments online. Here's an overview of the process:
Register your account if you haven't yet. To find your account, you'll need to provide your credit card account number, your ZIP code and your Social Security number.
Log in using the username and password you chose.
Go to the Checking Accounts section and click "Add an Account."
Enter your checking account number and bank routing number.
Enter the payment amount, payment date, and submit the payment.
How To Make an Express Credit Card Payment Through EasyPay
You can make a payment through EasyPay without registering for online access or logging in to your account. This is a secure and convenient system that does not store your personal information. Here's how it works:
Click "Try It Now" on the banner at the top of the Express account login page.
Enter your account number, ZIP code and identifying information.
Follow the onscreen prompts to complete the payment.
How To Make an Express Credit Card Payment by Mail
Comenity Bank also accepts Express credit card payments by mail. Here's what to do:
Write a check or purchase a money order for at least the minimum payment due on your billing statement.
Include the payment stub from your account statement. If you don't have the payment stub, write your credit card account number on the check or money order to ensure your payment will be properly credited to your account.
Mail your Express payment to the following address:
Comenity Bank
P.O. Box 659728
San Antonio, TX 78265-9728
How To Make an Express Credit Card Payment by Phone
Making an Express credit card payment by phone is another option. Here's how:
Call Express credit card automated system at 800-201-4955.
 Say or enter your account number or Social Security number.
Follow the prompts to submit the payment.
If you don't have your account number or Social Security number, you can speak with a customer service representative to complete the payment. If you need to make an expedited phone payment, a fee of $15 may apply.
Late Fees for Express Credit Cards
Express credit card account payments are due by 6 p.m. before or on the due date. If your payment is late, you can still pay your bill with any of the available payment methods, but your account will be charged a late fee of $30. However, this fee can be as much as $41 if you've had a late fee applied to your account within the last six billing periods.
Information is accurate as of Aug. 16, 2022.
Editorial Note: This content is not provided by Comenity Direct. Any opinions, analyses, reviews or recommendations expressed in this article are those of the author alone and have not been reviewed, approved or otherwise endorsed by Comenity Direct.