How To Make a Sears Credit Card Payment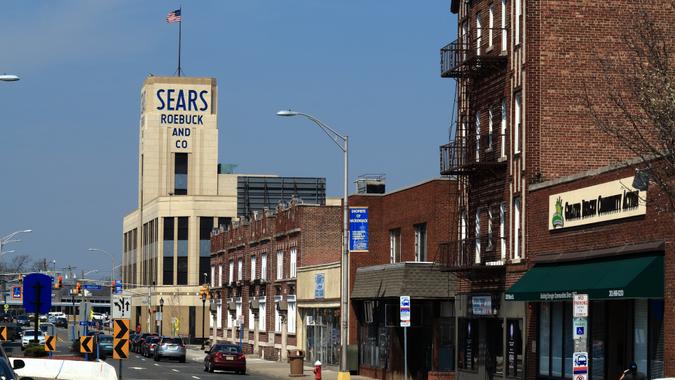 ffooter / Getty Images
As a large, nationwide retail chain, Sears offers items like appliances, tools, clothing, shoes, home furnishings and more. Even better, Sears offers a way to help finance those purchases: a Sears credit card or a Shop Your Way Mastercard — both issued by Citi®.
Using a Sears credit card or Shop Your Way Mastercard delivers rewards and benefits, such as getting 5% off certain purchases or 12 months of interest-free financing on select items of $299 or more, or earning 1% to 5% in points for eligible purchases.
Advice from CardCritics: Why It's Time To Ditch Your Store Credit Card
To enjoy the benefits of your credit card rewards, you'll need to keep your Sears credit card account up to date by taking advantage of one of the available payment options. Here's everything you need to know.
How To Make an Online Sears Credit Card Payment
You can submit your payment using the online portal. First, you will need to register your Sears credit card. To do so:
Go to the login page for your Sears credit card or Shop Your Way Mastercard.
Click the "Register Your Card" link underneath the "Sign On" button.
Enter your card number and select "Continue" to set up a user ID and password.
If you don't know your card number, you can verify your identity by clicking "I don't have my card on hand" and entering your name, Social Security number and phone number. Choose whether to receive a call or a text, accept the terms and click "Send Code" to continue registering your account.
Once your registration is complete, you can sign in at the login page to process your online payment. Make sure you have your checking account information and bank routing number handy to complete the transaction.
How To Make a Sears Credit Card Payment by Phone
You can pay your Sears credit card, 24/7. Customers with a Sears Card can call the Sears Credit Card Services toll-free number at 800-917-7700 and follow the prompts to make a payment. You can also opt for a customer service representative to assist you.
Assistance is also available for customers with other Sears credit cards, including the following:
Sears Mastercard: 800-669-8488
Shop Your Way Mastercard: 877-816-9063
How To Make a Sears Credit Card Payment by Mail
With Sears, paying your credit card bill by mail is also an option. Regular mail and expedited payment addresses are available. Send your payment coupon and a check or money order to the appropriate address:
Card
Regular Payment Address
Expedited Payment Address
Sears Card or Sears Mastercard
P.O. Box 9001055
Louisville, KY 40290-1055
Overnight Payments
Sears Payment Center/Overnight
6716 Grade Lane
Building 9, STE 910
Louisville, KY 40213
Shop Your Way Mastercard
P.O. Box 78024
Phoenix, AZ 85062-8024

or

P.O. Box 70610
Philadelphia, PA 19176-0610

Overnight Payments
Attn: Consumer Payment Dept.
6716 Grade Lane
Building 9, STE 910
Louisville, KY 40213
How To Make a Sears Credit Card Payment in Person
You can also make a credit card payment at any Sears location, which is convenient if you live nearby or if you are planning to shop there. For the fastest service, bring your billing statement with you to the store.
Pay Your Sears Credit Card Bill on Time
Paying your bill on time is important to avoid late fees and negative credit reporting. If you pay your entire bill within the grace period, you can avoid interest charges on your purchases. The grace period is at least 25 days.
If you don't pay at least the minimum due by the due date, a late fee of $25 will apply. Additionally, more than one late payment in six consecutive billing cycles will result in a $35 fee.
Information is accurate as of Sept. 23, 2022.
Editorial Note: This content is not provided by any entity covered in this article. Any opinions, analyses, reviews, ratings or recommendations expressed in this article are those of the author alone and have not been reviewed, approved or otherwise endorsed by any entity named in this article.