How to Get Your Sam's Club Credit Card Application Approved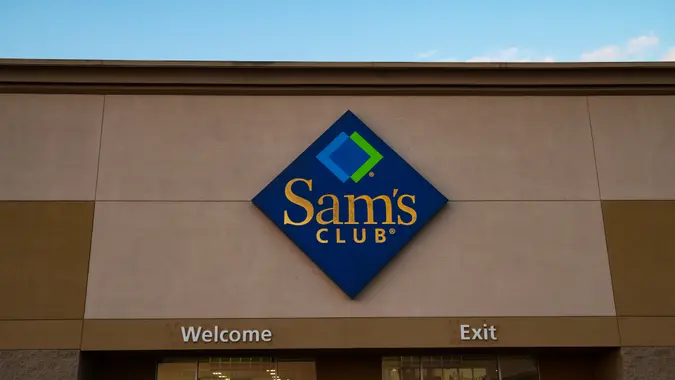 George Sheldon / Shutterstock.com
With perks like 5 percent cash back on gas, 3 percent cash back on dining and travel, and 1 percent cash back on everything else, the Sam's Club Mastercard from Synchrony Bank offers rewards that aren't often seen on cards with no annual fee. Along with the cash-back rewards, Synchrony Bank offers $0 fraud liability, smart chip technology, and online account management with the Sam's online credit center. And as an added convenience so you only have one card to carry, your Sam's Club Mastercard is also your Sam's card.
Advice from CardCritics: Why It's Time To Ditch Your Store Credit Card
Learn how to apply, get your application approved, and make your Sam's Club credit card payment quickly and easily so you can enjoy the benefits of your Sam's Club membership.
How to Apply for a Sam's Club Credit Card
The first requirement to get a Sam's Club credit card is to become a Sam's Club member. You can apply online or at any club location, and choose a Sam's Plus, Sam's Business, or Sam's Savings option. There are also memberships for military personnel and college students.
Once you become a member, you're eligible for Sam's Club credit. Apply for a Sam's Club Mastercard in one of two ways: Visit your local Sam's Club location and fill out an application, or apply online. There are over 650 Sam's Club locations in the U.S. and Puerto Rico, according to the corporate website.
Online users can have their accounts approved immediately after they apply for a Sam's card. Those who fill out a Sam's Club credit card application at a club location bring the application to a customer service representative for processing and a credit decision. You will need to provide basic information such as your address, Social Security number, birth date and monthly income.
Related: 15 Best and Worst Deals at Sam's Club
Understand the Sam's Card Fine Print
When you read the fine print on your card member agreement, you'll see that Sam's Club issues cash-back rewards each February for the amount of cash back earned during the previous year. This is different than other types of cash-back credit cards. You can use the cash-back check at a Sam's club location or cash the check there. The card member agreement stipulates that your cash-back rewards will be forfeited if:
You're more than two months behind in your Sam's Club Mastercard payments.
Your Sam's Club membership is inactive.
You've accrued less than $5 in cash-back rewards.
Once your Sam's Club credit card application has been approved and your account has been opened, you can shop with the card at Sam's Club, Walmart and anywhere Mastercard is accepted. Use your Sam's Club login to visit the online credit center and manage your account or make a Sam's Club credit card payment. You can also call Sam's Club credit card customer service at 866-220-0254.
Consider subscribing to email updates to find out about sales and special offers from your local Sam's Club. You'll find a "Sign Up" button just above the Sam's Club "Careers" link on the site's main credit card page.
Up Next: Best Store Credit Cards