How To Make an American Eagle Credit Card Payment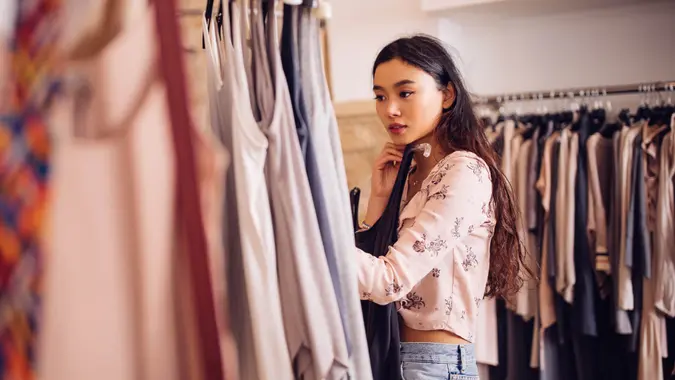 wundervisuals / iStock.com
American Eagle Outfitters was founded in 1977. Shoppers who like the trendy clothing and accessories AEO offers can score some great deals by signing up for a Real Rewards credit card issued by Synchrony Bank. The card offers perks like a 20% discount on your first purchase, 2x rewards points on all purchases, free shipping and member-only exclusives.
Once you've used your card, you'll need to make a payment to keep your account in good standing. Synchrony offers you three payment options: online, by mail and over the phone. Here's everything you need to know.
Advice From CardCritics: Why It's Time To Ditch Your Store Credit Card
How To Make a Payment Online
Making an online payment is simple. Here's how.
Pay Online

Go to the Real Rewards account login page.
First-time users without a login will need to register first. You'll need to enter your account number and ZIP code to get started, followed by additional information to verify your identity.
Once you've registered, log in to your account with your username and password.
Have your bank account number and your bank's routing number ready.
If you don't want to register for an online account, you can use the "Pay as Guest" feature.
Click "Pay as Guest" on the account login page.
Enter your card number, the last four digits of your Social Security number and your billing ZIP code.
Follow the prompts to complete the payment.
How To Make a Payment by Mail
You also have the option of mailing in your payment. Where you'll mail it depends on whether you have the Real Rewards store card or Visa card. Here's how:
Write a check or purchase a money order for at least the minimum amount due.
Include the payment coupon from your statement or write your account number on the check or money order so your account can be properly credited. Your payment can be delayed up to five days if you don't include this information.
Mail your payment to the address for your card type:
AE or Aerie Real Rewards Store Card
P.O. Box 530942
Atlanta, GA 30353-0942
AE or Aerie Real Rewards Visa
P.O. Box 960013
Orlando, FL 32896-0013
How To Make a Payment by Phone
You can pay your American Eagle card over the phone for free using the automated system. Here's how:
Call the number designated for your credit card.

Real Rewards credit card: 800-843-0875
Real Rewards Visa credit card: 866-913-6765

Press "2" to use the automated service.
Provide your account number.
Follow the prompts to complete the payment.
Although there is no charge to make a payment through the automated system, you may incur a fee if you opt to pay your bill by phone through a customer service agent.
Late Fees for American Eagle Credit Cards
It's important to pay your American Eagle credit card bill on time each month. Payments are due by 5 p.m. EST on the due date listed on your statement. If you miss this cutoff, you can still make your payment with one of the available payment methods. However, you'll pay a late fee of $30. The fee increases to $41 for two or more late payments in a six-month period.
Information is accurate as of Feb. 1, 2023.
Editorial Note: This content is not provided by any entity covered in this article. Any opinions, analyses, reviews, ratings or recommendations expressed in this article are those of the author alone and have not been reviewed, approved or otherwise endorsed by any entity named in this article.