5 Ways to Pay Your Discount Tire Credit Card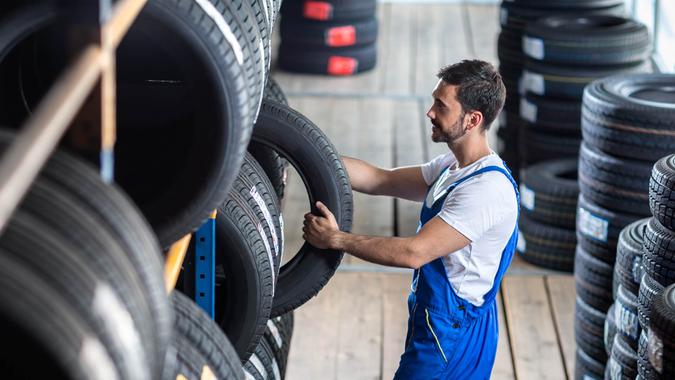 LuckyBusiness / Getty Images/iStockphoto
If you do enough tire shopping at Discount Tire — also known as America's Tire in much of the country — you might have opted to get a Discount Tire credit card so you could get interest-free financing for up to a year on large purchases.
If that's the case, it is important that you are sure you're still paying your bill on time to avoid getting hit by any of the 29.99% APR charged on card balances.
Advice from CardCritics: Why It's Time To Ditch Your Store Credit Card
As such, it's important to understand where and how you can make payments on your Discount Tire or America's Tire credit card and avoid late fees.
Discount Tire Online Payments
America's Tire credit cards are offered through issuing bank Synchrony Financial, so you can log into your account through their online portal and make payments. You just have to log in and click the "Make Payment" button.
Check Out: Best Gas Credit Cards
How To Make a Discount Tire Payment Automatically
One option that many people prefer is to sign up for autopay. By using this feature, regular payments will post automatically on your card so that you don't have to rely on your own memory.
While this can help you avoid late fees, you do have to be careful you always have enough money in the connected account to fund these payments each month.
How To Make a Discount Tire Credit Card Payment by Mail
You can simply mail a check or money order to make a payment if you prefer not to conduct your business online. Payments can be sent to:
Synchrony Financial
P.O. Box 960061
Orlando, FL 32896-0061
How To Make a Discount Tire Credit Card Payment by Phone
You can pay your bill over the phone as well, but you will be charged a fee for utilizing this method. Call the number listed on the back of your card or 877-295-2080.
Late Fees for Discount Tire Cards
You must make at least your total minimum payment prior to your payment due date to avoid a late payment fee of either $27 or $38, depending on whether you paid your total minimum payment on time in the previous six billing cycles. 
In addition to the late fee, your APR might be increased up to the 29.99% penalty APR.
Click through to discover ways to slash your car costs.
Pay Your Other Store Credit Cards
We make money easy. Get weekly email updates, including expert advice to help you Live Richer™. 
Information is accurate as of August 9, 2022.