How To Make a Zales Credit Card Payment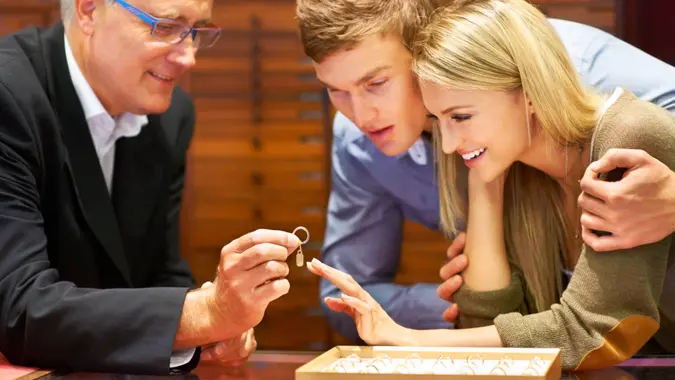 Yuri / Getty Images
In 1924, Zales Jewelers began as one store in Wichita Falls, Texas. Today, almost one century later, the company has over 700 locations across North America and Puerto Rico. Zales' Diamond Card is part of the reason the jewelry retailer is so popular. It offers perks like a $50 birthday discount, 10% off repair services and free standard shipping.
Advice From CardCritics: Why It's Time To Ditch Your Store Credit Card
With the Diamond Card, you can shop for your purchases online or at Zales stores. Like other credit cards, interest charges apply to balances not paid in full by the end of the month. Plus, if you don't get your payment in on time, late payment fees may apply. Here's how to make your Zales credit card payment.
How Do I Pay My Bill?
Zales credit card payments can be made online, by mail, in stores and by telephone. Here's what you need to know about each method.
How To Make a Zales Credit Card Payment Online
Zales online payments are free. To get started, you'll need to make an online account with Comenity Capital Bank, the issuer of the Zales credit card, and get a Zales credit card login. Here's how:
Visit the Zales credit card website. Click "Register Now." Enter your credit card number, your ZIP code and the last four digits of your Social Security number. Then, follow the prompts to create a username and password.
Once you log in, navigate to the Checking Accounts section of the Account page and then click "Add an Account." Enter your bank's routing number and the bank account number you want to use to pay the bill.
Make at least the minimum payment for that billing period.
When you make a payment, it may take up to two business days for the payment to be withdrawn from your checking account. However, you won't be charged a late fee if you make your online payment by 5 p.m. ET on the due date.
How To Pay Your Zales Credit Card by Mail
If you'd rather pay for your Zales credit card by mail, send the payment coupon and a check to:
Comenity Capital Bank
P.O. Box 659819
San Antonio, TX 78265-9119
If you don't have the payment coupon from your statement, make sure you include the credit card account number with your payment to avoid delays in processing.
How To Make a Zales Credit Card Payment In-Store
You can also make a payment on your Zales credit card in a Zales store. Make sure you have your Zales card information and your payment information. It's important to note that you cannot use another credit card to make a payment on your Zales card balance, but you can use a debit card.
How To Make a Zales Credit Card Payment by Phone
To make a Zales credit card payment by phone, call the 24/7 automated payment service at 844-271-2708 and follow the prompts. Make sure to have your Zales credit card number and banking information handy to expedite the process.
Zales Credit Card Late and Returned Payment Fees
If you don't make at least the minimum payment due by 5 p.m. ET on your payment due date, Comenity Capital Bank can charge up to a $41 late fee to your account if you've had other late payments within the past six months. If you haven't had other late payments, the late fee is $30. Returned payments are subject to the same fees.
Information is accurate as of Jan. 13, 2023.
Editorial Note: This content is not provided by any entity covered in this article. Any opinions, analyses, reviews, ratings or recommendations expressed in this article are those of the author alone and have not been reviewed, approved or otherwise endorsed by any entity named in this article.