5 Easy Ways To Make a Sam's Club Credit Card Payment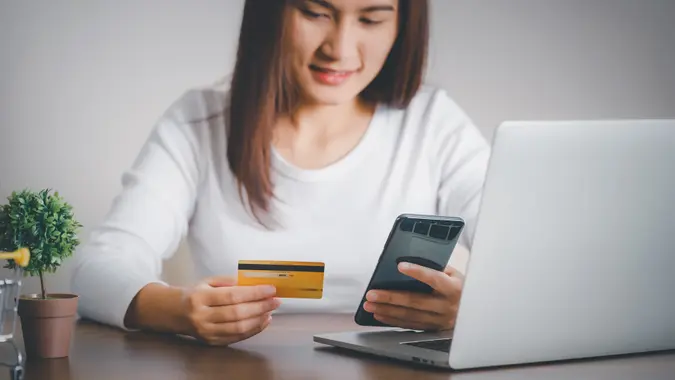 KTStock / iStock.com
Cardholders can use the Sam's Club store credit card and Sam's Club Mastercard to make purchases in any Sam's Club or Walmart nationwide. These cards, issued by Synchrony Bank, come with a $30 statement credit following a $30 purchase within 30 days of opening a new account. The Mastercard also comes with Sam's Cash™ on qualifying purchases which can be redeemed at Sam's Club and Walmart or cashed out for general use. 
To keep your credit in good standing, you must pay your Sam's Club credit card balance on time. Fortunately, you have multiple payment options available. Here's what you need to know about how to make a Sam's Club credit card payment. 
Make a Sam's Club Credit Card Payment Online
You can make an online payment to your Sam's Club credit card anytime, any day of the week. First, register for online access on their credit card login page. Enter your account number and billing zip code, then click "Continue." You'll have to answer the prompts on the following page and create a password to complete the process.
To make a Sam's Club credit card payment online:
Select "Manage and Make Payments" under the "Payments" tab at the top of the page. Alternatively, you can click "Make Payment" from the summary on your account's home page.
Select your payment amount, the date you want to submit your payment and your payment source. To add a new payment source, enter the routing and account numbers for the bank checking account you want to use. You'll need to re-enter the account number. You also have the option of giving your payment method a nickname. Finally, click "Save."
Click "Submit" to authorize the payment. You will receive a payment confirmation via email. 
Send Your Sam's Club Credit Card Payment Through the Mail
Here's what you need to do to pay your bill by mail:
Write a check or purchase a money order for at least the minimum amount due. Make it payable to "Sam's Club Credit Card" and write your Sam's Club credit card account number on it, too. 
Detach the payment voucher from your bill and fill out the "Amount Enclosed" section with the amount you're paying. 
Place the check or money order and payment voucher in an envelope. The mailing address you write on the envelope will depend on your card type.

For a Sam's Club store card, send your payment to:
Sam's Club Store Credit Card
PO Box 530942
Atlanta, GA 30353-0942 
For a Sam's Club Mastercard, mail your payment to:
Sam's Club Mastercard
PO Box 960013
Orlando, FL 32896-0013
Mailed payments can take 7 to 14 business days to process.
Pay Your Sam's Club Credit Card Over the Phone
To submit a payment by phone, call:
(800) 964-1917 for store card payments
(866) 220-0254 for Sam's Club Mastercard payments
The customer service agent will ask for your credit card number and payment information. Have them within reach to avoid delays during your call.  
Make a Payment In-Store
You can make a payment on your Sam's Club credit card in-store at any Sam's Club or Walmart location. Visit a register with a store associate for assistance.  
Make a Payment Using the Sam's Club App
The Sam's Club app is available for iOS and Android devices. Among the many features of this app, you can view your credit card statement and submit payments. To do this:
Open the Sam's Club app on your iPhone or Android device.
Select "More" at the bottom of the screen.
Choose "Sam's Club Credit Card" from the options displayed. 
Select "Manage Your Credit Account" below the "Apply Now" button. 
Enter your credit card login information. If your phone has the capability, you can also set your phone to use your face ID.
Tap "Payments" at the top of the screen and select "Make a Payment," or tap "Make a Payment" from the account overview page. 
Select or enter your payment method, your payment amount and the date.
Submit your payment. 
Is There a Late Fee if You Miss a Payment Due Date?
Synchrony Bank charges a fee of up to $40 for late payments.
Final Take
Having five ways to pay your Sam's Club credit card bills makes it easy to submit payments on time. Customized email and text alerts, as well as options for recurring payments, can ensure you never miss a payment due date. You can set these features up through your online account at any time. 
Information is accurate as of March 2, 2023.
Editorial Note: This content is not provided by any entity covered in this article. Any opinions, analyses, reviews, ratings or recommendations expressed in this article are those of the author alone and have not been reviewed, approved or otherwise endorsed by any entity named in this article.