10 Best ESG Stocks for 2022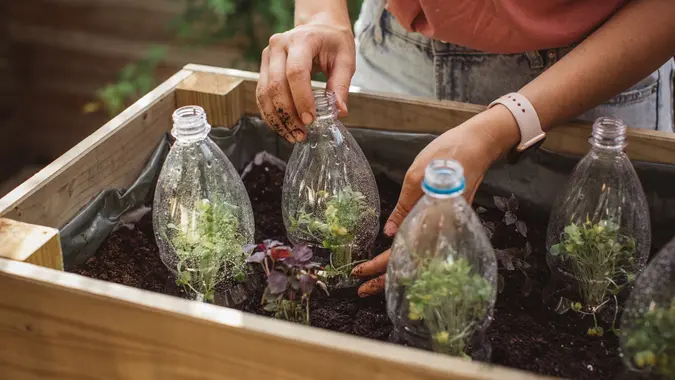 svetikd / iStock.com
Modern investors looking to build portfolios that are both profitable and ethical incorporate non-financial criteria known as environmental, social and governance (ESG) factors into their analysis of potential stock picks. The goal of ESG investing is to build a portfolio of companies that have demonstrated a commitment to corporate responsibility as well as to shareholder profits.  
Although the modern ESG movement is still emerging, the concept is not new. For example, some investors decided decades ago that they would no longer purchase shares in companies that sell tobacco, manufacture guns or finance casinos out of their own personal convictions that those industries were harmful.
But today, ethical investing has gone mainstream, and everyone from retirees to major Wall Street hedge fund managers incorporates ESG stocks into their portfolios and investment strategies.
In response to this new outpouring of consumer demand, many of the biggest companies in the world have committed to corporate responsibility in an effort to attract modern investors who are committed to putting their money where their morals are through investments in ESG stocks. 
What Are ESG Companies?
ESG is not an industry in and of itself. ESG companies exist in segments as varied as telecommunications and cloud computing to life sciences and auto manufacturing. ESG stocks are not classified by the services they provide or the products they make or sell. They're classified by their demonstrated commitment to the criteria that make up the ESG initialism: 
Environmental: This category involves a commitment to things like green energy initiatives, improved waste management and reductions in greenhouse gas emissions, water usage and water and air pollution.
Social: This subject deals with the human aspect of doing business — things like fair labor practices, the ethical sourcing of raw materials, commitment to human rights both at home and abroad and policies regarding gender and racial inclusivity, discrimination in hiring and promotions, sexual harassment and LGBTQ+ protections.
Governance: Finally, ESG companies must demonstrate an ethical record both in how they govern their businesses and in the governments that their companies support. That involves things like executive salaries, pay equity and the company's record of political contributions to unscrupulous or corrupt politicians or candidates or the support of governments with histories of corruption or human rights abuses.
What Are ESG Stocks?
Independent ESG research firms score companies based on a wide range of metrics that measure their adherence to the principles of ESG investing. Companies that score high marks fall under the broad category of ESG companies — their company shares are known as ESG stocks.
According to Forbes, the concept of ESG stocks dates back to 2006, when the United Nations Principles for Responsible Investment (PRI) report formally outlined ESG criteria for the first time in history. Back then, there were 63 investment companies with $6.5 trillion in assets under management that incorporated ESG principles into their planning.
By the start of the 2020s, more than 2,400 ESG investment companies were managing more than $80 trillion in assets.
10 Best ESG Stocks
The following is a look at 10 examples of the most popular and highest-rated ESG stocks from a wide variety of sectors and industries. If you're considering building a portfolio based on ESG stocks, these companies might be a good place to start. 
| Company | Product | Share Price |
| --- | --- | --- |
| Linde (LIN) | Gas production and distribution | $279.14 |
| Accenture (ACN) | Management consulting, technology and outsourcing | $288.79 |
| Microsoft (MSFT) | Software | $260.40 |
| Salesforce (CRM) | Cloud software | $153.53 |
| Nvidia (NVDA) | Computer graphics technology | $139.37 |
| Adobe (ADBE) | Computer software | $370.53 |
| J.B. Hunt (JBHT) | Transportation and logistics | $173.77 |
| Best Buy (BBY) | Computer electronics | $71.85 |
| Xylem (XYL) | Water technology and solutions | $92.09 |
| Texas Instruments (TXN) | Semiconductors and integrated circuits | $166.16 |
1. Linde (LIN)
The UK-based gas production and distribution firm Linde operates all over the world. Its sustainability initiatives include programs to reduce waste and to conserve energy and water. The company dedicates a high-ranking member of its management committee to ensuring that any companies it acquires or partners with for joint ventures meet or exceed Linde's sustainability standards.
2. Accenture (ACN)
Based in Ireland, Accenture uses its position as a management consulting, technology and outsourcing giant to help the companies it consults become more sustainable and equitable. It helps its client companies transition to net-zero carbon emissions, and sustainable value chains, technology and decision-making.
3. Microsoft (MSFT)
Microsoft has committed to being carbon negative by 2030 — the software giant has been carbon neutral since 2012. Its most recent initiatives include contracting for the removal of 2.5 million metric tons of carbon in fiscal years 2021-22, diverting more than 15,000 metric tons of waste from landfills in the last year and the launching of the Microsoft Climate Research Initiative.
4. Salesforce (CRM)
Cloud-based enterprise software firm Salesforce bases its ESG bona fides on six sustainability priorities: emissions reduction, carbon removal, regulation and policy, innovation, education and mobilization and its "trillion trees" ecosystem restoration initiative. The company achieved net zero carbon emissions in 2015 and is on pace to reach more than -2.5 million by 2030.
5. Nvidia (NVDA)
Computer graphics technology company Nvidia has one of the most exciting claims to corporate responsibility fame in the entire business world. It designed and built the EARTH-2 supercomputer to predict the impacts of climate change. The company has pledged to source 100% of its global electricity use from renewable sources by 2025, and its GPUs are 20 times more energy efficient than traditional CPU servers.
6. Adobe (ADBE)
Computer software giant Adobe has committed to powering its operations through 100% renewable energy sources to achieve carbon- and waste-free growth. It also has migrated to sustainable design, business and marketing processes to conserve resources while advocating for policies and entering into partnerships that promote sustainability.
7. J.B. Hunt (JBHT)
Transportation and logistics firm J.B. Hunt leads the industry in converting over-the-road shipments to intermodal transport, which is 250% more fuel efficient. Its fleet of climate-controlled intermodal containers makes it possible to convert refrigerated over-the-road trucks. It's all part of a larger strategy to reduce the company's greenhouse gas emissions.
8. Best Buy (BBY)
Consumer electronics retail giant Best Buy has reduced its carbon emissions by 60% since 2009 and has pledged to be carbon neutral by 2040. The company operates the largest e-waste recycling program in the world and has set a goal to help its customers reduce their carbon emissions by 20% through the development of eco-friendly products. Its target is $5 billion in targeted energy savings by 2030.
9. Xylem (XYL)
Water technology and solutions provider Xylem is committed to achieving net-zero emissions by 2050. It fosters global equity by advancing access to clean water in developing nations and is helping large utilities become more water-efficient. The company has helped to prevent more than 1.9 billion cubic meters of polluted water from entering public waterways.
10. Texas Instruments (TXN)
Semiconductor and integrated circuit producer Texas Instruments received a 100% rating from the Human Rights Campaign Corporate Equality Index for six straight years. The company reduced greenhouse gas emissions by nearly 19% in 2021 and reused or recycled 90% of its waste and surplus materials. It has also increased the percentage of underrepresented populations in its employee base to 20%.
Is ESG Good to Invest In?
The only companies that are good to invest in are the ones that match your investment goals and strategies — ESG just adds another layer of vetting and analysis to weed out those that don't align with your personal ethical standards. You can apply those ethical standards not only to individual stocks, but to the many ETFs and funds that use ESG guidelines to build their portfolios. 
For example, iShares ESG Aware MSCI USA excludes companies that deal in nuclear weapons, thermal coal, oil sands and tobacco. The Vanguard ESG ETF excludes companies that profit from gambling, adult entertainment and cannabis. 
No matter your personal moral criteria, there is evidence that ESG investing can pay off. According to Morgan Stanley, sustainable funds outperformed traditional funds during the first year of the pandemic in 2020. The next year, S&P Global reported that most ESG funds outperformed the S&P 500 in 2021.
Beware of ESG Imposters
When deciding between potential ESG stocks for your portfolio, be on the lookout for so-called greenwashing. That's when companies misrepresent their commitment to corporate responsibility through deceptive marketing, advertising, branding and packaging.
Companies know that modern consumers demand that the companies whose products they purchase take real action to improve environmental sustainability, social justice and equity.
The practice of greenwashing allows "dirty" companies to give a false impression that they follow ESG best practices. It can be hard to tell the difference, so check for ESG scores from reputable third-party rating agencies like CDP Global Environmental Information Research Center, FTSE Russell, MSCI and RobecoSAM.
Top Stocks To Invest In

Best Energy Stocks:

Best Tech Stocks
Information is accurate as of Sept. 1, 2022, and subject to change.
Editorial Note: This content is not provided by any entity covered in this article. Any opinions, analyses, reviews, ratings or recommendations expressed in this article are those of the author alone and have not been reviewed, approved or otherwise endorsed by any entity named in this article.
Our in-house research team and on-site financial experts work together to create content that's accurate, impartial, and up to date. We fact-check every single statistic, quote and fact using trusted primary resources to make sure the information we provide is correct. You can learn more about GOBankingRates' processes and standards in our editorial policy.