Here's Your Citizens Bank Routing Number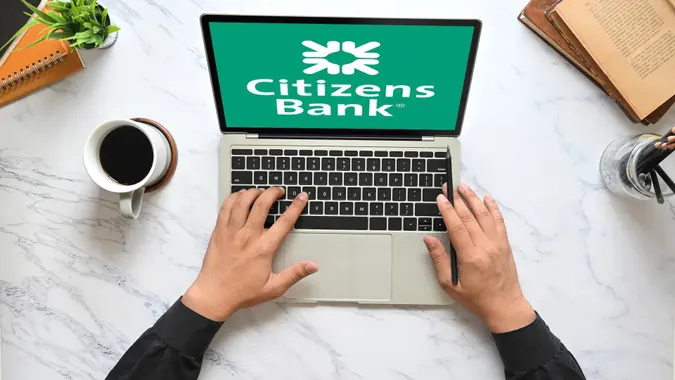 PrathanChorruangsak / Getty Images/iStockphoto
Your bank routing number is used for many banking transactions. You will need it to set up direct deposit, such as providing it to your employer to receive your paychecks.
You might also need your bank's routing number to pay bills online, wire money or order new checks. If you're a Citizens Bank customer, here is how you can find your bank routing number in seconds, based on your main branch.
Citizens Bank Routing Numbers By State
| State | Routing Number | Wire Transfer |
| --- | --- | --- |
| Connecticut | 211170114 | 011500120 |
| Delaware | 031101143 | 031101143 |
| Massachusetts | 211070175 | 011500120 |
| Michigan | 241070417 | 241070417 |
| New Hampshire | 011401533 | 011500120 |
| New Jersey | 036076150 | 036076150 |
| New York | 021313103 | 021313103 |
| Ohio | 241070417 | 241070417 |
| Pennsylvania | 036076150 | 036076150 |
| Rhode Island | 011500120 | 011500120 |
| Vermont | 021313103 | 021313103 |
How To Find Your Routing Number
Citizens Bank, headquartered in Rhode Island, has branches in 14 states and Washington, D.C.  If you live in one of the cities with multiple branches, it would be best to verify your routing number on your check by looking at the first nine digits at the bottom left-hand corner.
If you do not have a check, you should call your bank before making a transaction that requires your routing number. You can also find your routing number by logging into your account online. Using an incorrect routing number can delay a transaction.
What Is a Routing Number?
A routing number is a nine-digit code used to identify a bank. You'll need your routing number for a variety of reasons, including sending money to friends and family.
The American Bankers Association originally created these numbers in 1910 to help send paper checks to the correct processing centers. Now, they are also used to almost seamlessly move money between accounts and financial institutions through electronic transactions.
The nine digits in a routing number make up a code that signals which Federal Reserve district the bank belongs to and which Fed branch handles that bank's transactions, and it identifies the bank itself. The final digit represents a mathematical equation that can be used to verify that the routing number is legitimately issued by the ABA.
Learn: How to Find and Use Your Citizens Bank Login
Different Routing Numbers for International Wire Transfers
Wire transfers are usually more urgent transactions. As a result, the bank recommends you call your local branch to be sure you have the correct Citizens Bank routing number to use for a wire transaction. The routing number for a wire is often different from the normal routing number for your checking account. This separates these more urgent transactions for the bank to process at a high priority.
When you send wires internationally, you also need a SWIFT code, issued by the Society for Worldwide Interbank Financial Telecommunication. Citizens Bank's SWIFT code is CTZIUS33 for personal transactions and CTZIUS33COB for commercial online banking.
Information is accurate as of Jan. 25, 2023.
Editorial Note: This content is not provided by any entity covered in this article. Any opinions, analyses, reviews, ratings or recommendations expressed in this article are those of the author alone and have not been reviewed, approved or otherwise endorsed by any entity named in this article.