How To Avoid Wells Fargo's Monthly Service Fees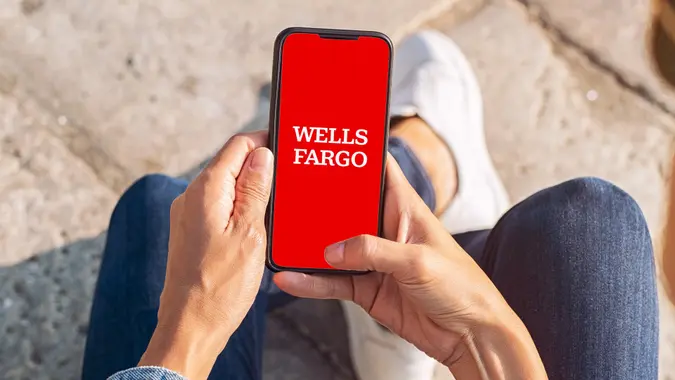 Banking fees are the silent killer of account balances. They're easy to overlook because they can be relatively incremental. But don't let yourself be fooled: You could conceivably lose thousands of dollars in fees if you're not sure what to look out for.
Wells Fargo, one of the biggest banks in America, has a schedule of fees for using its products and services. However, GOBankingRates has done the legwork to let you know how much they'll cost you and how to avoid them. Many of Wells Fargo's fees can be avoided by maintaining a designated balance, setting up deposits or linking to other Wells Fargo accounts.
Wells Fargo Checking Account Fees
Wells Fargo checking monthly maintenance fees are $10 for Everyday Checking, $5 for Clear Access Banking, $25 for Prime Checking and $35 for Premier Checking. Additionally, these checking accounts may also charge out-of-network ATM fees and overdraft fees.
Here's a look at how these fees compare for Wells Fargo's checking account options:
| Account | Monthly Service |
| --- | --- |
| Everyday Checking | $10 |
| Prime Checking | $25 |
| Premier Checking | $35 |
| Clear Access Banking | $5 |
Keep in mind the overdraft fee is $35.00 per item. The only account exempt from this fee is the Clear Access Banking account, which does not offer overdraft services.
You can also expect these common fees associated with using a Wells Fargo checking account:
Fee
Amount Charged
Cashier's check
$10 — waived with Prime or Premier checking account
International debit card purchase
3% of the transaction — waived with Premier checking account
Money order — up to $1,000
$5 — waived with Prime or Premier checking account
Wire transfer
$0 to $30
Out-of-Network ATM Withdrawal
-In U.S.: $2.50
-Outside U.S.: $5
Upgrade Your Checking Account
As you can see, these fees can easily creep up on you if you're not careful. For instance, if you're not in the habit of checking your account balance, you may not even notice there's been a deduction. And because of the fee associated with international use, travelers have more to worry about.
Wells Fargo Savings Account Fees
Wells Fargo's savings account monthly maintenance fees range from $5 for its Way2Save Savings account to $12 for its Platinum Savings account. These accounts don't have nearly as many fees as Wells Fargo's checking accounts. However, because they're designed to retain and grow money through a savings interest rate, you are limited to six penalty-free savings account withdrawals.
The Way2Save Savings account is best for passive savers because it automatically transfers funds from a linked Wells Fargo account into the savings account. You will earn a annual percentage yield on all Way2Save Savings balances.
Those with more wealth will prefer Wells Fargo's Platinum Savings account as its APY increases based on your balance.
Note that both accounts require a $25 minimum opening deposit.
| Account | Monthly Service Fee |
| --- | --- |
| Way2Save Savings | $5 |
| Platinum Savings | $12 |
4 Ways To Avoid Wells Fargo's Monthly Maintenance Fees
Here's how to avoid the monthly maintenance fee for your Wells Fargo checking or savings account.
1. Maintain a Minimum Balance
Here are the minimum balances required to avoid being subject to the monthly checking and savings account fees:
Way2Save Savings: $300 minimum daily balance
Platinum Savings: $3,500 minimum daily balance
Everyday Checking: $500 minimum daily balance
Clear Access Banking: N/A
Prime Checking: Qualifying linked deposit accounts with balances totaling $20,000 or more
Premier Checking: Qualifying linked deposit accounts with balances totaling $250,000 or more
Upgrade Your Checking Account
2. Sign Up for Qualifying Direct Deposits
Another way to avoid paying the monthly service fee for certain Wells Fargo checking accounts is to sign up for qualifying direct deposits and meet the direct deposit minimum. Here's more:
Everyday Checking: Aggregate direct deposits of $500 or more monthly
3. Link a Wells Fargo Account
You can also avoid the monthly checking fee by linking another Wells Fargo account:
Everyday Checking: Students can link to a Wells Fargo Campus ATM or Campus Debit Card
Way2Save Savings: Link a Wells Fargo checking account and receive one automatic transfer of at least $25 each fee period or $1 each business day, or set up Save As You Go transfers
4. Other Qualifications
In some cases, you can also have the monthly fee waived by meeting other qualifications:
Way2Save Savings: Fee waived if account holder is under the age of 24
Clear Access Banking: Fee waived if account holder is 13 to 24 years old
Everyday Checking: Fee waived if account holder is 17 to 24 years old
How To Avoid Wells Fargo's Overdraft Fees
Wells Fargo charges up to three overdraft fees of $35 per day for most of its checking accounts. Clear Access Banking has no overdraft fees. Avoid overdraft fees at Wells Fargo by monitoring your account balance regularly.
Sign up for overdraft protection, and Wells Fargo will cover your overdrawn checking account by transferring the overdrawn amount from your savings account to your checking account. Wells Fargo will not charge a fee for overdraft protection transfers.
Wells Fargo also offers a debit card overdraft service that allows you to indicate whether the bank can approve debit card transactions if you do not have enough funds in your account. Deactivate this feature, and the bank will decline any overdraft transactions instead of approving the transaction and charging a $35 fee.
Upgrade Your Checking Account
How To Avoid Wells Fargo's ATM Fees
The surest way to avoid ATM fees is to make sure you visit a Wells Fargo ATM.
For most of its checking accounts, Wells Fargo charges up to $2.50 if you use a non-Wells Fargo ATM in the United States. That fee jumps up to $5 per overseas withdrawal unless you're a Premier checking account holder. You might also face charges imposed by the ATM operator.
Getting the Most Out of Your Wells Fargo Bank Account
Wells Fargo offers a wide range of benefits you'll want to take advantage of to get the most out of your account.
For checking accounts, these benefits include:
Mobile banking: Wells Fargo's mobile app allows you to pay bills, send money and check your balances using your smartphone or tablet.
Free, secure money transfers: Using the free Zelle interface, you can send, receive and request money without sharing your banking information.
Account alerts: Custom alerts will alert you of upcoming payments due, low account balances and recent deposits. You can choose to get these alerts via email, text message or push notifications.
Follow Wells Fargo Requirements and Rules To Avoid Fees
Wells Fargo checking accounts carry monthly service fees. You can avoid those fees, however, with a combination of direct deposits, minimum balances, debit card activity or linked accounts. Also, you can avoid overdraft and ATM fees if you keep your account balance up and use only Wells Fargo ATMs. Learn more about the types of checking accounts Wells Fargo offers by visiting your local branch or Wells Fargo's website.
More on Wells Fargo
Upgrade Your Checking Account
Rates are subject to change; unless otherwise noted, rates are updated periodically. All other information on accounts is accurate as of April 13, 2023.
Editorial Note: This content is not provided by any entity covered in this article. Any opinions, analyses, reviews, ratings or recommendations expressed in this article are those of the author alone and have not been reviewed, approved or otherwise endorsed by any entity named in this article.