How To Make a JCPenney Credit Card Payment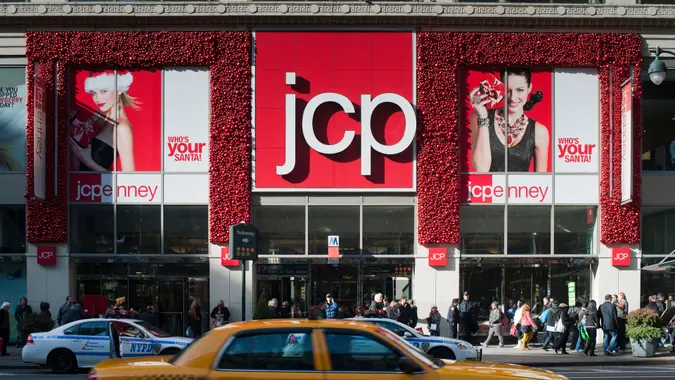 rblfmr / Shutterstock.com
Founded in 1902 and now positioned as one of the nation's largest retailers, JCPenney delivers everyday value on products like apparel, accessories, shoes, jewelry, furniture, housewares and mattresses. To make paying for purchases easier, the retailer offers the JCPenney credit card or JCPenney Mastercard issued by Synchrony Bank.
Advice from CardCritics: Why It's Time To Ditch Your Store Credit Card
When you sign up for a JCPenney credit card, you'll be able to cash in on plenty of perks, such as 5% to 15% discounts on select items, special financing days and rewards points. However, once you've used your card, you'll need to make your payments on time to keep your account in good standing. Here are your options.
How To Make a JCPenney Credit Card Payment by Mail
Each month, you'll get a credit card statement in the mail unless you opt for electronic billing. When your credit card statement arrives, you can use the address listed on the bill to mail it. However, if you've misplaced your statement, or you'd like to make an additional payment, you can check your account information as follows:
Go to the JCPenney credit card account login page and click "Account Summary." This will give you an overview of your account, including your balance, due date and other account information.
Once you find out what your balance is, you can write a check or purchase a money order for the amount of the payment.
Add your JCPenney credit card account number on the memo line to ensure the payment will be credited correctly.
Mail your payment to:
SYNCB
P.O. Box 960090
Orlando, FL 32896-0090
How To Make a JCPenney Credit Card Payment in the Store
Making an in-store payment at JCPenney is easy. Here's how:
Find your nearest JCPenney store with the online store locator.
Visit the store and make your credit card payment with cash, check or money order.
Save your payment receipt for your records.
How To Make a JCPenney Credit Card Payment Online
The JCPenney Online Credit Center lets you make a payment online in three easy steps if you have already registered for an online account. If you don't have an account, begin the process by creating one as follows:
Navigate to the JCPenney credit card login page and select "Register," located at the bottom of the "Access Your Account" section.
Next, enter your account number and ZIP code, and select continue to set up your account with a user ID and password.
Once you've registered for an online account, here's how to make a payment:
Go to the JCPenney online payment center and log in using the user ID and password you selected.
Select the "Pay my Bill" link.
Enter your checking account information, payment amount and payment date. You'll also need your bank's routing number to complete the payment.
Note that payments may take up to three days to post to your account — although the payment will be applied as scheduled.
What To Do If Your JCPenney Credit Card Payment Is Late
If your JCPenney credit card payment is late, you should make your payment as soon as possible through one of the available payment methods.
You have 23 days after the close of your JCPenney billing cycle to make a payment without interest or late fees. If you miss your payment due date, you'll pay a late fee of $27 if you haven't been late in the previous six billing cycles — or $38 if you've been late at least once within that period. In either case, the fee won't be more than your minimum payment.
This article has been updated with additional reporting since its original publication.