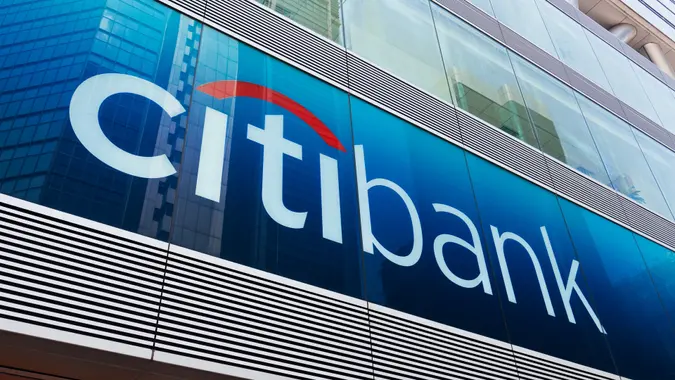 ymgerman / iStock.com
Citi®, one of the biggest banks in America, offers its customers a full array of banking products and services, including banking accounts and credit cards. Many banks charge their account holders fees to take care of overhead costs. These fees can range from wire transfer fees to ATM fees and more.
However, many banks offer their customers ways to circumvent these fees, and Citi is no different. Citi's monthly maintenance fees can be avoided using strategies such as maintaining a designated monthly balance.
| Fee | Amount Charged |
| --- | --- |
| Out-of-network ATM fee | $2.50 in the U.S.; additional 3% fee for transactions made outside U.S. and Puerto Rico |
| Overdraft | N/A |
| Foreign exchange fee | 3% of transaction |
| Wire transfers | $15-$45 |
Some of these fees, and other fees not listed, may be waived, depending on the account relationship tier you have.
Citi Savings Account Fees
Citi's monthly savings account fees are $4.50 for basic accounts but can be as high as $30 for accounts that are part of a relationship tier, or waived entirely. Citi's savings account offerings are spread across five different tiers, which customers can choose from based on their savings goals and needs.
| Account | Monthly Service Fee |
| --- | --- |
| The Citibank® Account | $25 |
| Basic Banking | $4.50 for savings account only |
| Access Account | $4.50 for savings account only |
The lowest rate available for all of the accounts is below the national average, according to the Federal Deposit Insurance Corp.
How To Avoid Citi's ATM Fees
Citi's ATM fee for both international and domestic ATM use is $2.50, which is worth noting since some banks charge $5 for ATMs used outside the U.S. If you withdraw cash at an ATM outside of the U.S. and Puerto Rico, you may incur a 3% foreign exchange fee, depending on the type of account you have.
The easiest way to avoid ATM fees is to use Citi ATMs whenever possible. You can locate the nearest Citi ATM on Citi's website or via the bank's mobile app. You can also use ATMs at participating Walgreens, CVS Pharmacy, Target, Rite Aid and Duane Reade locations.
Citi will waive some ATM fees, depending on the relationship tier you select. There are no ATM fees for Citi Priority and Citigold® accounts. The Citibank® Account waives the fee if your balance is $10,000 or more. The fee is also waived for Basic Banking account owners ages 62 or older.
How Fees at Citi and Other Banks Compare
Citi carries most of the same fees as other banks. To see how Citi measures up, review the table below. Keep in mind that the fees listed reflect amounts typically charged; exceptions may apply.
Fee
Wells Fargo
Chase
Bank of America
Citi
Out-of-network ATM withdrawal
In U.S.: $2.50

Outside U.S.: $5

In U.S.: $3

Outside U.S.: $5

In U.S.: $5 or 3%, whichever is greater

Outside U.S.: 3%

In U.S.: $2.50
Outside U.S.: 3%
Overdraft (non-sufficient funds)
$35
$34
$35
N/A
Excess transactions
Undisclosed
$5
$10
No fee
Wire transfer
$15-$30
$0-$50
Varies
$15-$45
International debit purchase
3% of transaction
3% of transaction
3% of transaction
3% of transaction
Citi's fees are mostly aligned with those of other major banks. But, unlike some other banks, Citi doesn't charge fees when it comes to excess transactions.
Getting the Most Out of Your Citi Account
The Citi account that's right for you depends on your financial needs. Of course, you want to make sure you'll save on fees, but here are some other questions to ask yourself when choosing an account:
Is it for personal or business needs?
How much money am I spending per month?
How much do I want to save?
Do I want an interest-bearing account?
Will this account benefit me over time?
Can I take advantage of this account's features, such as waivers?
If you take the time to think about what you want — and need — from an account before you sign up, you'll have a better chance of getting a banking product you'll be satisfied with for years to come.
More on Citi Bank
Rates are subject to change. All other information is accurate as of Oct. 31, 2022.
Editorial Note: This content is not provided by Citi. Any opinions, analyses, reviews or recommendations expressed in this article are those of the author alone and have not been endorsed by Citi.