How To Make a Torrid Credit Card Payment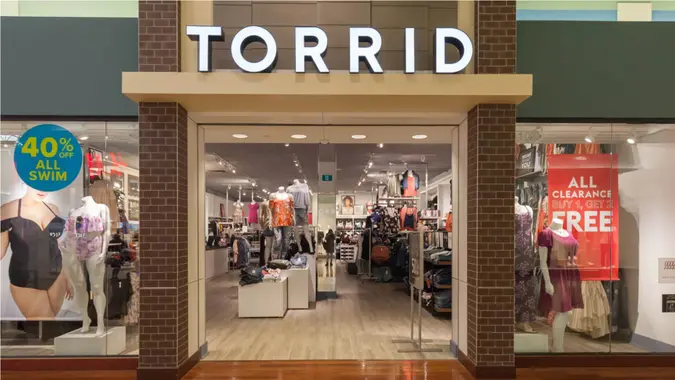 Launched in 2001, Torrid is a retailer of apparel, intimates, swimwear and accessories for women's sizes 10 to 30 in North America. Torrid is one of the fastest-growing retailers, with over 500 stores in the United States and Canada and more on the horizon.
The Torrid credit card offers various perks, such as an extra 5% off every day, 40% off your first Torrid credit card purchase online and a welcome offer, which consists of $15 off $50 when you use your Torrid credit card.
Advice from CardCritics: Why It's Time To Ditch Your Store Credit Card
After you use your Torrid card, you'll need to make a payment by the due date. Here's what you need to know.
When To Pay Your Torrid Card
Your Torrid credit card statement will have a "Summary of account activity" section and a "Payment information" section. In the payment information section, you will find your new balance, minimum payment due and payment due date.
You can enroll in paperless billing when you register for website access. After enrolling, you will receive an email reminder when your bill is due. The credit card due date can be changed for accounts that are in good standing once every 12 months.
You must make your payment by 5 p.m. EST on the due date for it to be considered on time. When making an online payment, allow up to two additional business days for processing and funds to be withdrawn from your banking institution.
How To Pay Your Torrid Card
You have several options for making a Torrid credit card payment. Here are four different ways to pay your bill.
Paying Your Torrid Credit Card Online
With a Torrid credit card, you have the option to conveniently pay your credit card balances online. Comenity Bank allows you to schedule your payments up to 30 days in advance. Here are the steps to set up an online payment:
Register for a Torrid credit card login at the Torrid card website. Select "Register Now" from the options. You'll need to supply your credit card account number, ZIP code and the last four digits of your Social Security number to get started.
Use your Torrid login to access your account and enter your bank account and routing numbers. You must use a checking account. Torrid is not set up to accept payments via debit card.
Schedule the payment before the due date on your statement.
If you get locked out of your online account because you forgot your username or password, you can reset this information and then sign in. However, if several attempts to log in to your account are unsuccessful, then Torrid will suspend the account temporarily and send an email to the account on file. The email will contain instructions on how to reset your account.
Paying Your Torrid Credit Card With Bill Pay Through Your Bank
Most banks offer an online bill pay service. This is a feature that you initiate through your bank as a recurring payment to a vendor. In this case, you would want the payment to go to Torrid. The bank sends the money directly to the vendor you select on the date you choose, and you don't have to worry about it. Since Torrid does not have an autopay feature, setting up a payment with your bank would be the next best thing.
Paying Your Torrid Credit Card by Mail
You can write a check and mail it to:
Comenity Bank
P.O. Box 659584
San Antonio, TX 78265-9584
Include your payment coupon from your credit card statement if you have it. If you don't, be sure to write your Torrid account number in the memo line of the check for accurate processing.
Paying Your Torrid Credit Card by Phone
To make a payment by phone, call the Torrid credit card phone number: 800-853-2921. Have your Torrid credit card number and your checking account and bank routing numbers to complete the process.
Late Payments
It's important to make your payments on time to avoid late fees. If you do not make at least the minimum payment by 5 p.m. EST, you may be charged a late fee. The Torrid card has a late fee of $30 if it's your first late payment within six months — if you've had other late payments in the last six months, you'll be charged a late fee of $41.
This article has been updated with additional reporting since its original publication.
Information is accurate as of Nov. 10, 2022.
Editorial Note: This content is not provided by any entity covered in this article. Any opinions, analyses, reviews, ratings or recommendations expressed in this article are those of the author alone and have not been reviewed, approved or otherwise endorsed by any entity named in this article.