Bank of the West Holiday Hours for Martin Luther King Jr. Day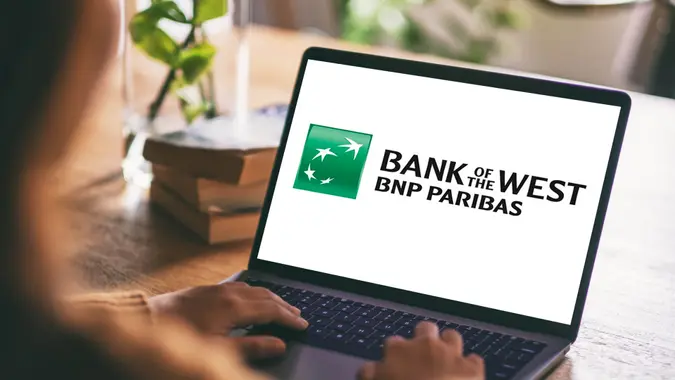 Farknot Architect / Shutterstock.com
Bank of the West maintains branches throughout the West Coast and Midwest regions of the U.S. It offers customers banking products such as savings and checking accounts, credit cards, loans and investment tools.
Bank of the West customers can also complete many of their transactions online, though the bank also has hundreds of branches for those who prefer face-to-face service.
Keep reading to learn more about Bank of the West's branch hours.
Bank of the West Hours for Normal Days
Most Bank of the West branches keep pretty standard banking hours of 9 a.m. to 5 p.m. on weekdays. However, some of the branches GOBankingRates looked at operate a bit later on Fridays, closing at 6 p.m.
Is Bank of the West Open on Weekends?
Yes, some Bank of the West branches keeps limited hours on Saturday, though none are open on Sunday. The following chart shows typical Bank of the West operating hours:
Bank of the West Bank Hours
Day
Hours
Monday through Friday
9 a.m. to 5 p.m. (some close at 6 p.m. on Fridays)
Saturday
9 a.m. to 12 p.m.
Sunday
Closed
To learn about a specific branch's hours, use Bank of the West's online branch locator.
Bank of the West Hours for Holidays
Bank of the West observes the standard federal holiday schedule, though it does note on its website that its customer service lines are open most holidays. Here's a list of the remaining 2023 holidays that Bank of the West branches will be closed.
Bank of the West Holiday Schedule 2023
New Year's Day — Jan. 2
Closed
Martin Luther King Jr. Day — Jan. 16
Closed
Valentine's Day — Feb. 14
Open
Presidents Day — Feb. 20
Closed
St. Patrick's Day — March 17
Open
Good Friday — April 7
Open
Easter Sunday — April 9
Closed
Easter Monday — April 10
Open
Memorial Day — May 29
Closed
Juneteenth — June 19
Closed
Independence Day — July 4
Closed
Labor Day — Sept. 4
Closed
Indigenous Peoples Day — Oct. 9
Closed
Halloween — Oct. 31
Closed
Veterans Day — Nov. 11
Closed
Thanksgiving Day — Nov. 23
Closed
Black Friday — Nov. 24
Open
Christmas Eve (daytime) — Dec. 24
Open (Most branches open 9 a.m. to 2 p.m.)
Christmas Day — Dec. 25
Closed
Branch closures can pose a problem for customers in need of last-minute money fixes, but Bank of the West has ways you can still access your funds when its branches are closed.
Related: Full List of All Bank Holidays
How To Bank With Bank of the West After Business Hours
No bank can survive the 21st century without providing customers online and mobile banking support, so Bank of the West provides digital options in case you need to bank after regular business hours.
You can use Bank of the West's online banking platform and mobile app to handle a variety of tasks, including the following:
Pay bills
Find branches or ATMs
View online statements
Transfer money between accounts
Review transaction history
Send or receive money using Zelle
Also Check Out: Guide to Daily ATM Withdrawal Limits and Debit Purchase Limits
Online banking lets you set up recurring payments as well.
How To Contact Bank of the West Customer Service
If you have any questions, here's the phone number to contact Bank of the West and the hours to do so:
Phone: 800-488-2265 (or TTY 800-659-5495)

Monday through Friday from 4 a.m. to 10 p.m. PT
Saturdays, Sundays and most holidays from 5 a.m. to 10 p.m. PT
More on Bank of the West
More on Bank Hours
Information is accurate as of January 16, 2023.
Editorial Note: This content is not provided by Bank of the West. Any opinions, analyses, reviews or recommendations expressed in this article are those of the author alone and have not been reviewed, approved or otherwise endorsed by Bank of the West.