Does Walmart Take Apple Pay?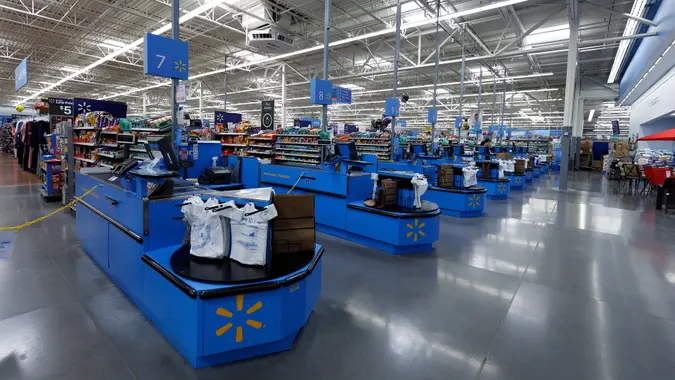 artran / iStock.com
After the outbreak of the COVID-19 pandemic, digital wallets like Apple Pay have become increasingly popular. Since they facilitate cashless payments, most major retail chains have adopted these payment methods for easier checkout.
Walmart is one of the biggest names in the retail sector. The reasonable prices and numerous outlets throughout the USA make it a very popular option for many people. Considering the convenience of its customers, Walmart has introduced a number of cashless options in its stores.
Apple Pay is used by many people across the country for various purposes. So, this might make you wonder if you can use Apple Pay on your next visit to Walmart.
Does Walmart Take Apple Pay?
No, sadly, Walmart does not accept Apple Pay. No matter how convenient it would be to use Apple Pay at Walmart, it isn't possible. In fact, Walmart has no plans to implement Apple Pay in the future.
Why Does Walmart Not Take Apple Pay?
Apple Pay is an online payment method by Apple. In this application, a user can link all their debit and credit cards to make easy digital transactions across physical stores and online shopping portals. Despite the convenience, here are some of the major reasons why Walmart does not take Apple Pay.
Extra Charges
Since Apple Pay is a product of Apple, every vendor who uses this product needs to pay a processing fee for the technology. This means that although using Apple Pay is free for you, that is not the case for Walmart. Enabling Apple Pay would directly hurt Walmart's profits, which is why it does not accept this payment method.
Promoting Walmart Pay
Walmart Pay is Walmart's own digital payment service. A user can securely store information about their debit, credit and Walmart gift cards, which can then be used for making payments during checkout. Since Walmart Pay is owned by Walmart itself, the company collects all the revenue from this payment method.
Walmart Pay is more profitable for the company, and it increases brand awareness. That is why, instead of using other options like Apple Pay, Walmart wants to promote its own payment platform.
What Payment Methods Can You Use at Walmart?
Even though Walmart does not accept Apple Pay, there are still plenty of options to pay for your purchase. Here is a list of payment options that Walmart does accept:
Users must note that PayPal and Affirm cannot be added to their Walmart Wallet and are only available when they checkout.
How to Add or Edit a Payment Method
When you are shopping online on the Walmart app or website, here are the steps to follow for adding a new payment method.
Adding a Payment Method

Select "Account."
Choose the "Wallet" option.
Navigate to "Add new payment method."
Select the type of payment method that you wish to add.
Enter the necessary details.
For faster and more efficient savings, you can also use your camera to scan the details of your card.
To edit the details of an existing payment method, you can follow these steps:
Go to "Account."
Select "Wallet."
Tap on "Edit" next to the payment method that needs to be changed.
Is Walmart Pay Better Than Apple Pay?
Since Walmart does not take Apple Pay, many users might be left wondering whether Walmart Pay is better than Apple Pay. To be fair, both these payment methods are good in their own ways — while they are comparable, they're ultimately intended for different uses.
Walmart Pay can exclusively be used for making payments on the Walmart website or app or in physical stores. On the other hand, Apple Pay can be used across a wide variety of platforms. Apple Pay has a wider scope when it comes to making payments with an Apple device.
While Apple Pay is more of a use-it-for-everything app, the primary function of Walmart Pay is to promote the Walmart brand among all its customers.
Benefits of Apple Pay
The new and ever-developing features introduced by Apple have enabled Apple Pay to compete with other fintech giants, like Affirm and Block. Apple Pay has the following distinct benefits that make it an attractive payment method that can be used across various platforms.
It replaces your physical cards and cash with an easier and safer payment method that comes with a security seal from Apple.
You can combine your Apple Card with Apple Pay to get 2% Daily Cash Back on every purchase you make.
Apple Pay is accepted across most major websites and apps, which means it has a huge user base.
Apple users can enjoy faster checkout and the purchase process is much more convenient when they use Apple Pay.
Since Apple Pay comes in-built with your Apple device, you can easily set it up and use it. You don't even need to download a separate app for it.
Benefits of Walmart Pay
Walmart Pay is a convenient option when you are shopping at Walmart. Here are some benefits of using Walmart Pay.
It allows the user to make contactless payments across all Walmart stores.
Walmart Pay stores all your receipts so that you don't have to worry about finding one when you are returning something.
Since it is eliminating paper receipts, Walmart Pay is better for the environment.
Walmart Pay is extremely secure, since it does not use near-field communication (NFC) technology. You enter your PIN on your device instead of a register at a store, which makes it difficult for others to guess it.
The Convenience of Using Walmart Pay
Walmart Pay is fairly easy to set up and use. Many Walmart users regularly pay for their orders using this payment method.
Setting Up Walmart Pay
To use Walmart Pay, you need to first download the Walmart app from your respective app store. You have to add all your preferred payment methods which can include debit, credit or gift cards. Once you have added them, you will see these options displayed under Walmart Pay. After setting a PIN, you can also add a Touch ID for additional security.
Using Walmart Pay at Store Checkouts
Using Walmart Pay at physical stores is extremely easy and convenient. Once you are done shopping, you need to scan your items and use any EBT balances before you can use Walmart Pay.
You have to open Walmart Pay inside the Walmart App by entering your passcode or Touch ID. By default, if you have a gift card, it is selected as the preferred payment option. However, you can choose to change it and select the method of your choice. You then have to scan the QR code at the checkout and wait for the chime that confirms the purchase. Once the purchase is complete, the e-receipt is stored automatically on the app.
Final Take
Walmart does not take Apple Pay, but Apple Pay can be used at various other stores all over the world. Walmart's alternative, Walmart Pay, is limited to use on Walmart purchases through the app or website or in-person at a store.
However, for the sake of convenience, you can consider downloading Walmart Pay to make the checkout process smoother at Walmart stores. If you do not want to use Walmart Pay, you can easily use a variety of other payment methods at Walmart.
FAQ
How do I pay with my iPhone in Walmart?

Even though Walmart does not accept Apple Pay, you can still use your iPhone to make payments at Walmart by downloading Walmart Pay and using that instead.

Does Walmart take Apple Pay in 2022?

No, Walmart does not take Apple Pay as of October 2022.

Which stores use Apple Pay?

Apple Pay is accepted across a wide range of online and physical stores, including Best Buy, KFC, Bloomingdales, Dunkin Donuts, Lucky's, McDonald's, Office Depot, Staples, Trader Joe's, Costco and Whole Foods, among many others.

Does Walmart take digital wallets?

Walmart does not accept popular forms of digital payment like Apple Pay, Google Pay or Samsung Pay. The only mobile wallet accepted at Walmart is Walmart Pay.
Editorial Note: This content is not provided by any entity covered in this article. Any opinions, analyses, reviews, ratings or recommendations expressed in this article are those of the author alone and have not been reviewed, approved or otherwise endorsed by any entity named in this article.