Does Wendy's Take Apple Pay?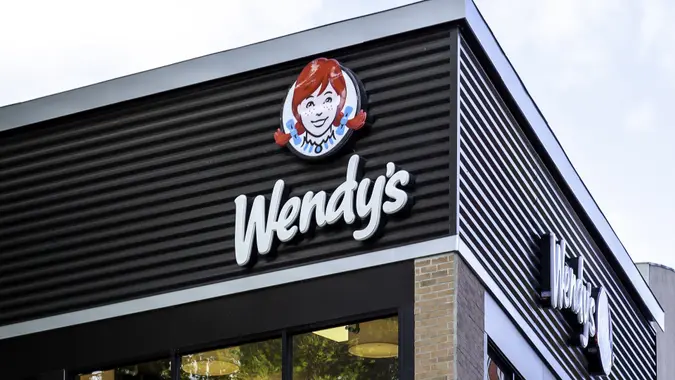 JHVEPhoto / iStock.com
Apple Pay can be a convenient way to buy food, but this payment option may be unavailable at some restaurants and shops. You may be wondering: Does Wendy's take Apple Pay? The answer is yes — a majority of Wendy's restaurants now accept Apple Pay, offering customers a secure, private and speedy way to pay for their meals.
Through this versatile app, Wendy's customers can order food for take-out or dine-in or at the drive-thru. 
How To Use Apple Pay at Wendy's
Though you cannot use Apple Pay directly on Wendy's website, you can use the iOS app for ordering food for takeout or dine-in or at the drive-thru. Depending on location, the app can also be used to order delivery. 
To use the iOS app, simply follow these steps:
Using Apple Pay at Wendy's

Download the Wendy's app from the App Store.
Create a My Wendy's account.
Create your order for pickup or dine-in or delivery.
On the payment screen, Apple Pay will show up as a payment option.
Complete the payment using the Apple pay pop-up and follow the instructions.
Creating a My Wendy's account allows you to view the Wendy's menu and nutritional information. It also gives you access to Wendy's Rewards, a loyalty program. This adds 10 points to your My Wendy's account for every dollar spent — you can redeem these points for any item on the menu. 
Does Wendy's Accept Apple Pay In-Store?
Although Wendy's doesn't list its payment methods on its website, multiple sources report that Wendy's does accept Apple Pay at payment terminals in its stores. This feature may vary from store to store, and it could take some time for Wendy's restaurants to accept Apple Pay in-store nationwide.
What Forms of Payment Does Wendy's Accept?
Wendy's restaurants take cash, credit card payments and gift cards in-store, but not checks or pay orders. On the Wendy's iOS and Android apps, you can pay with credit cards, gift cards and Apple Pay.
Final Take
The Wendy's iOS app does accept Apple Pay. It seems in-store contactless payment may also be available at some Wendy's restaurants. But for now, downloading the app is the most reliable way to use Apple Pay at Wendy's.
FAQ
Here are some frequently asked questions on contactless payments at restaurants like Wendy's.
What fast food restaurants accept Apple Pay?

More and more restaurants are accepting Apple Pay both in-store and through apps. Some of the biggest brands offering Apple Pay payments right now include:

–

Subway

–

Chili's

–

Panera Bread

–

White Castle

–

Pizza Hut

–

Jamba Juice

–

Buffalo Wild Wings

–

Chipotle

–

Outback Steakhouse

–

Chick-Fil-A

–

Starbucks

Where can you use Apple Pay?

Over 85% of retailers in the U.S. accept Apple Pay.

What stores don't take Apple Pay?

While many stores and restaurants have started accepting Apple Pay and many others are working toward it, some brands prefer to develop their own payment methods. This is the case for Walmart and Kroger, both of which have released their own apps that allow customers to pay with their phones in-store.
Other stores that don't yet take Apple Pay include Dick's Sporting Goods, Kmart, Gordon Food Service, Lowe's, Sam's Club and Home Depot.

How does the Wendy's Rewards Program work?

If you sign up for Wendy's Rewards program, you can start collecting points and redeem them for rewards. To sign up, create a My Wendy's account on the Wendy's website or apps.
For every dollar you spend, you'll be awarded 10 points, and these points can later be used at the Rewards Store on the Wendy's apps. Only one reward offer can be redeemed in a single order.
To earn points, place an order at Wendy's. Delivery and pick-up options are available. The order can be placed through either the app or the website. When buying in-store, you can scan the QR code with your Wendy's app in order to qualify.
Editorial Note: This content is not provided by any entity covered in this article. Any opinions, analyses, reviews, ratings or recommendations expressed in this article are those of the author alone and have not been reviewed, approved or otherwise endorsed by any entity named in this article.
The article above was refined via automated technology and then fine-tuned and verified for accuracy by a member of our editorial team.
Information is accurate as of Dec. 12, 2022.