Macy's Credit Card Review: Should You Apply?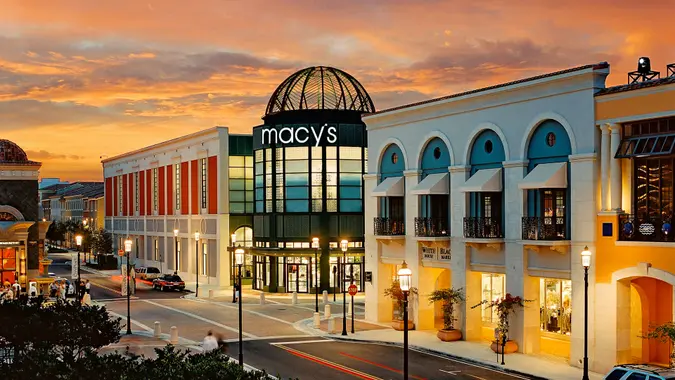 ©Macys
Update: Some offers mentioned below may have changed or are no longer available. View current credit card offerings from our partners at CardCritics Here or on the issuer's website.
With approximately 670 stores throughout the United States and an online shopping portal, Macy's department store, with its decades-old red star symbol, is a familiar site to shoppers searching for items like clothing, accessories and mattresses. To assist with financing its wide array of merchandise, Macy's offers two branded credit cards: the Macy's American Express card and the Macy's store card. Although the two cards offer many of the same benefits, a few differences exist.
To help you determine which card might be right for you, here's a Macy's credit card review that will help you understand each credit card's benefits.
Macy's Star Rewards Program
Both Macy's American Express and Macy's store cardholders earn Star Rewards on purchases. Star Rewards are based on the amount you spend on your Macy's card annually and feature three levels: Silver, Gold and Platinum.
When you open your account, you will be assigned Silver status. As your purchases accumulate during the year, your status will change based on the amount you purchase. A status change will take effect 30 days after qualifying.
Related: 5 Ways to Pay Your Macy's Credit Card
Once you've achieved a higher status, you'll remain at that status for the rest of the year and the next full calendar year. After that, your status will be based on your purchases in the previous calendar year. Star Rewards levels are based on net purchases, so if you return something, the amount will be deducted from your year-to-date total purchase amount.
Here's an explanation of all three levels of Star Rewards:
Silver Level: At this initial level, members get to accumulate Plenti Points — a loyalty rewards program that allows shoppers to earn one point for each dollar spent — and also receive Star Passes several times per year for 25-percent discounts on Macy's merchandise on any day you choose.
Gold Level: Once you spend between $500 and $1,199 on your Macy's credit card, you are elevated to the Gold level and get additional benefits like a birthday offer and free shipping on all online orders.
Platinum Level: When you reach more than $1,200 in total net purchases on your Macy's credit card, you'll gain Platinum status. In addition to the benefits previously earned, you get 5 percent back in rewards, which can be used on future merchandise purchases on your Macy's credit card.
Find Out: Best Loyalty Rewards Programs for Your Wallet
Macy's Store Credit Card
Because this is a store credit card, you can only use it for purchases at Macy's stores or online. Macy's store cardholders receive Star Rewards and Star Passes and can accumulate Plenti points of one point for every $1 spent.
The card has a variable interest rate of 26.24% APR and does not offer a special purchase intro APR. Your credit limit will be on the card carrier when you receive your card in the mail, and it also will appear on your billing statement. No annual fee applies to the Macy's store card.
Even if you have a Macy's store credit card, you can apply for a Macy's American Express card. If approved, Macy's will open a second credit account in your name with a separate billing statement. Contact customer service at the phone number on the back of your Macy's card for details.
Check Out: Macy's Holiday Return Policy
Macy's American Express Card Review
You can use the fee-free American Express® card anywhere American Express, Member FDIC, is accepted, and you'll receive benefits available to American Express® cardholders, like travel discounts. You'll also get all of the same benefits provided with a Macy's credit card, including Star Rewards and Star Passes.
When you link your Plenti account to your Macy's American Express card, points will be awarded in these amounts:
Three points per dollar at restaurants
Two points per dollar at gas stations and grocery stores
One point per dollar for all other purchases
The variable interest rate for the Macy's American Express Card is APR and, like the Macy's store card, does not offer an intro APR. Cash advances are available for a 4 percent fee based on the amount of the advance, but not less than $5. The interest rate on cash advances is the same as that for purchases.
You can also open a Macy's store credit card, but it will be a separate account with a separate billing statement.
Find Out: 10 Things You Should Never Put on a Credit Card
Macy's Credit Card Review
You'll get many of the same benefits from either card when you shop at Macy's. One difference comes into play, however, when you look at the other credit cards you carry in your wallet. People who already have a major credit card or two that offers rewards, such as Visa, Mastercard or American Express, might want to go with the store credit card. You can only use it at Macy's, so you won't be able to rack up a big balance elsewhere.
But if you would like a card that offers rewards at Macy's and other places, the Macy's American Express card might be the one to get. The differences with this Macy's card option are that you'll earn more Plenti points that you can use for savings with Plenti Points partners, you'll qualify for discounts on travel and other perks and it offers cash advances.
Up Next: Amazon Credit Card Review — More Amazon.com Rewards and Perks 
All information about Macy's American Express Card has been collected independently by GOBankingRates. Macy's American Express Card is not available through GOBankingRates.
Editorial Note: This content is not provided by American Express. Any opinions, analyses, reviews, ratings or recommendations expressed in this article are those of the author alone and have not been reviewed, approved or otherwise endorsed by American Express. American Express credit card products are not available through GOBankingRates.com.