How To Make a Crate and Barrel Credit Card Payment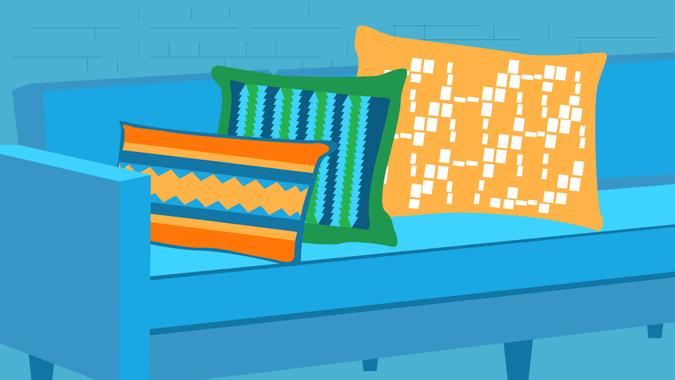 ©GOBankingRates
If you're a Crate and Barrel faithful, you can get rewarded for your loyalty with the Crate and Barrel credit card. Touted as the store's rewards program, the tagline for the card is "earn more of what you love, every time you shop," which is fitting considering the potential to earn cash toward your next major home furnishings and decor purchase.
Advice from CardCritics: Why It's Time To Ditch Your Store Credit Card
Valid at Crate and Barrel, CB2 and The Land of Nod, this card features no annual fee, exclusive discounts and promotions, as well as access to convenient payment tools. Keep reading to learn all the ways you can pay off your balance — and even possibly boost your credit score.
How To Pay Your Crate and Barrel Credit Card Bill
Crate and Barrel announced recently that it would be partnering with Synchrony on both a private-label and dual-branded card, available to use in Crate and Barrel's physical and digital space, according to the official announcement.
The new partnership promises to leverage Synchrony's advanced technology, digital tools and data and analytics to help make customer financing easy and seamless, but will it affect how you make your monthly Crate and Barrel credit card payment? Read on to find out all the methods you can take to pay down your balance.
See: Best Deals at Macy's, Pottery Barn, Crate & Barrel and More
How To Make a Crate and Barrel Credit Card Payment Online
For many people, making a credit card payment online is the simplest and most convenient method. Currently, Crate and Barrel's credit services are managed through Comenity Bank online, as of November 17, 2021. Synchrony-backed credit cards were released later in 2018. Here's how you can make a Crate and Barrel credit card online:
Go to the Crate and Barrel website. Scroll to the very bottom of the page, locating the credit card logo in the center of the black footer.
Click the tab that says "Manage Your Account."
If you have previously logged into your Crate and Barrel account online, sign in with your login credentials. Otherwise, click "Register" at the bottom section of the "Sign In" area.
To register, enter your credit card account number, your zip code and the last four digits of your Social Security number where prompted, then click "Find My Account."
From there, create your own username and password to gain online access.
Once logged in, select the payment option. Be prepared to enter your bank credentials, such as a checking account number and bank routing number.
Select the amount you want to pay. You can make the minimum payment due, or pay the balance from your previous statement, your current balance or any amount up to your current balance.
For online payments, it might take two additional business days for the withdrawal to show in your bank account.
How To Make a Crate and Barrel Credit Card Payment by Mail
For people who prefer to do their banking with paper checks, the classic mail option is always popular. To pay by mail, send your payment and account slip to this address:
Comenity Bank
Attn: Crate and Barrel Card Services
P.O. Box 659820
San Antonio, Texas 78265-9120
How To Make a Crate and Barrel Credit Card Payment by Phone
Crate and Barrel also allows you to make credit card payments over the phone. To pay by phone, follow these steps:
Gather your credit card and payment information. Typically, you'll need your card number as well as your bank account information and the amount you want to pay.
Call Crate and Barrel's card services at 866-258-0114, and follow the automated prompts to schedule your payment.
Crate and Barrel Credit Card Fees and Rates
Like most credit cards, the Crate and Barrel card does have some fees associated with it. According to the official website, in order to avoid a late fee, you must pay "at least the minimum payment due by the payment due date." Also, any payments made online before 8 p.m. EDT could be credited to your account on the same day.
The card also carries a standard, variable APR of 26.99 percent, and since it is based on the prime rate, any changes to your APR will appear on your billing statement.
Up Next: 5 Tips to Avoid Credit Card Late Fees
Pay Your Other Store Credit Cards
Information is accurate as of August 4, 2022.