How To Make a Crate and Barrel Credit Card Payment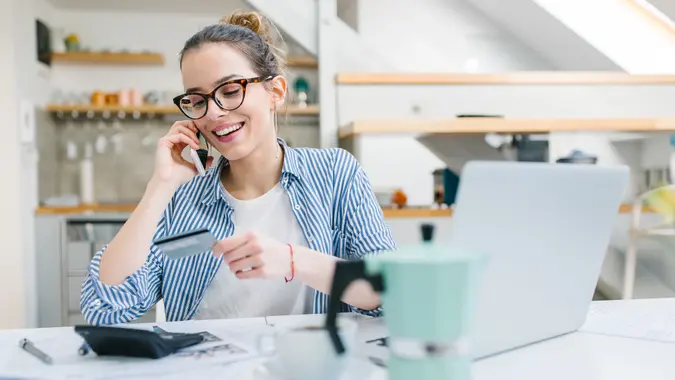 Astarot / Getty Images/iStockphoto
If you're a Crate and Barrel faithful, you can get rewarded for your loyalty with the Crate and Barrel credit card. Touted as the store's rewards program, the card offers 10% back in rewards on purchases from Crate and Barrel, Crate and Kids, and CB2. The regular Crate and Barrel card can only be used at Crate and Barrel stores, but the Crate and Barrel Mastercard can be used anywhere that Mastercard is accepted. It earns rewards on all purchases.
Advice from CardCritics: Why It's Time To Ditch Your Store Credit Card
Depending on when you applied for your card, you may have one issued by Comenity or Synchrony Bank. Either way, the card features no annual fee, exclusive discounts and promotions, as well as access to convenient payment tools. Keep reading to learn all the ways you can pay off your balance — and even possibly boost your credit score.
How To Make a Crate and Barrel Credit Card Payment Online
For many people, making a credit card payment online is the simplest and most convenient method. Here's how you can make a Crate and Barrel credit card online.
Comenity Cards

Go to the Crate and Barrel Comenity landing page.

If you have previously created your Crate and Barrel account online, sign in with your login credentials. Otherwise, click "Register Now" at the top of the page.

To register, enter your credit card account number, your zip code and the last four digits of your Social Security number where prompted, then click "Find My Account."
From there, create your own username and password to gain online access.
Once logged in, select the payment option. Be prepared to enter your bank credentials, such as a checking account number and bank routing number.
Select the amount you want to pay. You can make the minimum payment due, or pay the balance from your previous statement, your current balance or any amount up to your current balance.
For online payments, it might take two additional business days for the withdrawal to show in your bank account.

Synchrony Cards

Go to the Crate and Barrel Synchrony landing page.
Log in with your user ID and password or, if you haven't yet created your account, click "Register."
Provide your account number and ZIP code to register for an account, then sign in.
Both Comenity and Synchrony offer the option to make a payment without registering for an online account. Comenity's EasyPay asks for your account number, ZIP code and the last four digits of your Social Security number. Synchrony will ask for the same information for its "Pay as Guest" option.
How To Make a Crate and Barrel Credit Card Payment by Mail
For people who prefer to do their banking with paper checks, the classic mail option is always popular.
Comenity Cards
To pay your Comenity card by mail, send your payment and account slip to this address:
Comenity Bank
Attn: Crate and Barrel Card Services
P.O. Box 659820
San Antonio, Texas 78265-9120
Synchrony Cards
For Synchrony cards, send your payment to this address:
Synchrony
Crate&Barrel/CB2
PO Box 530940
Atlanta, GA 30353-0940
Make sure you include your account number along with your check or money order.
How To Make a Crate and Barrel Credit Card Payment by Phone
Crate and Barrel also allows you to make credit card payments over the phone.
Comenity Cards
To pay your Comenity Crate and Barrel card by phone, follow these steps:
Gather your credit card and payment information. Typically, you'll need your card number as well as your bank account information and the amount you want to pay.
Call Crate and Barrel's card services at 866-258-0114, and follow the automated prompts to schedule your payment.
Synchrony Cards
You'll also want to have your card and payment information ready to make a phone payment on your Synchrony card. The phone number for Synchrony depends on which card you're calling about.
Crate and Barrel Mastercard: 1-844-387-5294
Crate and Barrel Store Card: 1-866-258-0114
Crate and Barrel Credit Card Fees and Rates
Like most credit cards, the Crate and Barrel card does have some fees associated with it. In order to avoid a late fee, you must pay the minimum payment or more by the due date. For both Comenity and Synchrony cards, payments must be submitted by 5 p.m. EST to avoid a late fee, which could be up to $40.
Pay Your Other Store Credit Cards
Amber Barkley contributed to the reporting for this article.
Information is accurate as of Dec. 6, 2022.
Editorial Note: This content is not provided by any entity covered in this article. Any opinions, analyses, reviews, ratings or recommendations expressed in this article are those of the author alone and have not been reviewed, approved or otherwise endorsed by any entity named in this article.