IBC Bank Near Me: Find Branch Locations and ATMs Nearby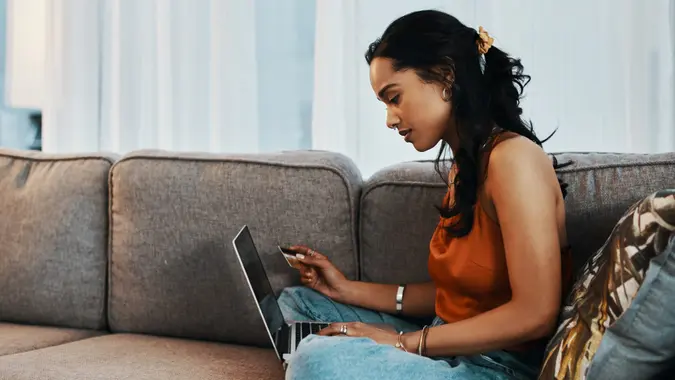 Delmaine Donson / iStock.com
Founded in 1966 to serve the needs of businesses in Laredo, Texas, IBC Bank has since expanded to other communities across the Lone Star State and into Oklahoma. As of 2022, IBC Bank has nearly 170 facilities and more than 260 ATMs in these two states. If you're in the region, there's a good chance that you're already close to an IBC ATM or branch.
IBC Bank Locations Near Me
You can use the Google map below to find the IBC Bank branch or ATM that's closest to you.
IBC Bank Branch Near Me
If you're looking for an IBC Bank branch, you can use the convenient IBC Bank locator to immediately find a facility in your area. You can find this tool by navigating to the IBC Bank homepage and then clicking on "ATM / Branch Locator" on the top right of the page.
Enter your address into the search box and you'll get a list of the closest locations, including bank branches and ATMs. To quickly find the closest IBC Bank branch, you can filter your results by checking off the box marked "IBC Bank" next to the search box. Or, if you have an account with the IBC subsidiary Commerce Bank, check the box marked "Commerce Bank." 
IBC Bank branches provide personal banking services that include:
Applying for and managing personal loans
Opening a new personal checking or savings account
Teller services, including withdrawing and depositing funds into your account
Insurance services for your car, home and travel
Its branches also provide business banking services, including:
Express deposit services
Treasury management services
Investment management services
Opening a new business checking or savings account
Fraud prevention services
IBC Bank ATM Near Me
You may not need a full-service bank branch right now but want the convenience of an IBC ATM instead. In that case, you can use the IBC Bank locator to find the ATMs nearest to you. Simply check the box marked "ATMs" on the search tool.
You can also use the advanced search feature on the locator tool to find ATMs that provide the specific services that you need. Select "Advanced Search" and then select the ATM features that you want. Among other options, these features include:
24-hour availability
Cash and check deposits allowed
A drive-thru option
About IBC Bank
Here's what you need to know about IBC Bank's customer service options and operating hours.
Customer Service
If you have a question about your IBC Bank account, you can call any IBC Bank branch. As another option, you can use IBC's automated phone banking service by dialing the IBC Voice line for your city.
Hours of Operation
You can find details on operating hours for nearby locations by using the branch locator on the IBC website. You can filter your search results to quickly find branches with extended hours or locations that are open on Saturday or Sunday.
Other Banks, ATMs and Services Nearby

Bank Branches

ATMs

Other Services
Editorial Note: This content is not provided by IBC Bank. Any opinions, analyses, reviews, ratings or recommendations expressed in this article are those of the author alone and have not been reviewed, approved or otherwise endorsed by IBC Bank.