How To Find and Use Your BMO Harris Login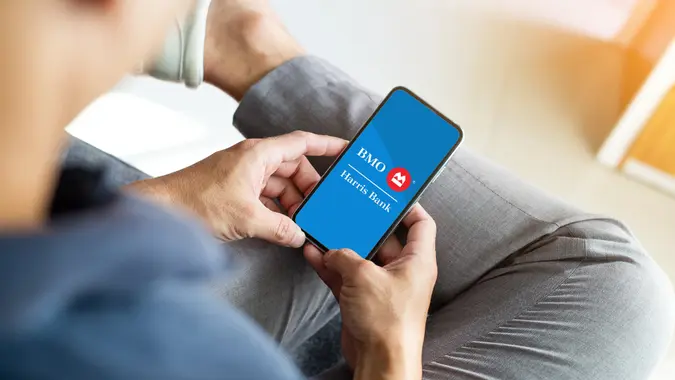 BMO Harris Bank / Shutterstock.com
BMO Harris is North America's eighth-largest bank by assets and offers its customers a bevy of personal, commercial, wealth management and investment services. Its locations are spread out across the United States — with a particular focus on the Midwest — and Canada. BMO Harris is also one of the first banks to promise money toward fighting climate change. 
If you count yourself among BMO Harris's wide customer base, read on to find out how to use your BMO Harris login and take full advantage of its online and mobile banking services. 
How To Log in to Your BMO Harris Account From a Computer
The BMO Harris website makes it easy for you to log in to your account and manage your money from anywhere. If you're logging in from a computer, follow these steps: 
Go to

bmoharris.com

. 

Click the sign-in button in the top right. 

Choose your account type in the drop-down menu. For example, as a personal banking customer, you may choose "BMO Digital Banking." 

Enter your user ID and password. 

Click "Sign In." 
You can also click the button that says "Register" on the login page if you haven't yet used online banking with BMO Harris. 
The best thing about online banking is quick and easy access to your account information at any time. This way, you're not beholden to the bank's hours or any customer service wait times. Manage your money from whenever and wherever you are.
How To Log In To Your BMO Harris Account From a Mobile Phone or Tablet
If you prefer banking from a mobile phone or tablet, BMO Harris also offers a mobile banking app, available for free on the Apple App Store and Google Play Store. 
Here's how you can get started on the BMO Harris mobile app: 
Download the app via the Apple App Store or Google Play Store, depending on your device. 

Once it finishes downloading and installing, open the app. 

Enter your username and password. 

Log in.
The BMO Harris mobile app has a variety of remote banking features. It allows you to:
Check your balance

View account activity 

Transfer money 

Deposit checks

Withdraw cash from an ATM without your card
How To Retrieve a Forgotten Username or Password
If you've forgotten the username or password to your BMO Harris login, no worries — you'll be able to get them back or reset them. Follow these steps from your computer to retrieve them:
Password

Go to the BMO Harris homepage. 

Follow the normal sign-in process. 

On the login page, click "Forgot Password?" underneath the password field. 

Enter your user ID and Social Security or Tax ID number. 

Click "Continue." 

Username

Go to the BMO Harris homepage. 

Follow the normal sign-in process. 

On the login page, click "Forgot User ID?" underneath the user ID field. 

Enter your email address and Social Security or Tax ID number. 
How To View Your BMO Harris Statement Information
With BMO Harris, you have access to up to seven years of account activity through online statements. Follow these steps to access them: 
Log in to your account. 

Go to the Accounts tab. 

Select "Online Statements." 

From the drop-down menu, select "Account Statements." 

Select the account you want to see statements for from the drop-down menu. 

Click on the statement you'd like to view.
How To Contact BMO Harris If You Have Trouble With Your Account
If you're having trouble using your BMO Harris login or any other account-related issues, use this number to contact a representative:
Due to the COVID-19 crisis, BMO Harris is experiencing greater demand on its phone line, which could lead to longer wait times. For personalized customer service, you can call between the hours of 7 a.m. and 10 p.m. CST Monday to Friday and 8 a.m. to 8 p.m. CST on Saturdays and Sundays. However, bankers are available 24/7 for lost or stolen debit cards, credit card account assistance and resetting online passwords. 
If you have a non-dire banking question, you can fill out this online contact form and a BMO Harris representative will reach out to you within 10 days.
What Are the Benefits of Online Banking?
Online banking is a fast way to access your bank accounts, and offers much more flexibility and convenience than brick-and-mortar branches and ATMs. You can easily and securely pay your bills, transfer funds, check your transaction history and much more. And all this without having to drive to a physical branch or get on the phone with customer service. 
Overall, finding and using your BMO Harris login may become the best banking decision you've made in a while.
More on Using Your Bank Login
Information is accurate as of Aug. 9, 2022.
Editorial Note: This content is not provided by any entity covered in this article. Any opinions, analyses, reviews, ratings or recommendations expressed in this article are those of the author alone and have not been reviewed, approved or otherwise endorsed by any entity named in this article.