How To Use and Find Your First Republic Bank Login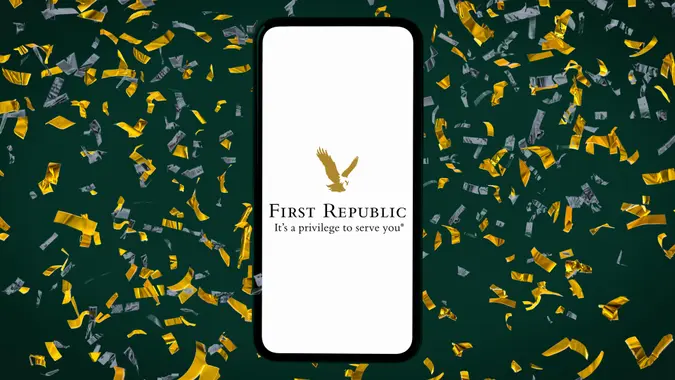 First Republic Bank is fairly new — founded in 1985 — and offers a variety of financial services, including private banking, private business banking and wealth management. Most of the bank's branches are in California, but you also can find them in New York City; the Boston area; Portland, Oregon; Palm Beach, Florida; Greenwich, Connecticut; and Jackson, Wyoming.
So, what is private banking? This type of banking gives clients a more personalized experience and the opportunity to work with a dedicated banker. Private banking customers receive individualized advice to help them meet their financial goals, as well as access to a variety of wealth management services and special interest rates.
Typically, private banking is available only to individuals who have at least $1 million in assets. Some banking institutions, though, accept less, and others set the benchmark higher.
First Republic Bank is more accessible to the average consumer, with the minimum opening balance on a Passbook Savings account set at $500. However, the bank's highest interest rate is available only for balances of $1 million or more, and First Republic CDs all require a minimum $10,000 deposit. 
If you're financially well-off enough to benefit from this private bank, find out how to take full advantage of your First Republic login today. 
How To Log In to Your First Republic Bank Account From a Computer 
The First Republic website makes it easy for you to log in to your account and manage your money from anywhere. If you're logging in from a computer, follow these steps:
Go to

FirstRepublic.com

. 

Hover over the gold "Secure Sign In" button in the upper-right corner of the page.

Click on the type of account you need access to; there are options for "Banking Online," "Corporate Online," "Brokerage Online," "Trust Online," "Foreign Exchange Online" and "Eagle Invest." If you're looking to access your personal bank account, click on the "Banking Online" option. 

You'll be prompted to the Banking Online Sign In page. Enter your username and password and click "Secure Sign In." 
If you have a bank account but haven't yet set up your First Republic login, you can create one through the following steps.
Visit the 

Banking Online Sign In page

. 

Click on the "No username? Enroll now" link underneath the username field. 

You'll be prompted to an enrollment page, where you'll need to select your account type (personal or business). 

Then select your account type from a drop-down menu, whether it be checking, savings or certificate of deposit. 

Enter your bank account number, the identification number you used to sign up — such as your driver's license or passport ID number, and your Social Security number. 

Create a username and password for your account, confirm your password, and enter your email address and phone number. 

Click "Enroll." 
With online banking, you have quick and easy access to your account information at any time. This way, you aren't beholden to the bank's hours or any customer service wait times. Manage your money whenever and from wherever you want to. 
How To Log In to Your First Republic Bank Account From a Mobile Phone or Tablet
If you prefer banking from a mobile phone or tablet, First Republic offers a mobile banking app, available for free through the Apple App Store and Google Play Store. 
Here's how you can get started on the First Republic mobile app: 
Download the app via the Apple App Store or Google Play Store, depending on your device. 

Once the app finishes downloading and installing, open it. 

Enter your username and password. Depending on your device's capabilities, you can enable facial recognition or fingerprint sign-in for quick and secure access. 

If you entered your username and password manually, click "Sign In." 
The First Republic mobile app has a variety of remote banking and security features. You can: 
Control your debit cards and get transaction alerts. 

Use your fingerprint or face for secure sign-in. 

Deposit checks remotely. 

Add and view your accounts at other institutions. 

Transfer money to separate First Republic accounts or another bank.

Search for First Republic locations near you. 

Use "StealthView" to dim or blur account numbers when you're in public. 
How To Retrieve a Forgotten Username or Password
If you've forgotten the username or password to your First Republic login, no worries — the bank's website and mobile app allow you to retrieve them. Follow these steps from your computer: 
On the 

Banking Online Sign In page

, 

click "Forgot your username?" or "Forgot your password?" depending on which one you need. 

If you forgot your username, it will prompt you to a new page. Enter the email address tied to your account and then click "Send Username." 

If you forgot your password, it will prompt you to a new page. Enter your username for the account and then click "Submit." 
The bank's app has a "Forgot password?" option but not one for your username. So if you've forgotten your username, your best bet is to use the bank's website, not the mobile app, to retrieve it. To avoid this issue next time, you can enable facial recognition or fingerprint access, if available on your device. 
How To View Your First Republic Bank Statement Information 
Viewing your bank statements isn't difficult from either the online platform or the mobile banking app. 
Log in to your First Republic account.

Tap "Statements & Documents." 

View your banking statement and click the share icon if you want to send, print or share the PDF. 
You also can make sure the bank sends you your statement each time it's ready. To do this: 
Log in to your account and visit "Statements & Documents" and then "Statement Preferences." 

Check the box underneath "Send me an email" to receive a new email each time your statement comes out. 

Click "Save" to save this preference. 
How To Contact First Republic Bank if You Have Trouble With Your Account 
To contact First Republic Bank, call these numbers: 
Inside the U.S.: 888-408-0288

Outside the U.S.: 415-288-7598
The customer service hours are 5 a.m. to 9 p.m., Pacific time, on weekdays; 6 a.m. to 8 p.m. on Saturdays; and 7 a.m. to 5 p.m. on Sundays. 
You also can log in to your account on your computer or mobile phone to send a message to a First Republic representative. 
What Are the Benefits of Online Banking?
Online banking is a fast way to access your bank accounts, and it offers more flexibility and convenience than brick-and-mortar branches and ATMs. You can easily and securely pay your bills, transfer funds, deposit checks and do much more — without having to drive to a physical branch or get on the phone with customer service.  
Overall, finding and using your First Republic login might become the best banking decision you've made in a while. 
More From GOBankingRates
More on Using Your Bank Login
Information is accurate as of Aug. 16, 2022.