How To Find and Use Your HSBC Login
Learn how to bank online with HSBC.
HSBC — the Hongkong and Shanghai Banking Corporation — is a global banking and financial services organization that serves 64 countries and over 40 million customers worldwide. It's been in the U.S. since its founding in 1865, and is available to residents of New York, Los Angeles, Chicago, Atlanta, Houston, Seattle, Miami, San Francisco and Washington D.C.
If you count yourself among HSBC's wide customer base, read on to find out how to use your HSBC login and take full advantage of their online and mobile banking services. 
How To Log In To Your HSBC Bank Account From a Computer 
The HSBC website makes it easy for you to log in to your account and manage your money from anywhere. If you're logging in from a computer, follow these steps: 
Go to

us.HSBC.com

. 

Click the "Log on" button in the upper right corner of the webpage. You can also select "Register" if you are not yet enrolled in online banking. 

You will be directed to a new page where you can enter your user ID.

Then, click "Continue," enter your password and sign in. 
If the site doesn't recognize your login device, it may ask you to enter your memorable question and components of your password to verify your identity. Enter the correct information to gain access to your online account. 
With online banking, you have quick and easy access to your account information at any time. This way, you're not beholden to the bank's hours or any customer service wait times. Manage your money from whenever and wherever you are. 
Related: HSBC Review: Is It the Right Bank for You?
How To Log In To Your HSBC Bank Account From a Mobile Phone or Tablet
If you prefer banking from a mobile phone or tablet, HSBC also offers a mobile banking app, available for free on the App Store and Google Play. 
Here's how you can get started on your HSBC mobile banking app: 
Download the app via the

App Store

or

Google Play

, depending on your device. 

Once it finishes downloading and installing, open the app. 

Enter your username and password. 

Log in. 
Android users can also use fingerprint authentication to sign in, and Apple users can use Touch or Face ID. 
The HSBC mobile banking app has a variety of remote banking features. It allows you to: 
Make easy money transfers (even to HSBC accounts in other countries) 

Pay your bills

Deposit checks

View eStatements
Find Out: Here's Why 45 Million People Bank on Their Phones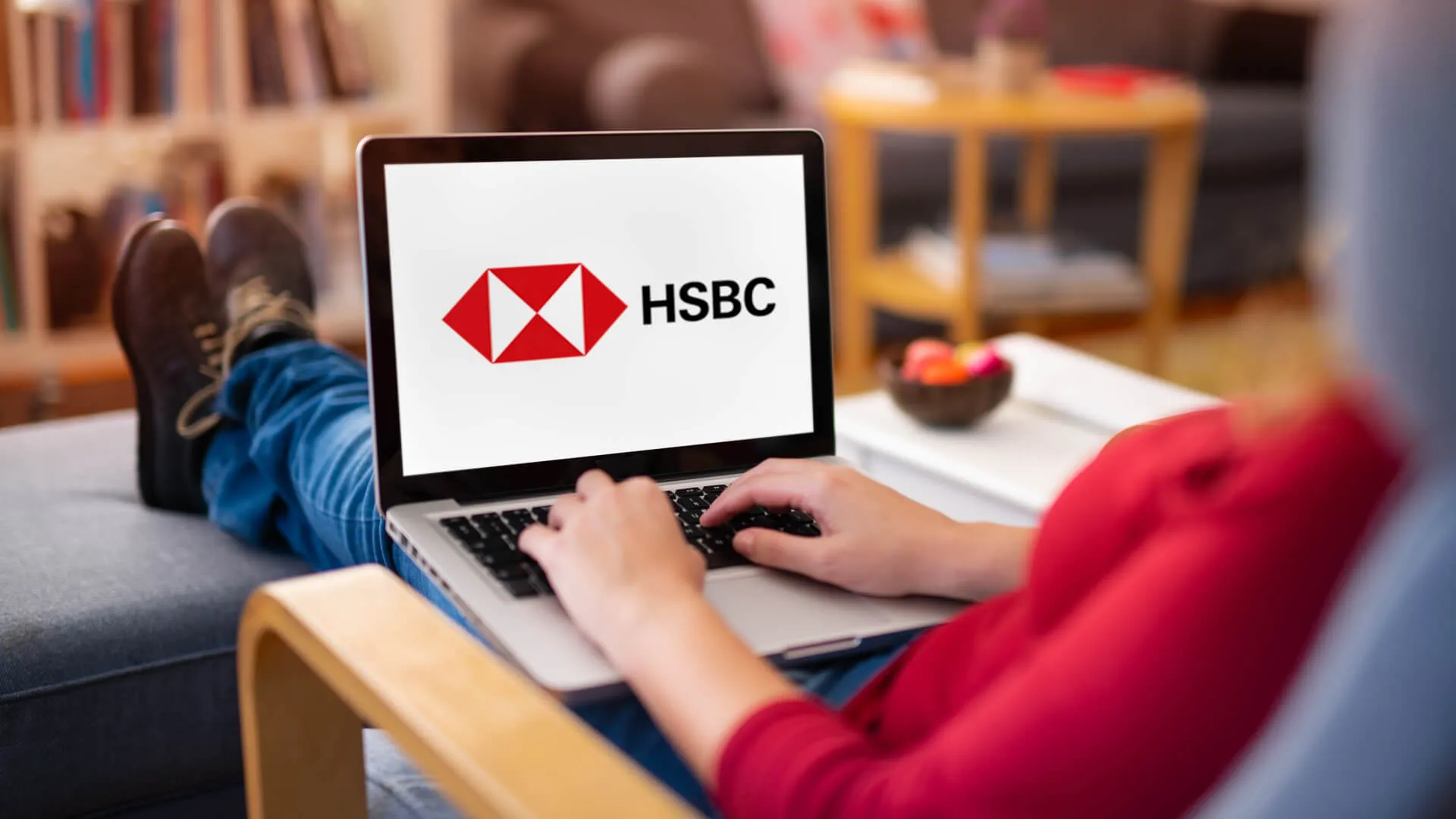 How To Retrieve a Forgotten Username or Password
If you forgot the username or password to your HSBC login, no worries — you can get them back or reset them. Follow these steps from your computer:
Username: 
Go to the HSBC homepage and click "Log on." 

On the next screen, click "Forgot username?" 

Enter your Social Security number, card number and PIN, and then click "Continue" to gain access to your account. 
Password: 
Go to the HSBC homepage and follow the log-in steps. 

When you get to the password, click on "Forgot Password?"

Answer a security question and enter a security code to gain access. You would have set these up when you registered the account. 
How To View Your HSBC Bank Statement Information 
HSBC gives you access to up to seven years of online bank statements. To view them, follow these simple steps:  
Sign in to your online account. 

Select the bank account you want to view statements for on the left-hand side of your screen. 

Click on the "Manage" button in the box at the center of your screen. 

Under "Documents," click "View and print eStatements." 

From there, you can search by account and date, as well as print or download your statements. 
Learn: What Are Routing Numbers and How Do You Find Them?
How To Contact HSBC If You Have Trouble With Your Account 
If you're having trouble using your HSBC login or any other account-related issues, use these numbers to contact a representative:
Personal Banking:

800-975-4722

HSBC Premier Banking:

888-662-4722

HSBC Advance:

866-584-4722

Business Banking:

833-722-4722

Mortgage Customer Service:

855-527-8400

Premier Mortgage Customer Service:

855-806-4660

Jade Mortgage Customer Service:

855-806-4661

Private Bank Mortgage Customer Service:

855-806-4664

HSBC Securities Wealth Services Desk:

800-662-3343, Monday through Friday from 8 a.m. to 6 p.m. ET

Lost/Stolen Cards:

800-462-1874 

TTY/TTD:

800-898-5999
You can also live chat with a customer service representative here. To send HSBC questions via mail, address your envelope to HSBC Bank USA, N.A., P.O. Box 2013, Buffalo, NY 14240.
What Are the Benefits of Online Banking?
Online banking is a fast way to access your bank accounts, and offers much more flexibility and convenience than brick-and-mortar branches and ATMs. You can easily and securely pay your bills, transfer funds, check your transaction history and much more. And all this without having to drive to a physical branch or get on the phone with customer service. 
Overall, finding and using your HSBC login may become the best banking decision you've made in a while. 
More on Using Your Bank Login
This content is not provided by HSBC Bank. Any opinions, analyses, reviews or recommendations expressed in this article are those of the author's alone and have not been reviewed, approved or otherwise endorsed by HSBC Bank.