How To Find and Use Your USAA Login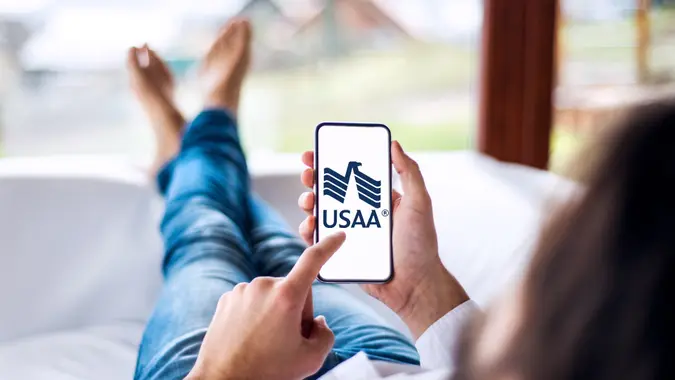 Halfpoint / Getty Images/iStockphoto
The United Services Automobile Association began in 1922 when a few dozen Army officers decided they could insure their own cars. A century later, USAA has expanded into banking, investment and retirement products and serves more than 13 million members. Its customer base now includes current and former U.S. military members, along with their eligible family members.
How To Log In to Your USAA Bank Account From a Computer
To sign on to your account, first go to the USAA homepage and then follow these steps:
Click the "Log On" link located in the upper right corner of the screen.
This will bring you to a new page, where you'll enter your user ID.
Click the "Next" button.
Follow the prompts to log in to your account.
If you need to enroll in online banking, click the "Register for Access" link in the upper right corner, then follow the directions.
How To Log In to Your USAA Bank Account From a Mobile Phone or Tablet
The USAA mobile app is available via the App Store and Google Play. To log in to your USAA account from your phone or tablet, here's what you do:
Download and open the app.
Enter your username and password.
Sign in.
You can also set up more secure app access by setting up a PIN or biometric access.
How To Retrieve a Forgotten Username or Password
To retrieve your username or password, go to the USAA login page. Click on the link that reads, "I need help logging on." From there, select "Recover My Online ID" or "Reset My Password" to get started.
If you need to recover your online ID, you'll need to provide either your USAA number or your Social Security number or tax ID number. If you're resetting your password only, you'll need to provide your USAA online ID before updating your password.
How To View Your USAA Statement Information
To see your USAA documents, just log in to your online account and select which account statement you'd like to view. You can also choose to receive electronic statements only. When your documents become available, USAA will notify you via email.
How To Contact USAA If You Have Trouble With Your Account
If you're having trouble with your USAA account, you can call either 210-531-8722 or 800-531-8722. If you still have access to your account, you can also send USAA a message through its website.
What Are the Benefits of Online Banking?
The most obvious benefit of online banking is that it's available whenever you need it. Because everything is in the palm of your hand, you don't have to plan around bank hours or spend time and money getting to a physical branch. And with features such as online bill pay and mobile check deposit, you have greater control over how you manage your money. Another bonus: Online banking makes it easier to track your spending since you can compare month-to-month bank statements quickly and conveniently.
Information is accurate as of Aug. 15, 2022.
Editorial Note: This content is not provided by USAA. Any opinions, analyses, reviews, ratings or recommendations expressed in this article are those of the author alone and have not been reviewed, approved or otherwise endorsed by USAA.