The Secret Code in Your Routing Number You Never Noticed
The first two digits alone can tell you a lot.
There are a number of instances when you may have needed to know your routing number — re-ordering checks, setting up direct deposits, paying bills, making tax payments, etc. — but you've probably mindlessly gotten the info from a blank check or your bank account website without really paying attention to what those numbers mean. But believe it or not, there's a lot of information to be found in those nine little digits.
A Brief History of the Routing Number
The American Bankers Association created routing numbers back in 1910 to identify the specific financial institution that was responsible for making a payment. By 1911, routing numbers had been adopted by the banking industry at large. Although routing numbers have evolved over the years to account for changes in the industry including the development of the Federal Reserve system, the advent of magnetic ink character recognition, electronic funds transfer, and interstate banking, their primary purpose has really remained unchanged. A routing number identifies the bank that is responsible to pay or give credit, or the bank that is entitled to receive a payment or a credit, stemming from a check payment or an electronic transaction.
More Banking: This 'Tiny' Fee Will Cost You Over $10,000 in Your Lifetime
Breaking It Down: What Your Routing Number Really Stands For
Routing numbers are made up of nine digits, which break down into three components. The first four digits are the Federal Reserve routing symbol, the next four digits are the American Bankers Association institution identifier (aka a code that represents your specific bank or credit union) and the final digit is the check digit.
You can tell a lot about the routing number by just the first two digits. Here's what those two numbers mean, according to the ABA:
| | |
| --- | --- |
| First Two Digits | Federal Reserve Allocation |
| 00 | Checks and drafts of the U.S. government and its agencies (excluding federal banks) |
| 01-12 | All checks and electronic transfers of banks, Federal Reserve banks, federal home loan banks, federal land banks, federal intermediate credit banks, farm credit banks and state government units |
| 21-32 | Checks, drafts and electronic transactions of thrift institutions, otherwise known as credit unions (This assignment was discontinued in 1985, and these now get assigned 01-12.) |
| 50-59 | Used by banks, Federal Reserve banks and other entities for internal process control purposes |
| 61-72 | Electronic Transaction Identifiers |
| 80 | Traveler's checks |
You might notice that some series of numbers are missing from that list. That's because they've been reserved for future use, or the use has become obsolete.
A Closer Look at the First Two Digits
You probably noticed that the numbers 01 to 12 are basically assigned to all checks and transfers with only a few exceptions. The numbers 01 through 12 refer to the Federal Reserve district where your bank is based. There are 12 districts across the United States and its territories, each of which reports to a Federal Reserve bank main office. The districts were created back in 1913 and were based on the geographic population of the U.S. at the time, which is why some of the districts cover larger areas than others. Over time, offices have been added within each district to account for growing populations and growing banking needs.
While new credit unions get assigned a number 01 to 12 depending on their Federal Reserve district, just like banks, up until 1985 credit unions had a different number: the district number plus 20. If you bank with a credit union, it's likely your checks will start with a number between 21 and 32.
Check out the map below to see what district each two-digit number corresponds to.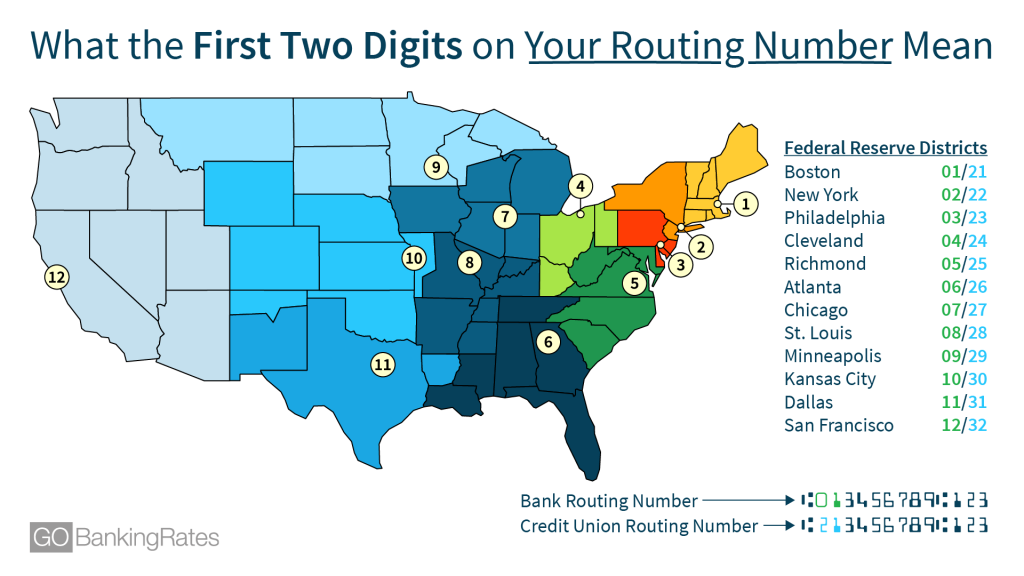 What the Third and Fourth Digit Tell You
Within each district, there are different Federal Reserve banks and branch offices that serve the institution that the funds are being withdrawn from, and the third and fourth digit indicates this. For example, 01 refers to the Boston Federal Reserve district, but within that district, there is a Boston office and a Windsor Locks office. The routing code numbers 0110, 0112, 0113, 0114 and 0115 correspond to the Boston office, while the routing code numbers 0111, 0118, 0119, 0211, 0116 and 0117 correspond to the Windsor Locks office.
All About the ABA Institution Identifier
The American Bankers Association is the body that originally came up with the idea of a routing number back in 1910, and to this day, the ABA is responsible for the assignment of institution identifier codes to qualifying banks and credit unions. These four digits — the ABA institution identifier — make up digits five through eight of your routing number.
So, What Exactly Is That Ninth Digit For?
All the essential information is really found in the first eight digits of your routing number — these digits tell you all about the Federal Reserve office location for your bank, as well as information about your specific institution. That ninth digit in your routing number serves as a "check digit" — it's the result of a mathematical calculation that verifies the accuracy of the other eight numbers of your routing number.
Now that you know what your routing number really means, you might want to take a closer look at it the next time you write out a check.
Click through to read how much money most Americans have in savings.
More on Banking