How to Find and Use Your OneMain Financial Login
Here's how online account management with OneMain Financial can save you time and money.
OneMain Financial is a lender that traces its roots back over 100 years to its 1912 founding as Commercial Credit. Although the financial institution has branches, one of the easiest points of access is via an online account. Whether you have a computer, a tablet or a smartphone, you can view your account and make banking transactions online conveniently.
Here's a look at how to find and log in to your account with OneMain Financial.
OneMain Financial Online Account
To access your account online, you'll have to establish a separate online login. You'll need the following information to get started:
Apply for a Personal Loan
Sponsors of
First name
Last name
Account number
Last 4 digits of your Social Security number
ZIP code
From there, you'll create a username and password for your personal loan account with this online lender.
Learn: Best and Worst Ways to Use a Personal Loan
How to Log In to Your OneMain Financial Account
Once you've established a username and password, you can log in to your account from your computer, tablet or smartphone. Here's the process for how to log in to your OneMain Financial account from each type of device:
Computer or Tablet
Go to the OneMain Financial online account login page at www.onemainfinancial.com/login.
Enter your username and password.
If you don't want to have to remember your username every time you log in, check the box marked "Remember my username."
Click the red "Log In" button to access your account.
Smartphone
Download and install the appropriate OneMain app for your phone operating system. iPhone users can visit iTunes to get the app; Android users can get it from Google Play.
Open the app on your smartphone.
Enter your username and password. You also have the option to remember your username.
Click the red arrow button to access your account.
Now, you're all set to access your account online.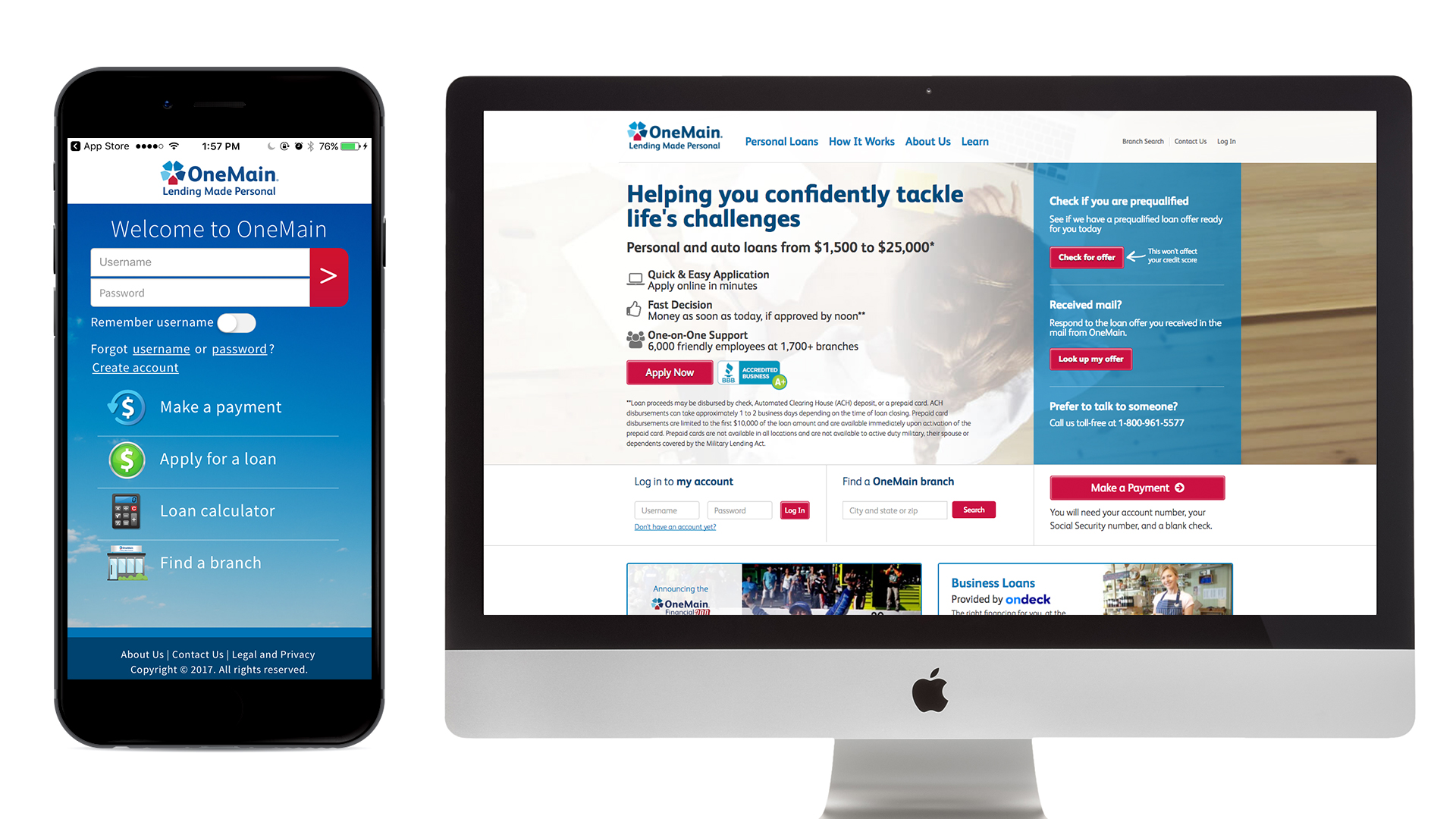 Don't Miss: 7 Common Personal Loans and What to Do if You Don't Qualify 
Accessing Your Lost OneMain Financial Login
If you can't remember your login information for your OneMain Financial account, you'll have to reset it. Follow these steps on your computer or smartphone.
Go to the login page as if you were going to sign in.
Click on "Forgot Username" or "Password" — whichever is appropriate.
Follow the prompts to reset your username or password.
Once you've reset your information, you can log in to your OneMain Financial bank account online as before.
Online Account Advantages
The main benefit to opening an online account at OneMain Financial is that you have 24/7 access to your account from any place with an internet connection. Most OneMain Financial branches are only open during business hours, so if you need information about your account at midnight, you can't just walk into your local branch and speak to a teller.
OneMain Financial's online access is similar to what you get with a bank account online: You can make payments online, view statements, set up recurring payments, enroll in paperless statements, update personal information and more — all from your home computer or smartphone. Other options available online include setting up Direct Pay, accessing local branch information and enrolling in the lender's reward program, OneMain Rewards.
Keep Reading: 5-Step Guide to Refinancing Your Personal Loan
More on Using Your Bank Login