46% of Americans Are Cheating on Their Bank, Survey Finds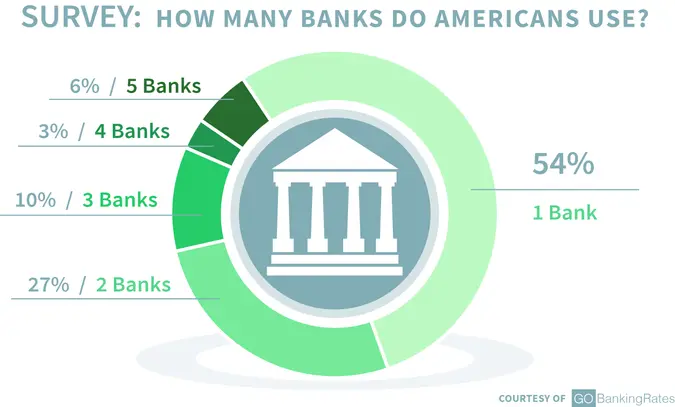 While some bank customers choose to stick with just one bank, other depositors spread their business across two or more institutions. Both choices have benefits and drawbacks.
One mistake that can hurt bank customers is overlooking this decision altogether. Many Americans might stick with the bank they've always had by default and simply haven't considered that there are better options. Customers of multiple banks, on the other hand, could be exposing themselves to more fees if they aren't choosing the best banks or the best offers.
How and where you bank matters and can affect every part of your finances, from loans and investments to daily budgeting and long-term saving. A survey from GOBankingRates reveals how Americans manage their banking relationships. Here's a look at how many bank customers are monogamous in their bank relationship or cheat on their bank with several financial institutions — and how you can make the best choice for your money.
Survey: Do You Use One Bank or More?
GOBankingRates asked over 5,000 respondents, "How many banks do you currently have an active bank account with?" in a Google Consumer Survey. Account types could include checking, savings, certificate of deposit or money market, and answer options ranged from one bank to five or more.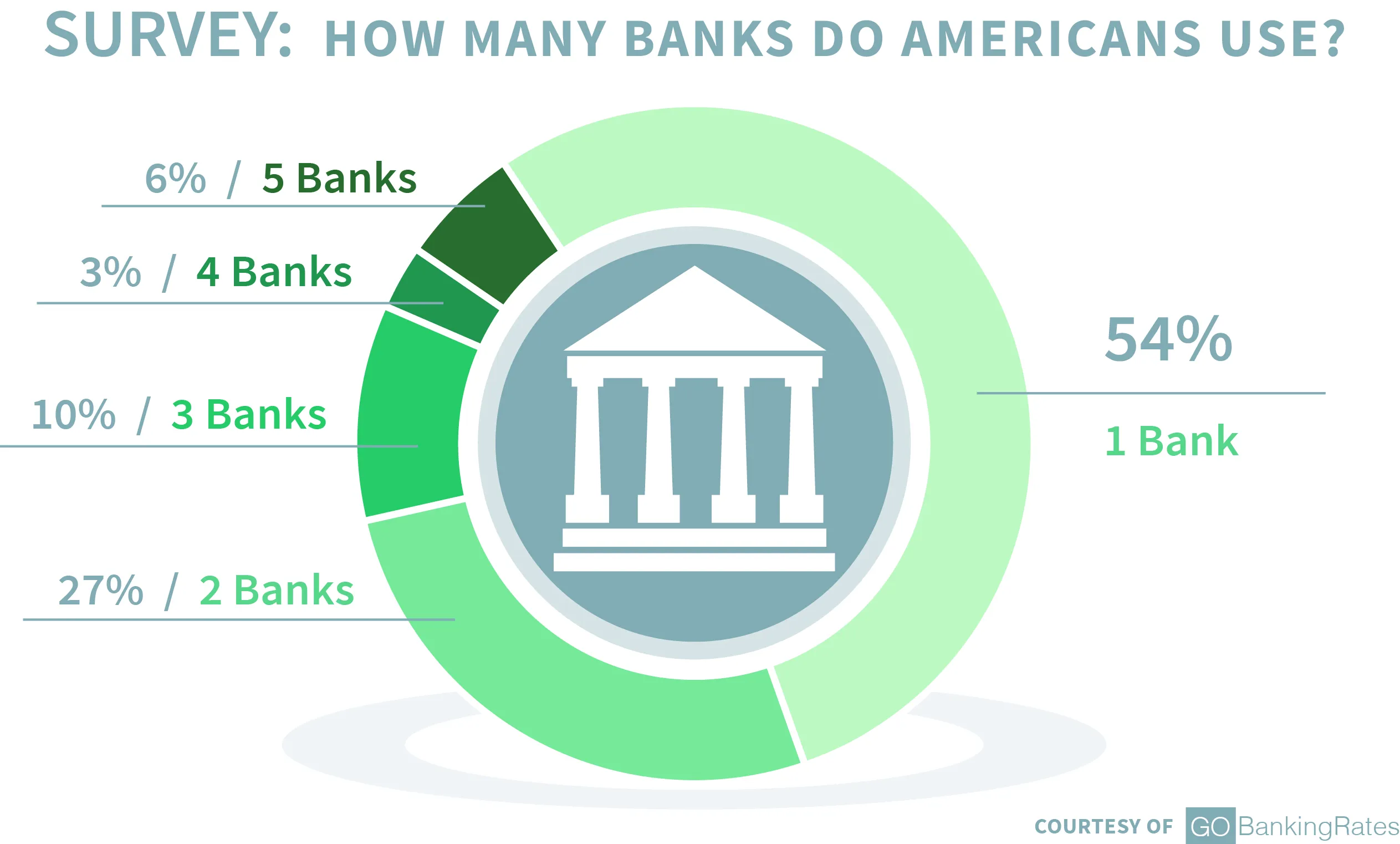 The survey found that the majority of Americans, 53.9 percent, are customers of just one bank, and 46.1 percent are customers of more than one bank. Of bank customers who have relationships with more than one bank, the most common number of bank relationships is two. The majority of non-monogamous bank customers, just under 60 percent, report having accounts at two different banks.
If you have accounts with more than two banks, you're in the minority: Roughly one in five (18.7 percent) Americans has accounts with three banks or more. One in 10 Americans (10.1 percent) is a customer of three banks. Banking with four banks is less common (3.1 percent), while it is slightly more common to bank with five or more financial institutions (5.5 percent).
Read: 12 Influential Experts Give Their Top Money Tip for 2016
Number of Bank Account Relationships by Age
Older millennials (ages 25 to 34) and young Gen Xers (ages 35 to 44) are the age groups most likely to have an account with more than one bank. Older millennials are slightly more likely to bank with multiple institutions (50.3 percent) than are young Gen Xers (49.4 percent).
Young millennials, on the other hand, are the most likely to be customers of just one bank, with 63.7 percent giving this answer.
Older Gen Xers (45 to 54) are the most likely to have five or more bank accounts, at 7 percent.
Women Bank With Fewer Financial Institutions Than Men Do
When it comes to gender differences, women are 11.4 percent more likely than men to bank with a single institution. Men, on the other hand, are more likely to have accounts with three or more banks and are nearly twice as likely as women to have accounts with four or more banks.
Gender
Number of Banks
1
2
3
4
5+
Female
56.70%
27.50%
9.60%
2.20%
4.00%
Male
50.90%
27.40%
10.60%
4.00%
7.10%
Should You Be Loyal to Your Bank?
This GOBankingRates survey shows that most Americans are loyal to one bank and turn to that financial institution to meet all their needs — from everyday checking to long-term savings. These people know that many banks and credit unions reward loyal customers, so they're less tempted to open an account with another bank simply to get a low promotional rate, for example.
When You Should Stick With One Bank
From simplicity to savings, there are several advantages of sticking with one bank for all your financial needs. Consider the following examples of why you should stay in your current banking relationship.
1. Your account balances tend to be lower. Account balances are important to your bank. Many banks have minimum balance requirements for customers to qualify for perks, like getting a monthly maintenance fee waived or snagging a higher interest rate.
Yet a recent GOBankingRates survey found that the majority of Americans have relatively low account balances, with 62 percent keeping less than $1,000 in their savings accounts. If you're stretching already-thin funds across multiple bank accounts, you'll have a harder time meeting these minimum balance requirements, which could make you more likely to get hit with fees and miss out on potential bonuses. Keeping funds at one bank could help you meet these requirements even if your balances are typically lower.
2. You might find multiple banks and accounts confusing. If so, you should consider your money management style before taking on an additional bank relationship. For some people, tracking multiple bank accounts, and trying to understand more fine print and conditions for fees, wouldn't fit their financial habits.
A single banking relationship could also be ideal if you're concerned about banking security risks. If fewer institutions have your personal information and accounts, you could be less exposed to potential identity theft or fraud.
3. You value a strong relationship with your bank. Sticking with one bank can help you build a strong relationship so that you have the clout to ask for perks when you want them. While loyalty to banks is waning, a third of bank customers still say they get excellent customer service and a personalized experience, according to a 2015 study from IBM. If you're among that happy third, you likely have good reasons to stay in a monogamous bank relationship.
Why You Should Have Accounts With Multiple Banks
Sticking with one bank has its benefits, but as 46 percent of Americans know, banking with different financial institutions can be a way to get the service you really need along with competitive rates. If you can keep track of everything, you might be able to reap the following benefits.
1. You can get the best of both worlds. Banking with different institutions can enable you to take advantage of different banks' offers when you can't find a single institution that will meet all of your needs. Having more than one bank can allow you to take advantage of better deals, products and features — from lower checking account fees to competitive interest rates.
A bank customer might turn to a major bank for checking services if he tends to travel a lot so he can have convenient nationwide access to branches and ATMs, for example. He might also turn to a local bank or credit union for a great deal on a loan because smaller financial institutions frequently offer lower interest rates.
2. You can get the most out of your money. If you've stuck with one bank out of habit, you might be missing out on opportunities to pay less, earn more and take advantage of some of the best bank account features and promotions. A bank customer might find that a local credit union offers free checking without the current minimum balance requirements of the big bank he is currently with, for instance. Or, he might also open an account with an online-only bank that offers higher savings rates and better digital banking services.
3. You can manage money more effectively with different accounts. Accounts at separate banks make it easy to separate and earmark your money for specific purposes. A bank customer might keep everyday spending money and savings in accounts with a big bank and use an online bank to hold a bigger emergency fund or other long-term savings, for example.
Having money separated for specific purposes can make it easier to track different types of funds and financial goals. Keeping money in more than one bank also can ensure you never pass the $250,000 limit on FDIC insurance, which guarantees your deposit even if the bank fails.
Whether you like to go steady with your bank or enjoy the benefits of multiple banks, it's a good idea to take a look at your financial situation and assess whether your banking needs are being met. As you look for ways to pay fewer fees, earn more interest and get a better experience overall, consider whether you'd prefer sticking with one bank or spreading funds among multiple financial institutions.
Methodology: GOBankingRates conducted a Google Consumer Survey from Nov. 2-5, 2015, which collected 5,001 answers to the question, "How many banks do you currently have an active bank account with (i.e. a checking, savings, CD or money market account)?" Answer options were "1," "2," "3," "4" and "5+." Responses are representative of the U.S. online population, with a margin error of 1.6 percent. Analyses of answers by gender and age were based only on responses for which Google provided demographics data.