Newest Bank of the West Promotions, Bonuses, Offers and Coupons: January 2021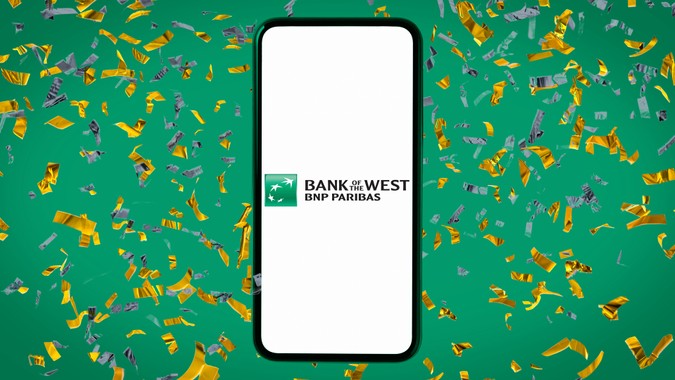 Bank of the West's name is a little misleading. The full-service bank offers branches in 19 states, but they're not all out west. In addition to having branches in western states like California, Arizona, Washington and Nevada, the bank also serves Iowa, Kansas, Minnesota, Missouri and Wisconsin.
If you're searching for a new bank, it's important to evaluate all of its products, services, fees in addition to promotional offers. Banks regularly offer promotions because they want your business. You could earn hundreds of dollars for opening a checking or savings account and meeting a few simple requirements. During the current economic downturn, when Americans are watching their pennies and trying to save more, extra cash can come in really handy.
Take a look at these latest Bank of the West offers for January to find out how you can put a little extra money in your pocket.
Bank of the West Any Deposit Checking Account: $250 Bonus
Bank of the West's Any Deposit checking account requires no minimum monthly balance and features the opportunity to waive service charge fees. You can open the account online or in a branch, but you'll need a promotion code either way. If you open the account online, the promotion code will be automatically applied. If you opt to visit a branch, enter your email on the promotional page first to get the code in advance. Here's more:
Sponsors of
Cash value: $250
Minimum deposit to qualify: $1,000
Expiration date: Feb. 19
How to get it: Open in a Bank of the West branch near you or online with the required promotion code.
When you'll get it: After meeting requirements
Terms and conditions:

Not available to Bank of the West customers with an open consumer checking account as of Jan. 10, 2020.
Only one bonus per account and only one individual per address can sign up for the offer.
Account must be open with a balance of more than $0 to receive bonus.
Offer valid only for residents of the following states: Arizona, California, Colorado, Idaho, Iowa, Kansas, Minnesota, Missouri, Nebraska, Nevada, New Mexico, North Dakota, Oklahoma, Oregon, South Dakota, Utah, Washington, Wisconsin and Wyoming.

Monthly fee: $10, waived with one deposit of any amount each statement cycle
Promotion page: Any Deposit Checking account bonus
Bank of the West Refer-a-Friend Program: Up To $1,000 Per Year
As a customer of Bank of the West, you can earn a $25 Bank of the West checking account bonus each time you refer others to the bank as long as they meet the requirements. Here's more:
Cash value: $25 per successful referral, up to $1,000 per calendar year
Minimum deposit to qualify: $1
Expiration date: Dec. 31
How to get it:

Visit the Refer-A-Friend signup page and enter your name, email, ZIP code and last four digits of your debit card.
Next, enter the portal and refer people who might be interested in opening an account.
When friends use the link to open a qualifying account, they'll also receive a $25 Bank of the West bonus offer.
No Bank of the West coupons are needed, but your friends must use the correct link.

When you'll get it: Within 120 days of the referral's account opening
Terms and conditions: Your referred friends must be new Bank of the West customers.
Monthly fee: N/A
Promotion page: Refer-a-Friend bonus offer
How To Open a Bank of the West Account
There are two ways to open a Bank of the West account. You can visit one of its 500 branches to open an account in person, or you can apply online.
Sponsors of
Here's what you'll need to provide to open an account:
Personal contact information
Social Security number
Driver's license or state ID
Your current bank's routing number and bank account number to transfer money into the new account, or a debit card or credit card number.
Once your account is open, save your login information. You can request your username or password reset when you're logging in by clicking on the "Forgot Your User Name?" or "Forgot Your Password?" link. You'll need to provide your debit card or account number to proceed.
If you're still having trouble accessing your Bank of the West account online, call online banking customer support at 800-488-2265 and then choose option three. A customer service representative will walk you through the steps to regain access to your account.
Are Bank of the West Promotions Right for You?
Bank of the West's current promotions are best for those who live in its immediate service area, especially if you want to be near a local branch. While promotions are nice, think of them as what they are — a bonus. When choosing a bank, it's important to consider if its products, services and accessibility are a good fit for your financial goals. Otherwise, you may be searching for another bank sooner than you think.
Information on promotions is accurate as of Jan. 23, 2021. Additional requirements may apply. Offers and terms are subject to change.
This content is not provided by Bank of the West. Any opinions, analyses, reviews or recommendations expressed in this article are those of the author alone and have not been reviewed, approved or otherwise endorsed by Bank of the West.
This article has been updated with additional reporting since its original publication.