How To Use and Find Your Fifth Third Bank Login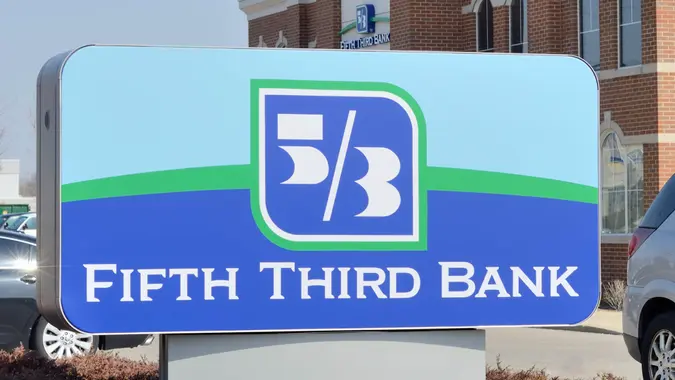 RiverNorthPhotography / Getty Images
Fifth Third Bank boasts that it puts 166.7% into everything it does. With banking, borrowing, insuring, investing and education options, Fifth Third Bank offers plenty of services and resources for its customers.
To securely access your Fifth Third Bank account, follow these easy steps. This Fifth Third Bank login guide will cover.
How To Log In to Your Fifth Third Bank Account From a Computer
A simple and convenient way for users to access their Fifth Third Bank logins is via the bank's website.
Go to the Fifth Third Bank homepage.
Enter your user ID and password.
Click "Log In."
If you decide to access your online account while browsing the Fifth Third Bank website, look for the green "Log In" button at the top right of any page. You can also find a physical branch or ATM using the site's locator tool, schedule an appointment with your local branch or use the bank's customer service number to speak to a sales advisor or customer service representative.
How To Log In to Your Fifth Third Bank Account From a Mobile Phone or Tablet
The Fifth Third Bank mobile banking app allows for free 24/7 access to all of your accounts. It is available on the Apple App Store or Google Play Store.
Download the Fifth Third Bank app from Google Play or the App Store.
Open the app.
Enter your user ID and password.
Click "Log In."
How To Retrieve a Forgotten Username or Password
If you forgot your username or password, you can retrieve either one by following these simple instructions:
Fifth Third Bank will prompt you to its "Forgot User ID" page.
Enter your last name.
Enter your Social Security number, ZIP code and account or card number.
Click "Next" to enter more information.
If you forgot your password but know your user ID, click "Forgot password." Enter your user ID on the next page.
How To View Your Fifth Third Bank Statement Information
Bank statements can be viewed electronically or mailed directly to you. When you log in to your account, you can choose to go paperless, where you will only receive emails when a new statement is available to view. This also helps with security and reduces the risk of identity theft. You can go paperless by following these steps:
Log in using your computer or mobile app.
Go to the "Statements" tab on the mobile app or the "Documents" section online.
Select "Manage Delivery Options" on the mobile app or "Paperless Settings" online.
From there, you can select the accounts and documents you wish to receive electronically.
Fifth Third Bank gives you access to 24 months of account history with check images at no charge to you.
How To Contact Fifth Third Bank If You Have Trouble With Your Account
Fifth Third Bank offers a variety of financial products and services. If you have questions or concerns regarding any of your Fifth Third Bank accounts, there is a customer service number on almost every page of the bank's website:
Fifth Third Bank customer service: 1-800-972-3030
Toll-free international fraud support: 1-513-900-3080
You can call customer service Monday through Friday from 8 a.m. to 6 p.m. EST. They are also available from 10 a.m. to 4 p.m. EST on Saturday but are closed on Sunday. If you have a lost or stolen card, you can call 24 hours a day, seven days a week at 1-800-782-0279.
What Are the Benefits of Online Banking?
Many customers love the flexibility and convenience of online banking, especially with features like online bill payment, requesting a new card or any other bank transaction without the inconvenience of driving to a physical branch to do so.
With Fifth Third Bank, customers are provided features like online bill pay, scheduled payments, paperless statements and sending and receiving money electronically. With mobile banking, customers can get mobile alerts and easy deposit features.
More From Fifth Third Bank
More On Using Your Bank Login
Information is accurate as of Aug. 16, 2022.
Editorial Note: This content is not provided by Fifth Third Bank. Any opinions, analyses, reviews or recommendations expressed in this article are those of the author's alone and have not been reviewed, approved or otherwise endorsed by Fifth Third Bank.