How To Find and Use Your PenFed Login
Find out how to access your PenFed account.
Pentagon Federal Credit Union, or PenFed for short, was established in 1935, only back then it was known as the War Department Federal Credit Union. The financial institution's reach has grown so that it serves both members of the military, including those stationed overseas, and others who are eligible for PenFed membership. Today, PenFed handles $25 billion worth of assets.
If you're a PenFed member, you'll want to take advantage of the credit union's online and mobile banking platforms. Keep reading to learn how to set up and use your login so you can get started.
Here's a look at what you'll find in this guide:
How To Log In to Your PenFed Account From a Computer
To log in to your PenFed account from a computer, first go to its homepage. The login button is located in the upper right corner of the page. Here's what you'll need to do:
Click the "LOG IN" button.
Enter your username.
You'll be taken to a new landing page, where you'll enter your password.
To create an online account, you'll need to enter either your member number or your Social Security number along with other personal information, like your date of birth.
Check Out: PenFed Review — Is It the Right Credit Union for You?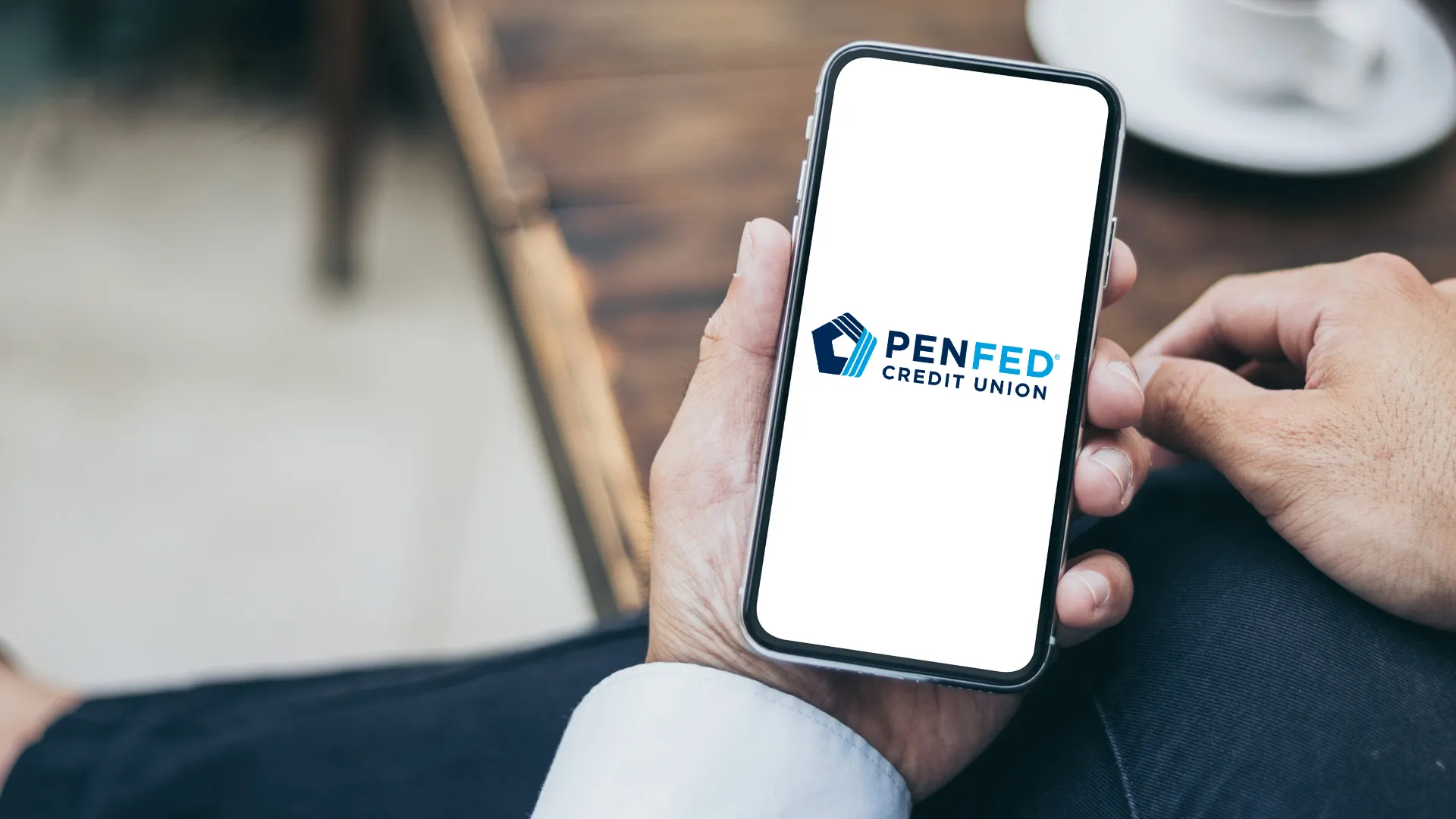 How To Log In to Your PenFed Account From a Mobile Phone or Tablet
You can log in to your PenFed account on a mobile browser or by using the PenFed app, which is available via both the App Store and Google Play. Once you log in using your username and password, you can streamline the process by setting up an alternative way to log in, such as via facial recognition on the iOS app.
Everything You Need To Know: How To Open a Bank Account Online
How To Retrieve a Forgotten Username or Password
If you forgot your username, here's how to retrieve it from the PenFed homepage:
Click the "I need help logging in" link under the login button below the username field.
Click "Forgot Username."
Enter your Social Security number when prompted.
Your username will be sent to the email address on file.
If you forgot your PenFed password, here is the process:
Click the "I need help logging in" link under the login button below the username field.
Click "Forgot Password."
When prompted, enter your username and the personal information requested.
Follow the instructions to reset your password.
If you've forgotten both your username and password, you'll need to enter your Social Security number on the retrieval page after clicking "Forgot Username and Password" to get the ball rolling on retrieving them.
How To View Your PenFed Statement Information
To view your PenFed statement information online, follow these steps:
Log in to PenFed Online.
From the main menu, select which account you want to view.
From there, you'll be able to access both your transaction history and bank statements.
If you want to go paperless, you can do so by clicking the "Go Paperless" tab at the top of your account page, then opting for E-Messages.
Discover: Newest PenFed Promotions — Best Offers, Coupons and Bonuses
How To Contact PenFed If You Have Trouble With Your Account
Here are a few ways to reach out to PenFed if you need assistance:
By phone: PenFed's main customer service line is 800-247-5626.
By email: Email PenFed at info@hq.penfed.org.
By fax: You can send faxes to PenFed using either 800-557-7328 or 800-278-2212.
You can also send PenFed a secure message from its website.
What Are the Benefits of Online Banking?
Online banking gives customers more options when it comes to viewing and controlling their finances. Most online banking services offer useful features such as online bill pay and money transfers. Many also let you set up recurring payments so you can pay bills the moment funds hit your account.
Online banking also works as a security measure, since banks let you set up alerts for unusual account activity. If anything, the ability to check in on your bank accounts at any time means you can react quickly to suspicious activity.
Up Next: Best Online Checking Accounts at a Glance 
More on PenFed
More on Using Your Bank Login
This content is not provided by PenFed. Any opinions, analyses, reviews or recommendations expressed in this article are those of the author alone and have not been reviewed, approved or otherwise endorsed by PenFed.