How To Find and Use Your PNC Bank Login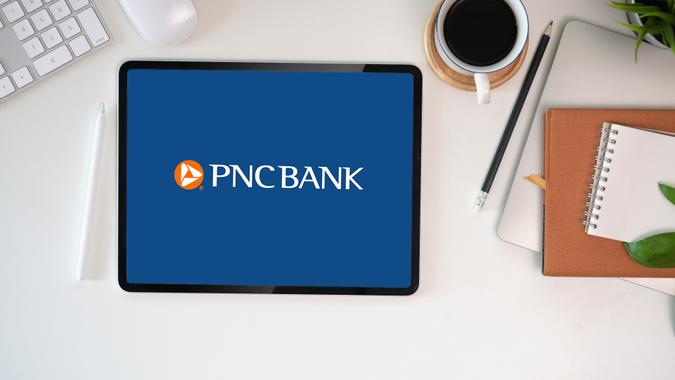 PNC is the seventh-largest bank in the U.S. by assets, according to the Federal Reserve. PNC Bank has been serving its customers for more than 160 years, and today those customers — including individuals and businesses — number more than 8 million. With so many people to serve, you better believe PNC offers online banking.
To take advantage of PNC's online and mobile banking platforms, you first need to know how to log in. Keep reading to learn all about it.
How To Log In to Your PNC Bank Account From a Computer
You can sign on to PNC's online banking from its homepage. The login fields are located on the right side of the page. Once you find them, you just need to follow a few simple steps:
Enter your user ID.
Enter your password.
Click the "Login" button.
To enroll in a PNC online bank account, click the "enroll in online banking" link located beneath the login fields, then follow the instructions. You'll need the following:
Social Security number
PNC debit card PIN or online access PIN
PNC account number
You will be able to create your online credentials from there.
Also See: PNC Bank Review — Options for Saving, Investing and More

How To Log In to Your PNC Bank Account From a Mobile Phone or Tablet
To log in to your PNC account from a mobile phone or tablet, follow these steps:
First, enroll in PNC online banking.
Download the appropriate PNC app for your phone via the App Store or Google Play.
Enter your user ID and password at the sign-in screen.
After you log in, you'll be able to quickly view your account balances and transactions.
How To Retrieve a Forgotten Username or Password
If you've forgotten your username or password, here's how to retrieve them:
Click the "Forgot User ID or Password?" link on the PNC homepage, beneath the login fields.
Click the "Start Reset Password" button. You will need to provide the following:

PNC user ID
Social Security or tax identification number
PNC account number
The debit card number or phone number attached to the account

Follow the directions to reset your password.
If you can't remember your username based on the hints provided, contact PNC at 800-762-2035.
Check Out: 5 Ways To Avoid PNC Bank Monthly Maintenance Fees
How To View Your PNC Statement Information
You can access your online bank statements by logging in to your PNC account and clicking "Statements" on the menu bar. You can also switch to paperless statements by clicking "Change Delivery Method" on the account screen, then clicking "Receive Electronic Statement Only." You'll have to verify your email before clicking "Submit."
How To Contact PNC Bank If You Have Trouble With Your Account
Here's how to get in touch with PNC Bank for troubleshooting or with any other questions:
By phone: Call 888-762-2265. PNC's voice banking is available 24/7, while consultants are available Monday through Friday from 7 a.m. to 10 p.m. Eastern time, or Saturdays and Sundays from 8 a.m. to 5 p.m. ET.
Via message: Log in to your PNC account and use its messaging system.
Via Twitter: Reach out to PNC Bank @PNCBank_Help.
Discover: Best PNC Bank Promotions and Offers
What Are the Benefits of Online Banking?
Online banking is a convenient way to take care of your PNC banking needs. Here are a few things you can do either online or with the mobile app:
Check balances
Review transactions
Pay bills
Transfer money using Zelle
Furthermore, PNC's mobile apps allow you to deposit checks using your phone with the mobile check deposit feature.
More on PNC Bank
More on Using Your Bank Login
Information is accurate as of Aug. 11, 2022.
Editorial Note: This content is not provided by PNC Bank. Any opinions, analyses, reviews or recommendations expressed in this article are those of the author alone and have not been reviewed, approved or otherwise endorsed by PNC Bank.