How to Find and Use Your US Bank Login
Create and use your U.S. Bank login to access convenient online banking services.
With U.S. Bank's website and mobile app, you get access to online and mobile banking tools, security features and 24/7 domestic phone support. Like other major banks, U.S. Bank utilizes modern technology to securely manage your money. Find out how to set up your U.S. Bank login so that you can find your U.S. Bank routing number and have products and services at your fingertips.
How to Enroll in US Bank Online Banking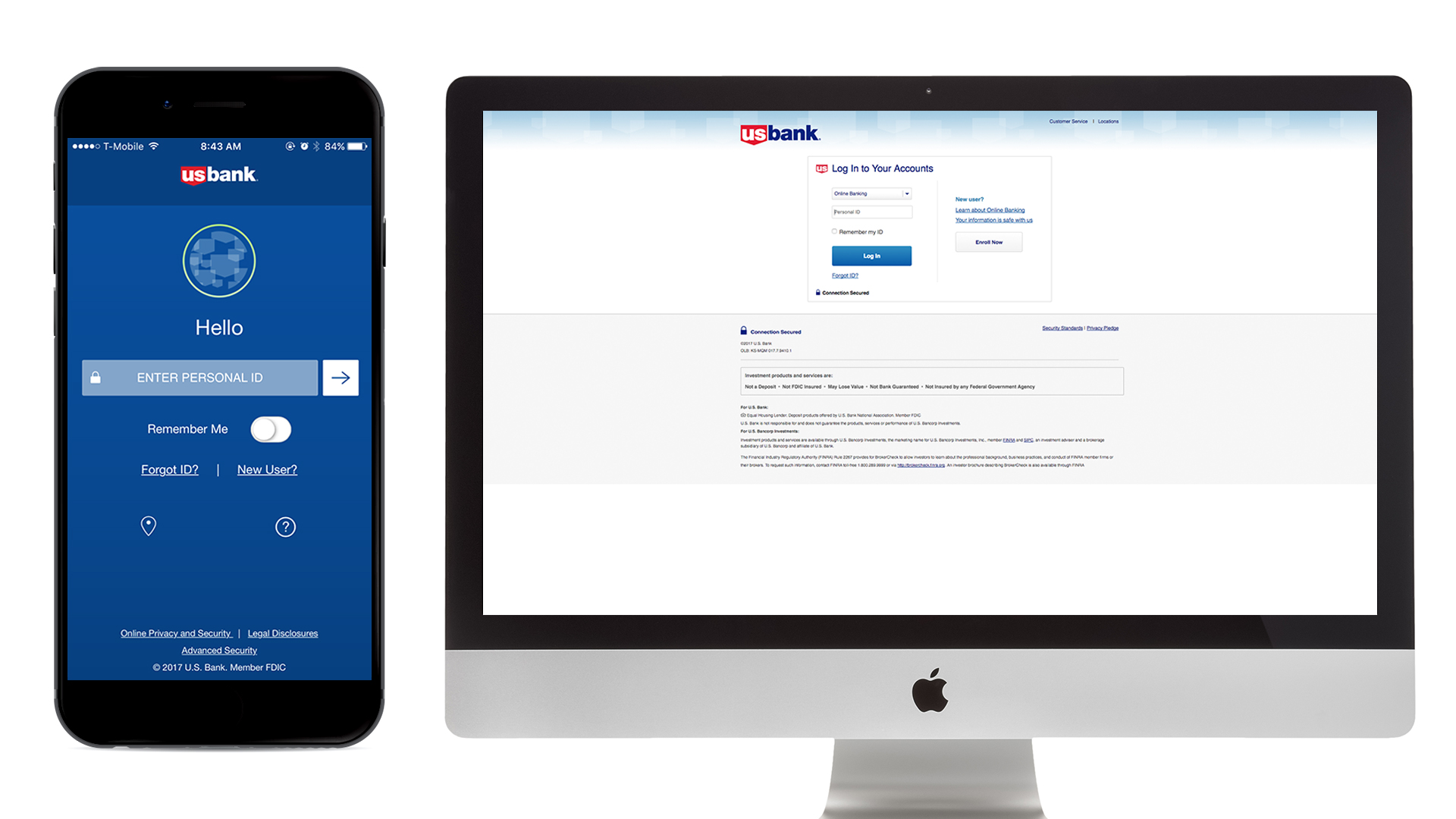 You can easily create a U.S. Bank login by clicking on the "New user? Enroll now" link in the log in box on your desktop, tablet or mobile device. Have your account PIN handy. Follow the prompts to enter your account information and verify your identification. Accept the terms and agreements and set up your login information.
How to Log In to US Bank Online
U.S. Bank online and mobile banking services are enabled for you to conduct many banking transactions, such as access your deposit account, savings account, checking account, credit card, and loan account, as well as helping you find their physical branch locations. You can manage your money, pay bills, deposit checks and send money.
Follow these steps to log in to your U.S. Bank account:
Visit the U.S. Bank website using your web browser on a desktop computer, tablet or mobile device.
Enter your "Personal ID" — this is the same as your user ID — and click "Log in." Then enter your password and click continue.
Once you're logged in, you can access any of the aforementioned online banking functions.
Online and Mobile Banking Services
You can access online services on all devices from the "My Accounts" page by clicking on any of the following:
Transfer Money
Pay External Bills
Pay My U.S. Bank Account
Online Statements
Get a Cash Advance
Send Money with Zelle
Learn About Mobile Banking
Check My Credit Score for Free
Apply for Products
Related: How to Log In to Your Bank Account Online
Manage Money
You can transfer money from one account to another, access online statements, check your credit score and get a cash advance and access products from the "My Accounts" page.
Pay Bills
Pay bills online and on time by clicking on "Pay External Bills" to go to the "Pay Bills" page. You can add or delete bills, track bills, check history, schedule bills or stop bills all from this page.
Deposit Checks
If you want to deposit checks, sign up for "Mobile Banking" by selecting "Products & Services" from the menu bar and then "Mobile Banking." Deposit checks by taking a picture of the check using the U.S. Bank mobile app on your tablet or mobile device.
Send Money
Sending money to friends and family is free and only takes a few minutes with just an email address or mobile number. Click on the "Send Money with Zelle" on the "My Accounts" page and follow the prompts. Zelle is an online money-sending service connecting numerous large banks.
How to Recover Your Lost or Forgotten US Bank Login ID and Password
If you lost or forgot your personal ID or password, click on the "Forgot ID?" link or "Forgot Password?" link as appropriate. You will be prompted to verify your identification and answer the security questions you set up when creating your account. When you complete the process, you will be emailed your ID or a link to reset your password as needed.
Related: 10 Best National Banks of 2017