9 Signs You Need To Ditch Your Bank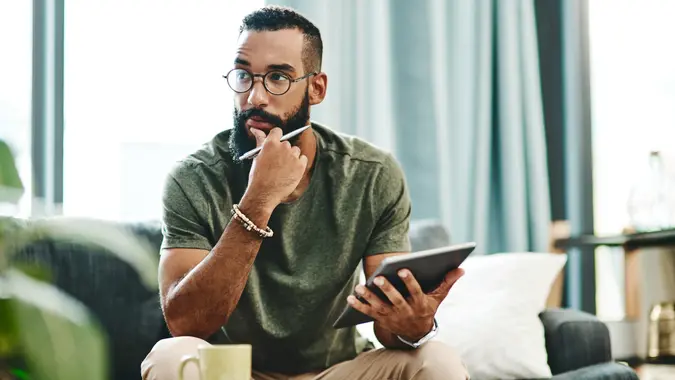 katleho Seisa / Getty Images
With so many digital and brick-and-mortar banks and credit unions out there, it can be hard to choose the right one for you. But not all financial institutions offer the same savings rates, account types, customer service, security and other important features.
Find Out: Here's How Much Americans Have in Their Savings Accounts in 2023
See: 4 Reasons To Visit Your Bank in Person This Month
Jay Zigmont, PhD, CFP, founder of Childfree Wealth, has noticed a trend in people staying with the same bank long after it no longer offers them what they need. "While many people are loyal to the bank they have been with since they were a child, you may be missing out," he said.
Whether you've been with your bank for a long time or you're a newer customer, it might be time to make a change.
Knowing When To Move On From Your Bank
When asked when it's time to switch banks, Gabe Krajicek, CEO of Kasasa (a fintech solutions provider that helps credit unions and community banks compete with megabanks), provided some insight.
"Many people wait to consider switching to a new bank when they have a life-changing event like moving, changing jobs, getting married, divorced, etc.," he said, "but where you bank is a far more important decision than one to leave on auto-pilot. There are almost certainly better options out there and it's always a good idea to look."
Where you bank can have a major impact on both your finances and your community. Here are the top signs that you need to ditch your bank.
1. It Doesn't Reflect Your Values
You should feel proud of where you bank, and part of that means choosing an institution that reflects your personal and community values. Many people choose brands that they can identify with and that reflect their values.
"Your bank choice should make you proud of your money," Krajicek said. "Why shouldn't your financial institution selection reflect both your personal values and make every dollar count?"
Live Richer Podcast: Why Not Having a High-Yield Savings Account Can Be a Huge Mistake
2. There Are High Fees
You might not think fees add up to much, but Fintech company Stilt reported that during the first three months of the COVID-19 pandemic, Americans paid about $11.6 billion in bank fees. This included non-sufficient fund fees, overdraft fees and other service fees.
Not all banks charge these extra fees, though. Some banks will waive certain fees if you keep your account balance above a certain minimum amount. Others offer things like overdraft protection when you link your checking and savings accounts together.
"If your bank charges high fees for common services such as account maintenance, ATM usage, or overdrafts, it may be worth exploring other options that offer lower fees," said Sean K. August, CEO of The August Wealth Management Group.
3. You're Looking To Support Your Community
If you're currently banking at a megabank, you might want to consider switching to a local or community bank, or even a credit union. According to Krajicek, this is a great way to keep "the local economy strong and neighborhoods vibrant." A big reason for this is that megabanks often move their money on a global scale, whereas local banks focus more on improving their communities.
4. The Customer Service Is Bad or Limited
Whether you're banking at a brick-and-mortar bank or a digital-only institution, having good customer service is key. If you've been having problems with your bank's customer service — such as unprofessionalism or long wait times — it could be a good time to make the switch. Be sure to check recent customer reviews for any new bank before trusting them with your money, though.
You might also want to ditch your current bank if you need more financial guidance. Many credit unions and community banks know their members and offer more personalized support. "Don't underestimate just how important individualized financial guidance is, especially in this increasingly complicated financial landscape," Krajicek said.
5. You've Relocated
Now, if you're with an online bank and primarily do everything digitally, this might not be as important to you. But having a physical location is still useful, especially if you ever need in-person assistance. Plus, some digital-only or community banks have a smaller ATM network that might not extend to where you now live. This can be especially limiting if you ever need to use your debit or credit card at an ATM and want to avoid out-of-network fees.
6. Features Are Limited
When it comes to features and services, not all banks are created equal. Some banks offer online features, such as mobile check deposits, high-yield savings accounts, expense tracking, and different budgeting and savings tools.
Certain banks might also have different accounts that you can't get with your current institution, such as business checking accounts or money market deposit accounts (MMDAs). Your bank might also have limitations on how you can use or invest your money. "For example," Zigmont said, "if you have your health savings account (HSA) at a bank or credit union, you may not be able to invest it, while other HSA accounts can be invested in stocks and ETFs."
If you find yourself needing additional features or services, look for a new bank that has what you need.
7. Another Bank Offers Better Rates or Perks
Another practical reason to ditch your bank is if the new bank provides more competitive rates for savings. "Now, you can work with banks across the US to get the best rates and deals," Zigmont said. "An online High Yield Savings Account might be paying 10x the interest of your local simple savings account."
The digital bank SoFi, for example, has a high-yield savings account with up to 3.75% APY (with direct deposit). This is far higher than what most traditional banks offer.
Along with this, every bank has its own perks. This could include things like free travel rewards, cash back or automatic savings. Certain banks issue their own credit card as well, which might come with additional perks. By switching banks, you could also potentially benefit from sign-up bonuses or special offers.
8. Your Bank Isn't Properly Insured
The Federal Deposit Insurance Corporation (FDIC) protects up to $250,000 in your accounts — checking, savings, MMDAs, etc. — against things like theft and institutional failure. If your current bank isn't FDIC-insured (or NCUA-insured for credit unions), you're probably better off switching to one that is.
9. There Are Security Concerns (or Other Red Flags)
Finally, there are certain red flags to look out for when it comes to your bank or other financial institution. This includes things like unauthorized fees or transactions on your account, unexplained charges and a lack of transparency. It also includes other security issues, such as frequent fraud or security breaches.
"If you are experiencing any of these issues or other concerns with your bank, it may be worth exploring other options that better meet your needs and priorities," August said.
More From GOBankingRates