Newest First Republic Bank Promotions, Bonuses, Offers and Coupons: January 2021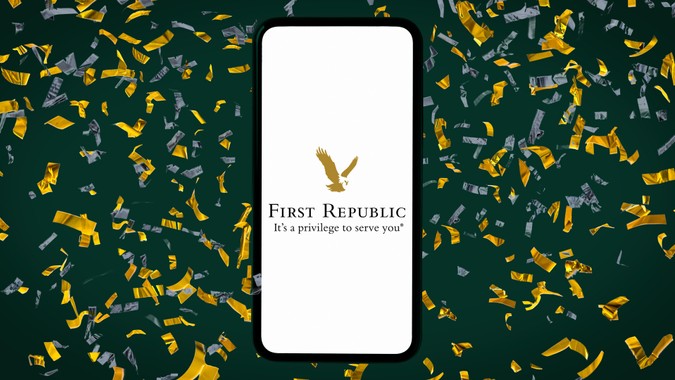 Established in 1985, First Republic Bank provides personal and business banking and wealth management services to professionals, entrepreneurs and companies. Like most banks, First Republic Bank offers various promotions, cash bonuses and coupons for new and existing clients.
As a way to earn your business, First Republic Bank will give you hundreds just for using its banking services. With the economy stuck in a downturn right now due to the pandemic, taking advantage of First Republic bonuses and promotions is a wise decision.
Here's what you need to know about the newest First Republic Bank promotions for January.
First Republic Bank Promotions at a Glance
Bank Online Trusteer Rapport: $25 Bonus
Take advantage of enhanced security and a $25 bonus if you are a current First Republic client or plan to open an account. Trusteer Rapport is an online security software solution provided free to First Republic clients. This software helps defend against identity theft, fraud and other online threats. Get added security while earning a little extra cash — no First Republic Bank coupons required.
Cash value: $25
Minimum deposit to qualify: N/A
Expiration date: None
How to get it: Download and install the Trusteer Rapport software on your computer.
When you'll get it: You'll receive a $25 bonus as a deposit into your First Republic checking or savings account within two weeks of downloading the security software.
Terms and conditions: Limited to one bonus per person or User ID, and you must have an active First Republic banking or savings account.
Monthly fee: None for First Republic clients.
Promotions page: First Republic Bank Online Trusteer Rapport bonus
Sponsors of
First Republic Personal Banking for San Diego County Bar Association Members: $1,540 Bonus
Members of the San Diego Country Bar Association have access to special First Republic Bank promotions geared toward law students, legal workers and attorneys. With this bonus, members will receive a $250 checking account bonus and get $795 in mortgage processing and document fees waived.
They also won't have to pay fees or closing costs on home equity loans (worth up to $5,000) and can save on the $495 origination fee for a personal loan. Here are the details:
Cash value: $250 plus $1,290 in waived fees
Minimum deposit to qualify: N/A
Expiration date: None
How to get it: Contact David Loseke of First Republic Bank at 858-720-6917 or email him at dloseke@firstrepublic.com.
When you'll get it: After speaking with Mr. Loseke
Terms and conditions: For members of the SDCBA
Monthly fee: N/A
First Republic Business Trusteer Rapport: $100 Bonus
Many businesses are concerned about cybersecurity, and Business Trusteer Rapport addresses the problem by helping to protect confidential business information. After you set up a business checking or savings account with First Republic Bank, visit the bonus offer page and download the software to earn your $100 bonus.
Here's more:
Cash value: $100
Minimum deposit to qualify: N/A
Expiration date: None
How to get it: Download the Trusteer Rapport software to activate it and log in with your user ID. Next, send a secure email from First Republic Bank's "Contact Us" page to let the bank know which account should be credited.
When you'll get it: Within two weeks of confirmation
Terms and conditions: Limited to one bonus per person or User ID
Monthly fee: None; use of the software is free for First Republic clients.
Promotion page: First Republic Bank Business Trusteer Rapport bonus offer
How To Open a First Republic Account
To open a bank account with First Republic Bank, you'll either need to call 888-408-0288 or visit a local banking office. Here's what you'll need to provide:
Name and personal information
Government-issued photo ID such as a driver's license, state or military ID, or passport
Social Security number
Funds to open the account by using a credit or debit card to make a deposit or by creating a bank transfer using your current bank's account number and routing number
Sponsors of
How Much Money Will First Republic Bank Give You for Opening an Account?
Depending on the offer, you can earn anywhere from $25 to more than $1,500 for meeting this month's First Republic promotional requirements. You'll need to call or visit a branch to open an account, but after you've established one, you can download the bank's mobile app and log in to your new account.
In addition to banking and loan products, you'll have access to wealth management services that can help with long-term financial planning.
Information on promotions is accurate as of Jan 22., 2021. Additional requirements may apply. Offers and terms are subject to change.
This content is not provided by First Republic Bank. Any opinions, analyses, reviews or recommendations expressed in this article are those of the author alone and have not been reviewed, approved or otherwise endorsed by First Republic Bank.
This article has been updated with additional reporting since its original publication.