How To Find and Use Your Ally Bank Login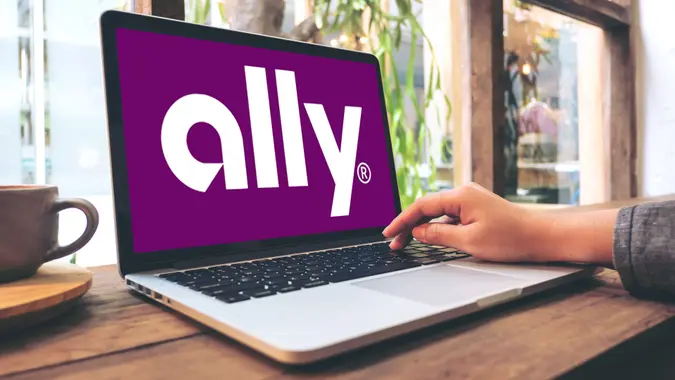 Farknot Architect / Shutterstock.com
Ally Bank offers its customers competitive rates, no monthly maintenance fees and the ability to conduct business online. Utilizing the online system at Ally Bank is easy when you follow the step-by-step directions outlined in this guide.
How To Log In to Your Ally Bank Account From a Computer
Here are the steps for logging in to your Ally account from a computer:
Visit Ally Bank's homepage and click on the "Log In" button in the upper right corner.
To create a username and password to access your accounts, click on the link that reads "Create a profile" below the login button. Follow the prompts to create your account information.
Once you have a username and password, select the type of account you wish to sign in to from the drop-down menu in the upper right corner of the sign-in page.
Type your username and password in the provided text boxes.
Click "Log In" and you'll immediately get access to your account.
How To Log In to Your Ally Bank Account From a Mobile Phone or Tablet
Ally Bank offers a free mobile banking app that allows you to perform transactions available on its website. Mobile banking offers the convenience of banking at your fingertips. Here's how you can log in to your Ally account from your mobile device:
If you have an Apple device, visit the App Store to download the Ally banking app. Head to Google Play if you have an Android device.
Launch the Ally mobile banking app.
Tap the "Log In" button.
The next screen will be the login page. Add your username and password in the appropriate boxes.
Tap the "Submit" button.
How To Retrieve a Forgotten Username or Password
If you forgot your username or password, you can retrieve either one by following these simple instructions:
Visit Ally Bank's sign-in page.
Click on either the "username" or "password" link underneath the "Log In" button.
If you clicked "username," contact information will appear so that you can call and regain access to your account. Continue to step four if you clicked "password."
Type your username and Social Security number in the provided text boxes.
Select either "Send password hint by email/text" or "Create a new password."
Click "Continue" and you'll receive either an email or text with your password hint or a security code for creating a new password.
Once you log in to your account, you can take advantage of the conveniences Ally Bank puts at your fingertips. You'll be able to check and print your account balance, pay your bills and initiate transfers, among other options that are available.
If you experience any problems while trying to access your Ally Bank login information, you can call 877-247-2559 for assistance.
How To View Your Ally Bank Statement Information
Ally Bank checking accounts, savings accounts and money market accounts have monthly statement cycles, while individual retirement accounts and certificates of deposit have quarterly statement cycles. These statements can be viewed electronically or mailed directly to you.
When you log in to Ally's online banking platform, you can click your name, then "Profile and Settings." You can then select "Paperless Settings" and opt to only receive emails when a new statement is available to view.
How To Contact Ally Bank If You Have Trouble With Your Account
Since Ally Bank is exclusively online, you can get assistance from a customer service representative over the phone at any time. For Ally Bank account questions or troubleshooting, you can call one of the following numbers:
Ally customer service: 877-247-2559
Outside the U.S.: +1-757-247-2559
Its website boasts 24/7 support, and certain pages on the site indicate wait times for phone calls in the upper right corner of the screen.
What Are the Benefits of Online Banking?
Ally Bank is outlining a simpler and smarter experience for its customers. With 24/7 access to customer service through chat, phone and email, Ally Bank account holders can receive expert care and attention as soon as possible.
Many consumers love the flexibility and convenience of online banking, especially when it comes to paying bills or handling any other bank transaction without the inconvenience of driving to a physical branch to do so.
Alexandria Bova contributed to the reporting for this article.
Information is accurate as of Sept. 30, 2022.
Editorial Note: This content is not provided by any entity covered in this article. Any opinions, analyses, reviews, ratings or recommendations expressed in this article are those of the author alone and have not been reviewed, approved or otherwise endorsed by any entity named in this article.