How to Find and Use Your Ally Bank Login
Here's how to create your Ally login and begin banking online.
Ally Bank has quickly grown to over 1 million customers, who take advantage of competitive rates, no monthly maintenance fees, and the ability to conduct business online. Utilizing the online system at Ally Bank is easy when you follow the step-by-step directions outlined here.
Here's how to find and use your online bank login at Ally Bank.
How to Log In to Your Bank Account From a Computer
Ally Bank customers who wish to bank online using their computer can do so within seconds. Here are the steps for how to log in to your Ally bank account from a computer:
Visit Ally Bank's online banking sign-in page at Ally.com.
To create a user name and password to access your accounts, click on "Enroll in Auto or Bank online services" in the login box. Follow the instructions to create your account information.
Once you have a username and password, select the type of account you wish to sign into from the drop-down menu in the upper right-hand corner of the sign-in page.
Type your username and password in the provided text boxes.
Click the "Log In" and you'll immediately get access to your account.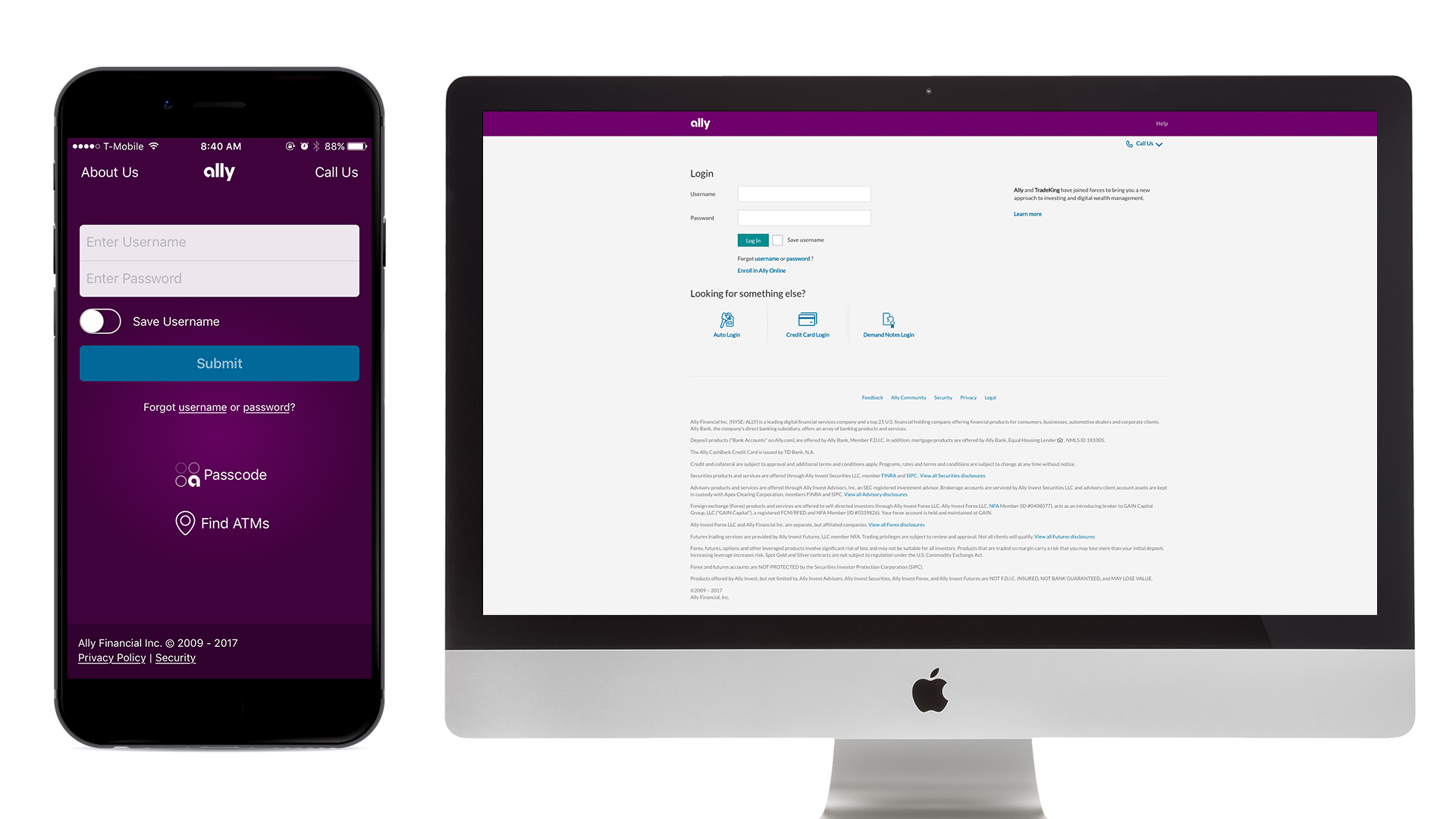 Don't Miss: Best Online Bank of 2017 — Ally Bank
How to Log In to Your Bank Account From a Mobile Phone or Tablet
Ally Bank offers a free mobile banking app that allows you perform transactions available on their website. Mobile banking offers the convenience of banking at your fingertips. Here's how you can log in to your Ally account from your mobile device:
If you have an Apple device, type m.allybank.com in your mobile browser, or visit the iTunes Store to download Ally Mobile, the Ally banking app. Head to the Google Play Store if you have an Android.
Launch the Ally Mobile Banking app by tapping on it.
The next screen will be your login page. Add your username and password in the appropriate boxes.
Tap the "Login" button and you're all set.
Learn: How to Deposit Cash to an Online Bank Account
How to Retrieve a Forgotten Username or Password
If you forgot your user name or password, you can retrieve either one by following these simple instructions:
Visit Ally Bank's sign-in page.
Click on either the forgot "username" or "password" link underneath the "Log In" button.
If you clicked "username" a phone number will appear so that you can call and gain access to your account once again. Continue to step 4 if you clicked "password."
Type your username and Social Security number in the provided text boxes.
Check either "Send password hint by email/text" or "Create a new password."
Click "Continue" and you'll receive either an email or text with your password hint or code for creating a new password.
Once you enter your account online, you can take advantage of the conveniences Ally Bank puts at your fingertips. You'll be able to check and print your account balance, pay your bills and even make deposits. Additionally, your money is insured by the FDIC, so you can feel confident that your money is safe and secure. If you experience any problems while trying to access your Ally Bank login, you can contact the Customer Care Support team by calling 1-877-247-2559.
Up Next: How to Withdraw Cash From Online Banks Like Ally and Discover