How To Use and Find Your Zions Bank Login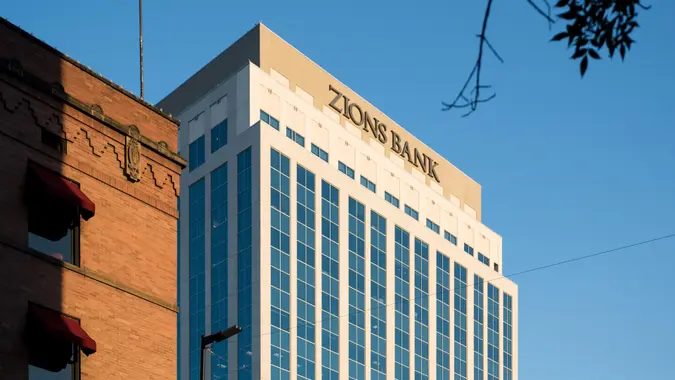 Steven Starr Photography / Shutterstock.com
Zions Bank is a regional bank founded in Salt Lake City in 1873 under the direction of Brigham Young, meaning the bank has been in operation for longer than Utah has been a state. As Utah's first chartered savings bank and trust company, Zions has been serving the Utah community for over a century, expanding to cover 10 states throughout the Southwest and West.
Before banking online with Zions, make sure you're clear on how to log in, whether it's on the bank's website or mobile app. Here's a step-by-step guide to everything you need to know about logging in to Zions Bank's online portals:
How To Log In to Your Zions Bank Account From a Computer
The process of logging in to Zions Bank via your computer is standard:
Visit Zions Bank's homepage. In the top right corner, you will see a button that once clicked will bring you to a page where you can enter your information into the provided fields.

If you don't have an online account, there's a link to enroll underneath the sign-in button. To complete the sign-up process, you'll need your Zions Bank ATM or Visa debit card number and PIN, the last four digits of your Social Security number and the date and amount of your last deposit.

If you have multiple accounts with Zions, note that the bank has tabs to separate its personal, business and corporate customer logins. If you encounter any trouble with logging in, double-check that you've selected the right tab.
There's also a separate login for customers who have a mortgage with Zions. Just click the mortgage login button below the enrollment link and enter your information.
How To Log In to Your Zions Bank Account From a Mobile Phone or Tablet
Zions Bank offers free mobile banking that's accessible on most smartphones and tablets:
To begin, you'll need to download the app. You can go to either the Apple App Store or Google Play Store on your smartphone or tablet and search for Zions Bank's app. Alternatively, you can use your internet browser to visit the digital banking section on Zions Bank's website. From there, click on the mobile banking button and follow the direct links to the Apple App Store or Google Play Store.

The app requires iOS 13.0 or newer or Android's OS 6.0 or newer, so make sure your operating system is equipped to run the Zions Bank app.

Once you've downloaded the app, launch it and enter your login ID and password.
How To Retrieve a Forgotten Username or Password
In the event that you've forgotten your login ID or password for Zions Bank, you can retrieve them by following a few steps:
Make sure that you're already enrolled for an online account.
Under the fields for the login ID and password on Zions Bank's login page, there's a link you should click on that reads "Need Help?"
From there, you'll be routed to a page where you can either change your password or your user ID. Changing your password is much easier with your user ID, so if you've forgotten both, get your ID first.

If you need your user ID, choose the "Forgot User ID?" button. You'll need to enter your card number, PIN and the last four digits of your Social Security number to verify your identity.
If you've lost your password, follow the "Forgot Password?" button instead. You will need to enter your login ID and email address to verify your identity.
How To View Your Zions Bank Statement Information
If you prefer paper statements, you can have them sent to you via mail on a monthly basis. However, if you opt out of paper statements and enroll in online banking, you will get the $3 monthly paper statement fee waived.
To sign up for paperless statements, log in to the website or mobile app and go to the e-documents section. Then, change the settings under your preferences. Once you're signed up, your statements will be available online to view at your convenience.
How To Contact Zions Bank If You Have Trouble With Your Account
Zions Bank offers several different customer service lines for you to contact if you need help:
For general customer service inquiries, call 888-307-3411 between 7 a.m. and 8 p.m. MST, Monday through Saturday. Live assistance is only available for those hours, but the automated assistance is provided 24/7.
For online banking and bill pay support, password resets and Quicken and Quickbooks support, call 800-840-4999 between 8 a.m. and 6 p.m. MST, Monday through Friday.
For help with opening an account, call 866-761-8349 between 8 a.m. and 6 p.m. MST, Monday through Friday.
For credit and debit card support, call 888-758-5349 or 888-307-3411 anytime.
For customer service on an existing loan, call 801-974-3900 between 8 a.m. and 6 p.m. MST on weekdays.
For help with applying for a personal loan, call 800-789-5626 between 8 a.m. and 6 p.m. MST on weekdays.
If you prefer to communicate via mail, you can send general correspondences to:
Zions Bank
P.O. Box 30709
Salt Lake City, UT 84130
What Are the Benefits of Online Banking?
While specific benefits can vary from bank to bank, online banking typically offers a number of advantages to consumers. Opting out of paper statements often allow you to avoid a fee, and you don't need to visit branch locations to conduct relatively simple operations like depositing a check. You can also conduct your business on your own time instead of banker's hours.
More on Zions Bank
More on Using Your Bank Login
This information is accurate as Aug. 4, 2022.