How To Find and Use Your Citizens Bank Login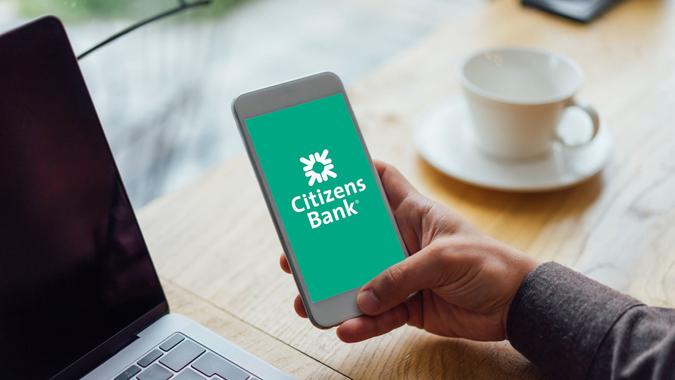 hsyncoban / Getty Images/iStockphoto
Citizens Bank dates back to 1828, but the venerable institution stays current with offerings such as an online-only division launched in mid-2018. Traditionalists who like to balance online services with the ability to walk into a physical branch will appreciate Citizens Bank's secure online banking platform, which offers a full suite of services via its website and mobile app.
This guide will explain how to find and use your Citizens Bank login so you can get started managing your accounts online.
How To Create a Citizens Bank Login
New customers must enroll in online banking and create a login to access online banking services. Here's how:
Get your Citizens Bank account information and your Social Security number.
Click the enrollment link on the Citizens Bank online banking website.
Enter the account type and your identifying information, which can include your Social Security number and name.
The website walks you through the process of creating your Citizens Bank online login. You can't proceed until you enter and verify your information and find your account in the system.
Once you create your login, use it to view your account history, pay bills, transfer funds, view copies of your statements, see images of checks that have cleared, stop payment on checks and view your Citizens Bank account history.
How To Log In to Your Citizens Bank Account From a Computer
After you've created your login, navigate to Citizen Bank's homepage and find "Select a secure login" using the drop-down menu on the right side of the screen. "Personal/Small Business" is the default selection. Use that option or select the one that applies to you and then click the red Login button.
How To Log In to Your Citizens Bank Account From a Mobile Phone or Tablet
If you prefer apps to websites, the Citizens mobile banking app has you covered. You can download the Citizens Bank app from the App Store for iPhone/iPad or Google Play for Android devices. Once you have the app, use the same login that you created on the website.
The Citizens Bank app lets you enable Touch ID, a convenient authentication system that allows you to log in using your fingerprint. Alternatively, you can enable Fast Balance, which shows selected account balances on the Citizens Bank app home screen. Activate it from within the app, then tap and hold from the Citizens mobile banking app home screen whenever you want to see the balances.
Bookmark This: Citizens Bank Review — Regional Services With Online Convenience
How To Retrieve a Forgotten Username or Password
No worries if you forget your Citizens Bank online user ID or password. The website lets you request help to regain access to the online features. From the Citizens Bank homepage, select the "Trouble logging in?" link and select the option for having forgotten your user ID or password. Follow the prompts to retrieve your missing login information.
How To View Your Citizens Statement Information
Online banking customers can view their statements online. You can access 18 months' worth of statements plus 1099-INT forms and electronic notifications by clicking the Document Center tab on the Online Banking page. Your account history is also available via the mobile app.
How To Contact Citizens If You Have Trouble With Your Account
Citizens Bank gives you several ways to reach out if you need help with your account:
Call Customer Service 24/7.

General Assistance: 800-922-9999
Mobile Banking: 877-670-4100
Spanish-language support: 888-398-7900

Secure a secure message via email on the site.
Visit a branch in person. Search the branch locator to find your nearest branch and its operating hours.
Connect on Facebook or Twitter.
Search the "Ask a Citizen" knowledge base.
Explore: Citizens Bank Checking Account Review — Simple, Low-Cost Banking
What Are the Benefits of Online Banking?
Online banking expands services offered by physical branches to include bill pay, free money transfers and remote check cashing. You can take advantage of these tools whenever and wherever you want, using your computer, phone or tablet, confident that Citizens Bank's free security software will keep your accounts and your identity safe.
More on Citizen Bank
More Bank Logins
Daria Uhlig contributed to the reporting for this article.
This content is not provided by the companies mentioned. Any opinions, analyses, reviews or recommendations expressed in this article are those of the author alone and have not been reviewed, approved or otherwise endorsed by Citizens Bank. Information is accurate as of Jan. 19, 2022.