How To Use and Find Your CIT Bank Login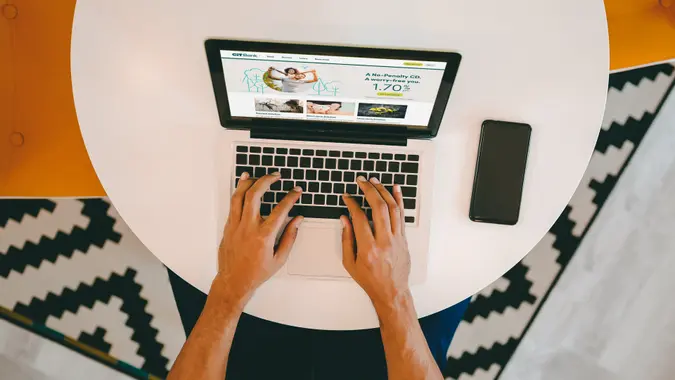 nortonrsx / Getty Images/iStockphoto
CIT Bank might be a 21st Century creation, but its parent company started out in 1908 financing local businesses. It now boasts a modern online bank that pays some of the highest interest rates around, with CIT Bank's money market account currently offering a 1.55% annual percentage yield.
If you want to take advantage of these rates and other perks, you'll need an account and a CIT Bank login to access it. Read on to learn how you can find and use your CIT Bank login.
How To Log In To Your CIT Bank Account From a Computer
Once your online account is activated, accessing your account is easy. Simply visit the online login page and enter your user ID and password.
How To Use Your CIT Bank Login To Access Your Account From a Mobile Phone or Tablet
You can log in to the mobile browser website the same way you would from a computer. Or, you can download and install the CIT mobile banking app to access your accounts from your mobile devices. Once the app is installed, here's the process:
Enter your CIT Bank login information.
Click "More."
Click on "Customer Service."
Select "Mobile Banking."
Follow the steps to enroll your smartphone or tablet.
How To Retrieve a Forgotten Username or Password
If you forget your user information or password, there are several ways to access your CIT Bank login information. Here's what you need to do:
Forgot your user ID: When signing in, click on "Forgot User ID?", which will lead you to verify your account. You'll need to choose the account type and enter your account number, name and last four digits of your Social Security number.
Forgot your password: Click on "Forgot Your Password" when logging in or visit the reset password page and enter your email address to receive instructions on creating a new password.
Can't access your account: Text the number 49794 with the message "R" to recover your account. You'll get a new activation code for the mobile browser website.
If none of these options works, you can always contact CIT for help at 888-501-6847.
How To View Your CIT Bank Statement Information
Check your bank statements regularly to ensure your account transactions are correct. You can view, download or print your bank statements directly from the bank website. You can also view your statements through the mobile app.
How To Get One and How To Read It: Bank Statements 101
How To Contact CIT Bank If You Have Trouble With Your Account
If you're having trouble accessing your CIT Bank login or have questions about your account, you can call customer service at these numbers:
Automated help: 855-462-2652, 24 hours a day
New and existing accounts customer service: 855-462-2652, Monday through Friday from 9 a.m. to 9 p.m. ET and Saturday from 10 a.m. to 6 p.m. ET
Login and password help: 888-501-6847
Learn More: Best Online Banks of 2020
What Are the Benefits of Online Banking?
Banking online with CIT Bank has its perks — including being able to deposit checks and do your banking 24 hours a day. Besides the convenience, online banks don't have the overhead of traditional brick-and-mortar banks. The money an online bank saves on rent and employees goes back to you in the form of free or low-fee banking as well as higher interest on your savings than you would with most traditional banks.
More on CIT Bank
More on Using Your Bank Login
Rates are subject to change; unless otherwise noted, rates are updated periodically. All other information on accounts is accurate as of Aug. 16, 2022.
Editorial Note: This content is not provided by CIT Bank. Any opinions, analyses, reviews or recommendations expressed in this article are those of the author alone and have not been reviewed, approved or otherwise endorsed by CIT Bank.